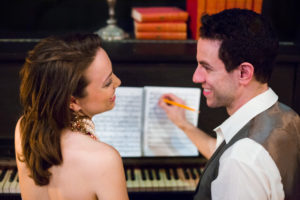 Brown Paper Box Co. presents They're Playing Our Song, a 1979 musical by Neil Simon, Marvin Hamlisch, and Carole Bayer Sager. Directed by Daniel Spagnuolo, this quirky musical follows composer Vernon Gersch and lyricist Sonia Walsk as they fall in love, fight, and make up in tedious repetition.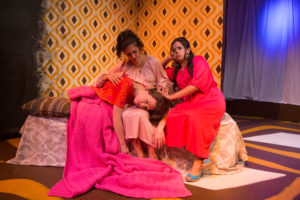 To start with the show's positive qualities, the music is excellent. From the heartbreaking ballad "Fallin' to the catchy, highly danceable title song, the musical's shortcomings certainly can't be blamed on the score. Nor can they be blamed on the performers; Dan Gold is an entertaining enough Vernon, and Carmen Risi is magnificent as Sonia; her high-energy comedic style is second only to her bold, rich alto as the best element of this production.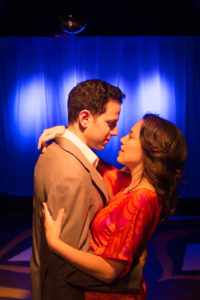 The initial premise of the story—two creative people who are opposite in every way must try to work together to create their next big hit—is intriguing, and the character of Sonia is dynamic and engaging. Vernon is much less likeable, but then again, perhaps he has to be to properly foil the loveable Sonia. So why, with such strong elements in place, does the storytelling fall so flat?
The answer, ultimately, lies in the story's predictability. Sure, the outside trappings of the tale are unique—most people don't accidentally break into a beach house or spend years trying to finally break it off with an ex—but at the show's heart is the same trite heterosexual romance that has been played out on countless screens and stages. From the moment Sonia proposes she and Vernon get to know each other over a dinner-that-is-definitely-not-a-date, it's clear that the couple is going to fall in love, sing about it, argue a lot, sing about it, and ultimately end the play with a sweeping romantic kiss. And that's exactly what happens. There isn't a modicum of suspense in sight in the show's nearly two and a half hour run.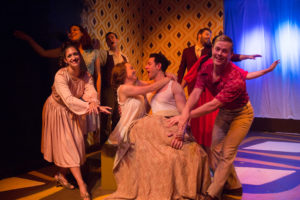 The device of the "voices," iterations of the different aspects of the protagonists' personalities, seems merely a weak excuse to include a chorus, perhaps out of fear that the story can't carry itself with just the two protagonists onstage. Although the music may have suffered without the ability to create multi-part harmonies, the story would have been entirely unaffected if the "voices" had been cut and in fact, it might have been easier to follow.
Scenic design by Ashley Ann Woods suits the show in that it, too, is rather boring. Costumes by Kate Setzer Kamphausen have a little more pizazz, especially some of the costumes Sonia wears, which are fun, colorful, and perfectly suited to both the character and the time period.
There's a reason They're Playing Our Song isn't a widely popular musical; it's probably best enjoyed by simply listening to the soundtrack, rather than sitting through the entire predictable storyline. Marvin Hamlisch, and Carole Bayer Sager may have overestimated how interesting their own romance would be as a musical, in spite of their songwriting talent. Although Brown Paper Box Co. usually does good work, They're Playing Our Song is not their best.
Ticket Information
Location: Rivendell Theatre, 5779 N Ridge Ave Chicago, IL 60660
Dates: Friday, Jul 28 – Sun, Aug 20, 2017
Times: Thursdays, Fridays, and Saturdays at 7:30pm; Sundays at 2:00pm
Tickets: On sale now at the Brown Paper Box Co. website.
All photos by Zach Dries.