If you, like me, have only seen the dire and overly-serious film version of Rock of Ages you need to get down to the Drury Lane right away and see the Broadway original, over-the-top, completely unserious version of the show to dislodge the other from your memory. Other than sharing character names, songs and the tedious love story of aspiring rocker Drew and his transplanted Midwestern love interest Sherrie, this is an entirely different show, and an incredibly meta and hilarious one.
There is no Fourth Wall at all, Nicholas Druzbanski as Lonny the narrator/sound guy of the Bourbon Room on Sunset Strip starts talking to and riffing off the audience from the very beginning, both emceeing and stealing the show with a delightful and commanding performance that sets the tone to fun and then "turns it up to eleven."  He has a speech in the second half about how he always wanted to be a serious actor creating performances of great depth and meaning, but now he's in some show with dick jokes and Whitesnake songs and its great!  And he's right.  It is.  In no small part because he and the rest of the cast take none of it seriously. It's a salute to hair metal, perhaps the lowest point of American rock 'n' roll, after all.
Or rather, most of the cast don't take it seriously, Russell Mernagh as Drew, and Cherry Torres as Sherrie, have to and they make their thankless task as the central romance as fun as they can.  Both of them have serious singing chops and Torres is a good dancer, too, but it's hard to care about the ups and downs of their trite romance, especially through the appallingly horrible lyrics of late eighties shriek ballads like "I Want to Know What Love Is" and "Waiting for a Girl Like You."  While they're well-sung, they are being well-sung by people who are musical theatre people, and while they aren't as square as some of the singers who have attempted rock at Drury Lane, you can see that Mernagh is much more comfortable in shows like Les Miz and Evita than belting out crappy Journey, Survivor and REO covers despite having all the notes at his disposal and then some.   And his wig looks like a haystack laid down and died on his head.  It's especially bad in comparison to several of the other actors and musicians who have authentic long hair.  The rest of the costumes are good, why not spring for a decent wig for your lead actor?
The songs are often weirdly placed in the narrative, too.  "More than Words" is so not a song about your dad not understanding you.  Or if it is, I really don't ever, EVER want to hear about your relationship.  See also the use of "Sister Christian" as the set-up song for Sherrie.
Some of the mashups similarly work – the opener of "(Come on) Feel the Noize/Just like Paradise/ Nothin' But a Good Time" comes together well, the "Harden My Heart/Shadows of the Night" sung by Torres and the incomparable Donica Lynn and company is one of the true standout musical performances in the entire show and Lynn does this incredible descant harmony on "Every Rose Has Its' Thorn" that makes it actually worth listening to instead of an appalling cringe-fest.  And then you have the inexplicable "Hate Myself for Loving You/Heat of the Moment" which isn't just a disconnect but sort of craps on two of the really good bands of the 80s by putting things that never belong together next to one another – Joan Jett and prog-rockers Asia, really?  And what are either of those things doing in a show that's sending up big 80s hair bands, anyway?  But you can just handwave because you know the next good joke is coming any minute.
There is no weak link in this show.  Every single actor brings it all the time from the chorus members straight through to Adam Michaels who brings real rock vocals, authentic rock 'n' roll attitude, and incredible comedy chops to Stacee Jaxx.  Kudos also to Gene Weygandt as old hippie Bourbon Room owner Dennis, George Keating who looks like Hans Gruber from Die Hard while playing a German accent so funny you haven't heard its like since you saw Cloris Leachman as Frau Blucher in Young Frankenstein. Nick Cosgrove, as Franz, prances manically in every scene and is consistently funny despite being a massively insane stereotype as is Tiffany Tatreau as Regina. Donica Lynn, Adam Michaels, John Edwards and Sawyer Smith all play multiple characters, with everyone doubling in the crowd scenes.  And they're all just so good and so, so funny.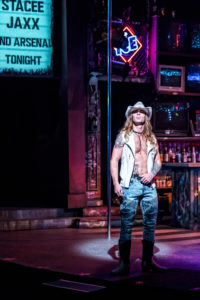 The show is loaded with Easter egg 80s throwback jokes (pay attention to the marquees on either side of the stage) and to seemingly throwaway lines of dialogue that often come back again in hilarious ways – especially the reason Stacee Jaxx got blackmailed into doing his final Arsenal show at the Bourbon Room.
And enough good things cannot possibly be said about the band.  Often when there's a live band on stage it means good things will happen and this one, ably led by Chris Sargent (keyboards) and Dan Peters on shredding lead guitar, could stand up with any backing rock band in the business.   There was big 80s guitar to be proud of on that stage and they, along with Michaels, gave the show whatever true rock edge it was going to have.  The fact that they doubled as Stacee Jaxx's band, Arsenal, complete with lines, just added to the fun.
Music direction by Roberta Duchak and choreography by Stephanie Klemons were both superb, and the actors danced their butts off.
The set design by Jeffrey D. Kmiec couldn't have been better including the wall of vintage 80s TVs and hilarious old school advertising, and the club stage and bathroom that extended out to the main stage dramatically. The sound could have used some help. You had a full rock band with Marshall stacks on that stage and sometimes the actors' voices were overwhelmed as they sang through their headsets.  Hopefully, they work it out during the run, but, hey, it was still a lot better than half the rock venues in Chicagoland where running sound consists of turning everything up until everyone's ears ring. Costume design by Theresa Ham was overall quite good except for a few atrocious wigs, especially Mernagh's and, I know it's a quibble, but I lived through the 80s and got the shin splints that went with the cool skinny-heeled rock boots we all wore.  Too many big chunky heels on that stage. I just found myself staring at them and being annoyed. Nobody wore those or go-go boots in that era.  If you had chunky boots they were Doc Martens or army boots and you wore them because you were emulating Madonna or were a Goth.  Here's what 80's rock boots looked like.
Even if you loathe this era and these songs, this show is well worth seeing. It is absolutely hilarious, and the crowd we saw it with, who were nearly all too old to remember these songs fondly, got into it and clapped and laughed along.  You will too.  Get your tickets before they sell out.
Drury Lane's production of Rock of Ages runs September 8, 2017 -October 15, 2017, at the following times:
Wednesdays: 1:30 p.m.
Thursdays: 1:30 p.m. and 8:00 p.m.
Fridays: 8:00 p.m.
Saturdays: 5:00 p.m. and 8:30 p.m.
Sundays: 2:00 p.m. and 6:00 p.m.
Tickets are available here.
See videos of the production here.
Save