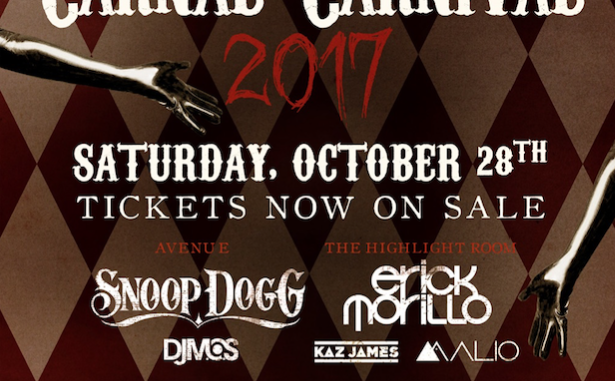 Halloween is upon us! Whether you're breaking out your best horrific or sexy costume, checking out local Halloween hotspots, or hosting a party of your own, below is a list of our top picks!
TAO Group's CARNAL CARNIVALpromises to deliver the best production, live performances, surprise DJ sets and fully immersive Halloween entertainment. Guests will enter through the alley, greeted by a medley of circus characters with an interactive Photo Booth powered by SAMSUNG.
Ride the haunted elevator up to The Highlight Room atop DREAM Hollywood, where the space will transform into Les Carnaval Des Animaux… an exotic Zoo with a twist, as world renowned DJ and wild animal tamer, Erick Morillo, will DJ throughout the night.
Step into Avenue Los Angeles which will be known as Avenue's Neon Fun Haus for the night, where Madame Rotten Candy's Cabaret will take its residence— watch out, even the walls will look good enough to eat. With everyone dressed in their Halloween best, guests are bound to be partying with celebrity guests as music mogul Snoop Dogg DJ's throughout the night. Avenue's Neon Fun Haus is bound to satisfy your sweet tooth craving.
Tickets Available At: 
taogroup.com/halloween
All Access Starting at $150
The Highlight Room Starting at $75
Avenue Starting at $100
AVENUE / THE HIGHLIGHT ROOM
Our Halloween Bar & Restaurant Picks:

Black Widow
Created by Eddy Lopez
This year we are celebrating Halloween by paying homage to one of the spookiest creatures we know: The Black Widow. A delicious orange and plum liqueur with Ichiko Seirin Sochu, mixed with sweet and sour, makes this cocktail inviting and delicious, yet rather scary as a spider garnishes the rim of the glass alongside two devilishly delicious Luxardo Cherries. But not to worry, this Black Widow is only for show and while not real, is just realistic enough to help get you into the Halloween spirit!
Step into CHAYA Venice for their spook-tacular Black Widow cocktail!
CHAYA Venice will be open for Halloween, Tuesday, October 31st from 5:30 pm to 11:00 pm; 110 Navy Street Venice, CA 90291; 310.396.1179.
The Poison Margarita
Created by Karen So
Available to enjoy at both Red O Santa Monicaand Red O Los Angeles on Melrose, The Poison Margarita comprised of Casamigos Silver Tequila, Triple sec, and muddled blackberries is the perfect poison to pick this Halloween with it's delicious sage and blackberry undertones. Sage notes will drive any spooky ghosts far, far away while you are left to sip this smoky margarita in perfect peace. Activated charcoal gives this cocktail a hauntingly dark vibe, making the drink even more suspicious with its' tongue in cheek title.
Red O Los Angeles will be open for Halloween,Tuesday, October 31st from 5:00 pm to 10:00 pm; 8155 Melrose Avenue. Los Angeles, CA  90046; 323.655.5009.

Boiling Casablanca Margarita
Created by Karen So
This year we are remembering the dead with this hauntingly beautiful Boiling Casablanca Margarita that is sure to impress! This dreamy, whimsical and magical Boiling Casablanca Margarita made with Casamigos Silver Tequila, signature clarified lime, Triple sec, and dry ice is available to enjoy at Red O Santa Monica andRed O Los Angeles on Melrose. Dry ice is one of the most tried and true Halloween special effects, so watch as it begins to "boil" and emit a dense, spooky fog!
Red O Santa Monica will be open for Halloween, Tuesday, October 31st from 3:00 pm to 10:00 pm; 1541 Ocean Avenue. Suite #120, Santa Monica, CA 90401; 310.458.1600.

Carrot White Russian
Created by Marcos Tello
The White Russian (a blend of vodka, coffee liqueur, and cream) seems to have been inspired by the Black Russian (blend of vodka and coffee liqueur) of the 1950's. Taking the flavor profile of this cocktail into account this Halloween, Marcos Tello decided to pair it with carrots, since carrots and coffee are such a lovely under-utilized flavor pairing. With this Carrot White Russian Tello decided to have some fun for Halloween and flavored the cream with carrot juice and gave it a Jack-o'-Lantern face using fresh coffee grounds. Happy Halloween!
The Flats Restaurant will be open for Halloween, Tuesday, October 31st from 4:00 pm to 2:00 am; 8400 Wilshire Boulevard, Beverly Hills, CA 90211; 310.909.7549.
Zombie Apocalypse
Created by Jesus Gomez and Adam Vaughn
You can run, you can hide this Halloween, but you cannot escape the immanent ZOMBIE APOCALYPSE!  After a long day of fighting off zombies and searching for shelter, what better way to re-energize? A tribute to both a Tiki classic and end-of-the-world-scenario classic the ZOMBIE APOCALYPSE is multi layered and exceptionally well balanced. Jesus Sanchez and Adam Vaughn demonstrating in this collaboration that, two brains are better than one!
The Raymond 1886 will be open for Halloween,Tuesday, October 31st from 6:00 pm to 12:00 pm; 1250 S Fair Oaks Avenue., Pasadena, CA 911015; 626.441.3136.
PUMPKIN MOUSSE CAKE – ROKU
Pumpkin Cake with Caramelized Apples, Pumpkin Mousse, Candied Pecans, and Caramel Sauce. Served with homemade Cinnamon Ice Cream.
HOCUS POCUS – ROKU EXCLUSIVE
2oz. Svedka
1oz. Dolin Blanc infused with Butterfly Pea Flower Tea
1/2 Blood Orange
1/2oz. Lime
1/2 Simple Syrup
1/4 Creme d Yvette