The holidays offer all kinds of special attractions in the Los Angeles area and one of the most delightful is Enchanted: Forest of Light at Descanso Gardens in La Canada Flintridge.
It's an interactive nighttime experience that will appeal to the whole family, and especially to young children who get to touch, tap, or step on the various exhibits that change colors over and over. It can also be a romantic date for couples, although it's likely they will hear happy squeals from exuberant tots sharing the experience at the same time.
There are ten different stations along the one-mile walking path:
Flower Power – a sea of radiant tulips exhibiting waves of color.
Rainbow Sycamores – towering, stately trees, beautiful to see
Starlight Garden – featuring Celestial Shadows, large-scale spinning artworks
Lightwave Lake – streams of different colored lights wash over the water
Symphony of Oaks – trees that "sing" with different hues of color
Fantasy Forest -an incandescent display among Descanso's famous camellias
Luminous Lawn – featuring Aqueous, an interactive landscape for pathways of light
Ancient Forrest – ancient botanical species highlighted with lights and music
Pixel Grove – a psychedelic wonderland with glowing reeds and prismatic lights
Garden of Good Fortune – a Japanese Garden with illuminated red lanterns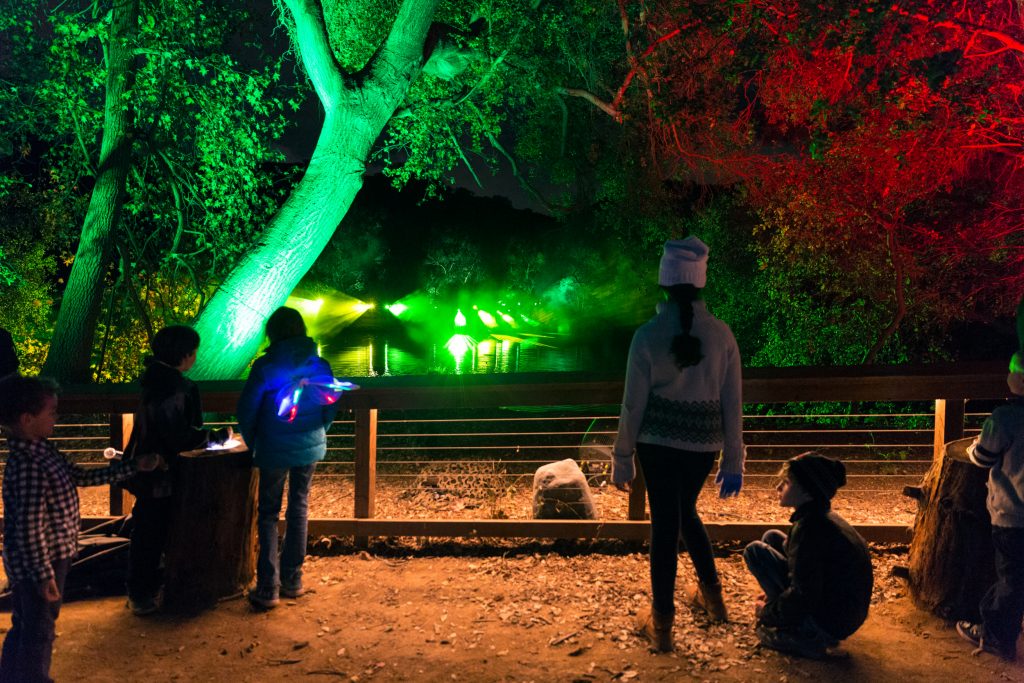 As you walk through the beautifully lit gardens, you'll see everything from huge beautiful oaks surrounded by pastel fog, to flower beds streamed with radiant color, to living fossils bathed in dazzling lights.  Tranquil, soothing music accompanies you on the way.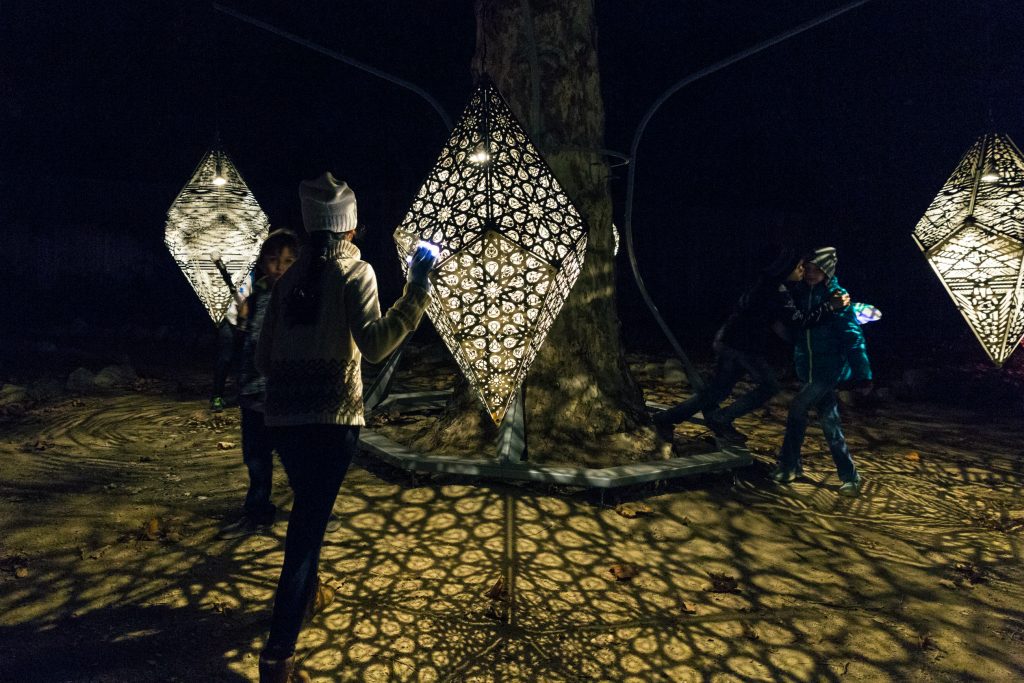 It's all a stunning and colorful electric playground. Depending on your preferred pace, it can take anywhere between 45 minutes to two hours to stroll through the kaleidoscopic gardens. You'll want to take photos, touch the interactive elements, watch the cascading colors, or simply sit and relax as you let the light show and nature surround you.
There are several food options at Enchanted.  An upscale restaurant, Maple, is available for dinner reservations, and there are more casual eating stops within Enchanted.  After stop 4, Lightwave Lake, there's an Airstream truck with a choice of hot dogs, hamburgers, fries, chili, and sodas or hot chocolate.  Many people stopped for food here; there were lines and they were quite backed up.  However, after waiting a while and then quickly devouring the $7 hot dog, we later discovered a better eating stop, with more interesting cuisine and surprisingly lower prices. In front of stop 7, the Luminous Lawn, a food kiosk offered a pork spare rib and potato salad combo that was only $4 and was quite delicious.  In addition, they had beignets with powdered sugar and maple syrup that was totally yummy.  So, if you and the family can hold out, my recommendation is to go the extra three stops for the specialty house smoked ribs and potato salad.
Enchanted: Forest of Light runs daily from 5:30 to 10 p.m., November 19 – January 7. There are several options for ticketing, which start at $28 per person, and must be ordered in advance.
During the day and year-round, with a separate entrance fee, guests can visit the magnificent Descanso Gardens between 9 am to 5 pm and see all kinds of California native plants and oak woodlands; one of the largest collections of camellias in the Western Hemisphere; a rose garden with specimens from all corners of the globe; and significant presentations of lilacs, maple trees, cherry trees and iris. This Southern California attraction has internationally renowned botanical collections and spectacular seasonal horticultural displays that welcome more than 500,000 visitors annually.
1418 Descanso Dr,
La Cañada Flintridge, CA 91011