Written by playwright David Farr, THE HEART OF ROBIN HOOD premiered in Great Britain in 2012. Directed by Gisli Orn Gardarsson and Selma Bjornsdottir from Iceland's innovative theater company, Vesturport, it was touted as a new and creative retelling of Robin Hood's story. Although later productions met with mixed reviews, this iconic tale longs to be told over and over.
In this version, I'm afraid that Robin (Luke Forbes) doesn't steal from the rich to give to the poor. He grabs what he can for himself and his unmerry men and moves on. That is, until he crosses paths with feisty Maid Marion (Christina Bennett Lind), who decides that he needs some reforming. In the current production of Robin's story, the main character is actually Maid Marion, who is the bold moving force in her quest to protect the poor and downtrodden. When she decides that she loves Robin, watch out. Robin had better get with the program – or else.
THE HEART OF ROBIN HOOD really celebrates the women in Sherwood Forest, including Marion's crafty, manipulative sister Alice (Sarah Hunt). When the dastardly Prince John (Eirik Del Barco Soleglad) decides that he wants to marry Marion, the fur will definitely fly. All of the merry men are accounted for, including Will Scarlett (Sam Meader), Much Miller (Kasey Mahaffy), and Little John (Jeremy Crawford). On Marion's side of things, there's plump Pierre (Daniel Franzese), who injects some humor into the otherwise solemn story. Things really heat up when the totally villainous Prince John decides to kill two charming children, Jethro (Gavin Lewis) and Sarah Summers (Lily Rose Silver) – something that clearly sets Marion on fire. To add to the chaos, the production has a live band led by Icelandic pop singer Salka Sol, who offers some bluegrass along the way. Sol doubles as musical director for the four-member band.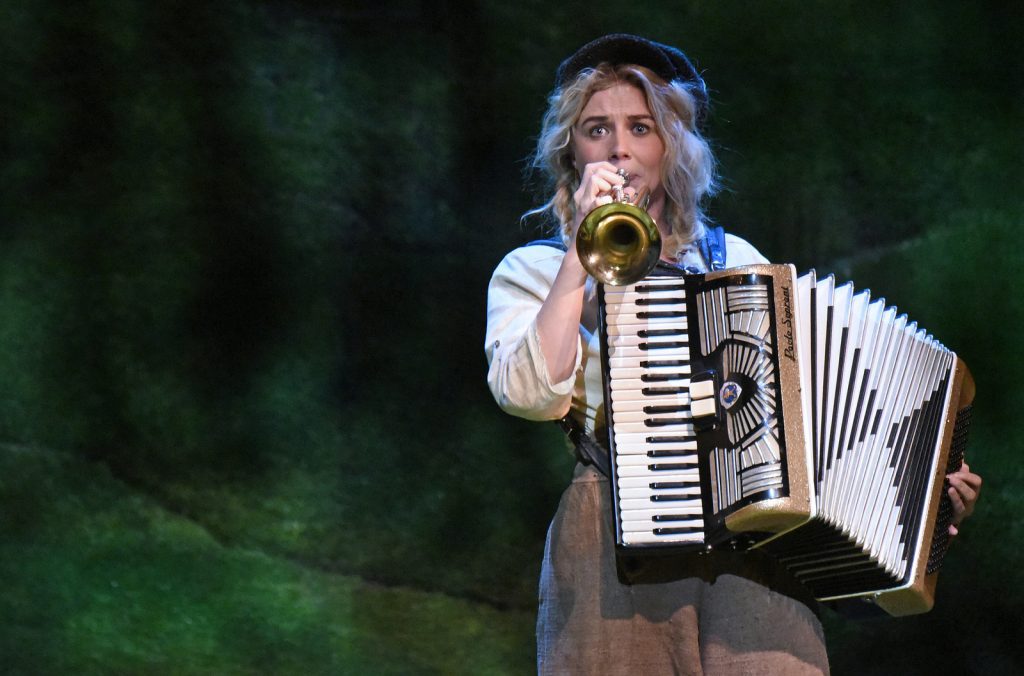 In this production of THE HEART OF ROBIN HOOD, however, the story plays second fiddle to the setting. Borkur Jonsson's fully realized Sherwood Forest covers the stage, complete with a huge curved wall for the principals to slide down. Shakespearean allusions couple with Icelandic athleticism to produce daring acrobatics from dangling ropes and branches protruding from lush trees. Part fairy tale, part acrobatics, and part bluegrass, THE HEART OF ROBIN HOOD tries to do it all.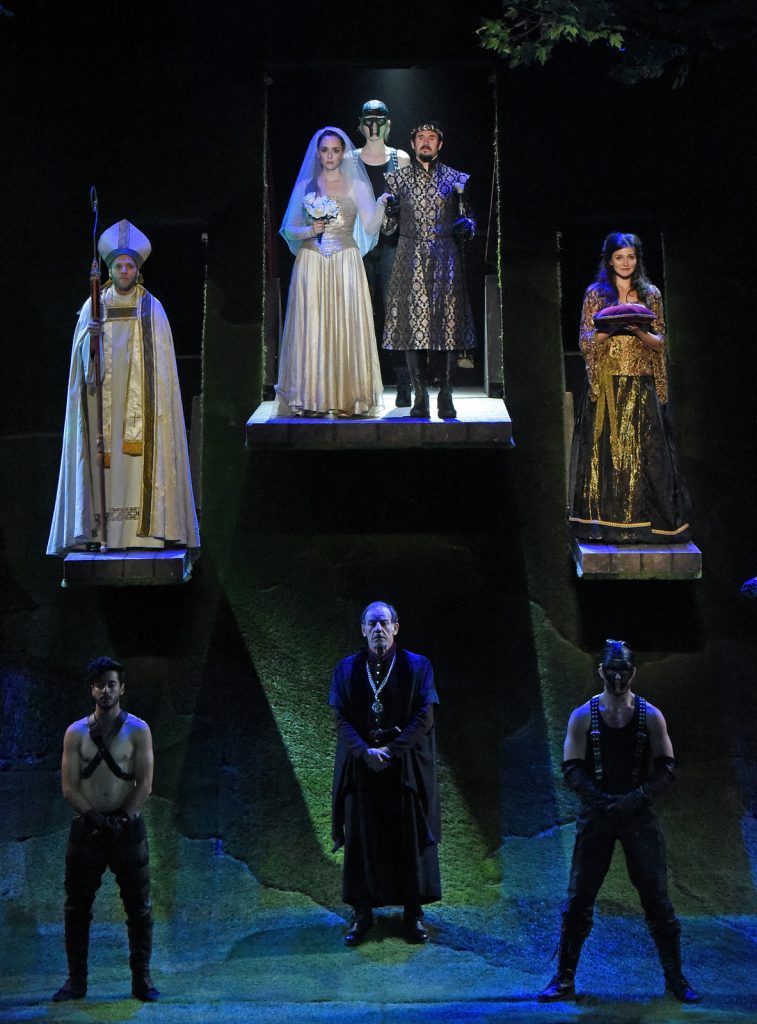 But a question prompted by THE HEART OF ROBIN HOOD remains. Who is the targeted audience? The production may be somewhat gruesome for young children – especially when there is a beheading in one scene and, in another, a character has his tongue forcibly yanked out onstage. For adults, the play is somewhat slow; and the characters, rather stereotyped. There is little to no character development, and the players' personalities remain superficial. Irrationally, in almost no time at all, Robin is transformed by the determined Marion.
Some of the acrobatics will catch the audience's attention; however, for awe-inspiring acrobatics, they don't hold a candle to the Cirque de Soleil. While catchy, the music doesn't seem to advance the tale. In other words, the production is a potpourri which doesn't quite coalesce. At the same time, it is entertaining and an imaginative holiday offering.
THE HEART OF ROBIN HOOD runs through December 17, 2017, with performances at 7:30 p.m. Tuesdays through Fridays and at 2 p.m. and 7:30 p.m. on Saturdays and Sundays. The Bram Goldsmith Theater is located at the Wallis Annenberg Center for the Performing Arts, 9390 N. Santa Monica Blvd., Beverly Hills, CA 90210. Tickets range from $35 to $125. For information and reservations, call 310-746-4000 or go online.