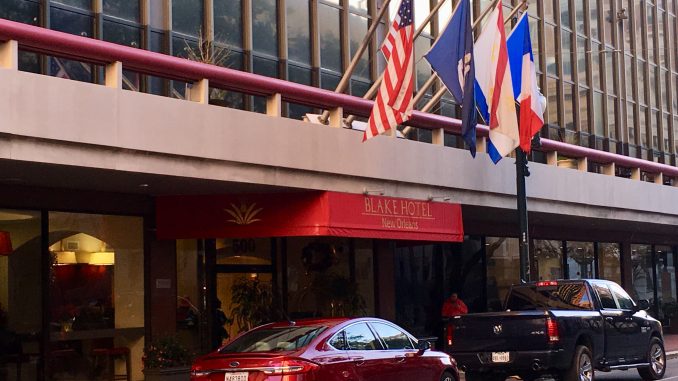 People from all over the world travel to New Orleans, or the "Big Easy." When you stop by and want to feel at home, you should reserve a room at the contemporary Blake Hotel New Orleans, located on St. Charles Street and accessible to the St. Charles streetcar. It is one of only two in the US that still run on electric cables.
The Blake Hotel offers its guests a plethora of top-notch amenities to ensure that your stay in NOLA is as comfortable and enjoyable as possible, whether you are here for business or leisure. The amenities include upgraded guest rooms and sophisticated décor, complimentary wireless Internet access, on-property dining at Café at the Square, a convenient business center with computers and printing terminals, 24-hour front desk services, tour assistance, wake-up calls, nighttime security, private parking and family friendly rooms.
The hotel also provides several free offers such as air conditioning, a fitness center, baggage storage, a room safe, business center usage, newspapers and daily housekeeping. There is also room service, an onsite convenience store and ATM, non-smoking rooms and public/private spaces, facilities for disabled guests, a concierge service, dry cleaning, valet parking and fax/copy services.
The Blake Hotel's room options are as listed: a standard room with a queen bed or king bed, an accessible room with a king bed or two queen beds (for disabled guests), a room with two queen beds, as well as a quite with a king bed.
Situated within the Central Business District and just minutes from the French Quarter, the hotel provides an ideal location near many top attractions and things to do after meetings. I found myself within steps from Mercedes-Benz Superdome, Audubon Golf Course, Jackson Square and much more! The location of the hotel is perfect for travelers who enjoy discovering all that NOLA has to offer. It is centrally located and within walking distance to all downtown restaurants, shopping, attractions and nightlife.
During Mardi Gras celebrations in February, you can experience the parades like a king with balcony access at the Blake Hotel offering prime viewing location. Balcony passes are available daily and include complimentary food, drinks, open bar, restrooms, and the best parade viewing location you can ask for.
I traveled to NOLA for my third time this past Christmas 2017, and could not have asked for any better stay than the Blake Hotel. It was an enjoyable stay and I especially liked the range of amenities offered, the excellent service by the hotel employees, and my brunch dining experience at Café at the Square.
Other highlights during my stay included the friendly housekeeping service, the well-stocked fitness center, and the microwave and mini fridge inside my room. In addition, one of the main desk attendants, Hera, sent me a text message on my phone every day to inquire if I needed anything during my stay. I have never received this sort of thoughtfulness previously, in any hotel . A great bonus was the hotel's location which was walkable distance to most NOLA place of interest, especially the French Quarter, one of my favorite neighborhoods. (This was also very helpful considering my stay brought some lower than usual temperatures and rain).
The hotel lobby is beautifully decorated with round, red lamps that hang from the ceiling, with thick tan leather chairs to sit and relax on, which are accompanied with red cubed ottomans. The lobby was also decorated with poinsettias, a festive Christmas tree and a toy rocking horse.
My hotel room itself, which was a standard room with a king size bed on the 10th floor was great. When I looked out my window, I had a lovely view of St. Charles Street below. The bed was clean with fitted white and red sheets. I had a desk available, a mini fridge, a microwave, plentiful closet space and drawers for my clothing. I appreciated the artwork on the walls. The bathroom was simple yet elegant, and provided lovely smelling shampoo, conditioner and soap bars made with olive oil from Italy.
The Blake Hotel's on-site Café at the Square was perfect for a delicious homemade breakfast, brunch (weekends only), lunch or dinner. The café offered authentic NOLA dining menu options such fresh fruit, yogurt, granola, oatmeal, waffles, biscuits and gravy, omelets, bacon, sausage, coffee, tea, mimosas (breakfast), hot soups, crab cakes, salads, grilled sandwiches and burgers, pastas, steaks, chicken entrees, fish of the day, coffee, tea, wine and beer (lunch/dinner) and fried tomatoes, pastries, waffles, fresh fruit, oatmeal, egg scrambles, French toast, BLT sandwiches, freshly squeezed lemonade and mimosas (weekend brunch only).
Café at the Square is next door to the hotel lobby and boasts a sun-filled, casual yet cozy atmosphere. Paintings of famous faces by local artists lined the walls above tables with white table clothes and black, leather booth seats and dark, wooden chairs. The service was excellent and my server was very attentive and polite.
The brunch menu was vast and it took a while for me to make a choice. I finally decided on the sourdough French toast with a side of fresh fruit, and the build-your-own-omelet option (spinach and mushroom) with rye toast and warm, creamy grits. The food was fresh and delicious. I am a sourdough bread lover, and having it served to me as French toast (another weakness of mine), was Heaven sent. Warm maple syrup topped the fluffy bread, and I savored each bite. The omelet was also very tasty with the mushrooms and spinach. The side of grits was a nice accompaniment to the omelet. The grits were hot, creamy and nicely seasoned.
Each morning before I began my NOLA adventures for the day, I stopped by the Blake Hotel's fitness center. It was a decent size and provided elliptical, treadmills, free water, cups and towels, TVs, a bench, medicine balls and various hand weights. There was also a large weight machine with cables. I usually did morning runs on the treadmill and strength training with the weights and medicine balls.
I stayed at the Blake Hotel for three nights and could not have asked for a better hotel experience anywhere. The employees, the food, the service and amenities were all top notch, and it all made my vacation especially pleasurable. I strongly recommend the Blake Hotel if you crave modern, convenient lodging in NOLA, while also enjoying VIP treatment. I plan to book a room there again on my next visit to the Big Easy, one of my very favorite cities.
Photos: Jennifer Lunz
For more information on the Blake Hotel, or to reserve a room, please visit the website or call 504-522-9000.
500 Saint Charles Avenue
New Orleans Central Business District
New Orleans
LA 70130
Hours for Café on the Square: Monday through Friday from 7 a.m. to 10 p.m. and weekends from 8 a.m. to 10 p.m.