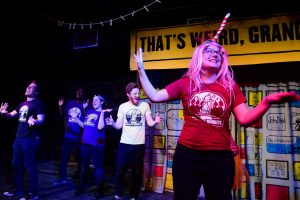 Last Monday was my third time attending That's Weird, Grandma, Barrel of Monkey's public performance of their theatrical adaptations of stories written by children in Chicago Public Schools. Why review this show for a third time? Well, for one thing, the lineup of plays presented is always changing, so no two performances are alike. For another, the show's current theme, Stories for Change, which draws inspiration from children's persuasive essays, is intriguing. And most importantly, Barrel of Monkeys' shows, like chocolate chip cookies, are a source of infinite delight.
I'm a person who revels in the absurdity of children. In my job at the children's department of a library, I'm forever acquiring adorable stories of kids proclaiming such things as "I'm a scientist because I have a book about science!" and "soon it's going to be Hanukah and then Christmas and then my birthday and I'm going to be FIVE!" With imaginations unfettered by self-consciousness or the constraints of logic, kids generate creative ideas we grownups would never have dreamed of, like a unicorn named Sparkel who can magically change anything she doesn't like or a drum that makes a compelling plea for the percussion section to quit banging on it all the time.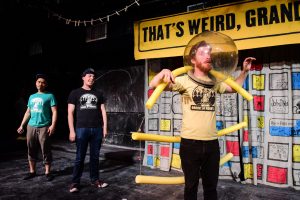 Something that struck me about this particular incarnation of That's Weird, Grandma, is the ways it highlights children's awareness of the world around them. I had heard the piece Los Hombres de Imigración, a child's description of immigrant men who leave their countries to support their families, performed before, but it's a song that doesn't lose its impact. The simple innocence of a child's perspective cuts through ugly political rhetoric and reminds us of the human side of the immigration debate.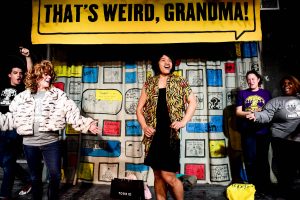 But Los Hombres de Imigración is not the only persuasive piece that touches on our current political culture. Rights is a story that connects Harriet Tubman and the civil rights movements of the past with present-day political protesters and insists that all people deserve the same rights. Although light and silly, Octopus, the story of a young girl whose pet octopus is made illegal and who must protest to get him released from arrest, still carries echoes of ICE raids and resistance to unjust laws.
But my favorite piece of the night had to be Derick/Deasia's Happy Life, the story of a trans woman who goes shopping for the dresses, heels, and makeup she's always longed for and whose friends happily embrace her new identity. The story is utterly heartwarming, and I can only hope that one day all trans folks will be treated with the kindness that Deasia is treated with and that all writers will write trans characters with the empathy that Chauntyra G. did.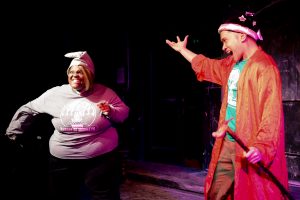 Kids are aware of more of the world than we might think, and their thoughts on what should change about it can very insightful or just very silly. That's Weird, Grandma: Stories for Change captures the full spectrum of children's serious and not-so-serious opinions, and it's completely wonderful.
Ticket Information
Location: Neo-Futurist Theater, 5153 N. Ashland Ave. in Chicago
Dates: January 22 – February 19, 2018
Curtain Times: Mondays at 8 pm
Tickets: $15 for adults; $5 for children 12 and under. Discounts: $10 for students with ID, seniors, veterans and groups of 10 or more people. Tickets are available at the Barrel of Monkeys website or by calling (773) 506-7140.
All photos by Evan Hanover.