Hubbard Street Dance Chicago (HSDC) returned to The Auditorium Theatre of Roosevelt University, 50 E. Congress Parkway, Chicago on March 23rd, 2018 after a 20 year hiatus in a special two-night engagement devoted entirely to work by Resident Choreographer Alejandro Cerrudo.
The 4 pieces in the retrospective, beginning with Cerrudo's first main company piece for HSDC, crafted in 2006, and culminating in his most recent work, choreographed especially for this stage and this retrospective, conveyed a strong impression of mature growth and deliberate artistic development. All of the pieces are "Cerrudo-esque" in that they are made up of clever themes/ intellectual concepts expressed by perfectly developed and technically elegant modern moves, executed flawlessly. Whimsy is juxtaposed with fierce intelligence and an elemental flirt of humor lifts up romanticism. It was a special journey and a sensory extravaganza.
The final premiere was actually introduced earlier in the program, in a stunning anticipation of its iconoclastic interpretation of the psychological/epistemological works of British philosopher Alan Watts. Prior to the beginning of Off Screen, a single light on the balcony house right revealed Rena Butler archly declaiming a Watts-ian analysis of dream states, later incorporated into Out of Your Mind. The prose described the concept of "dramatis personae". Similarly, at the end of Off Screen, David Schultz, garbed like a messenger from the gods, delivered in ringing tones another segment of Watts' theories about the one-up-man-ship of individuals searching for nirvana. This excerpt was also later heard in Watts' own voice during the performance of Out of Your Mind. The disparate and intriguing interpretations given the works served to underline different levels of meaning and to underscore the ability of the dancers to emote and act.
Lickety-Split
Originally performed in 2006 at the Harris Theater as part of the Inside/Out Choreographic Workshop, the piece began as a duet and was expanded to include 3 sets of dancers. In what would become classic Cerrudo, the piece combines cerebral playfulness- it's set to the wonderfully country western flavored "nonsense syllables" of neo-folk musician Devendra Banhart– with visceral sensuality, and is also a quirky showpiece for the individual dancers.
The dance may take its shape from the music, but this intriguing piece for three fluent couples grows into an expression of the many shades of transparent love.
The work features lighting design by Ryan J. O'Gara and costume design by Rebecca Shouse.
Off Screen
Premiering in April of 2009, Cerrudo's third work created for Hubbard Street, the dance is staged for seven dancers, and is built around strongly evocative excerpts from a variety of movie scores. With 16 passages, it's an ambitious yet fully realized work, with an impish hilarity wedded to a surreal vision. A huge black and silver glistening fabric "scarf", maneuvered by the dancers, like the very tides of fame, is at once the crown of heaven, the earth beneath them, their envelope- their ejector.
The scenes are original, distinct, and strongly emotive of film episodes. They range from film noir through early silent-era to Hollywood musical, from a scene suggesting incipient sci-fi to slapstick moves reminiscent of the Marx Brothers, from a hilarious group opera parody to a high-speed chase. Spliced with segments of impossibly cerebral passionate love, it's an incredibly compelling dance.
The work, set to exciting music by various artists, featured costumes by Branimira Ivanova and lighting design by Nicholas Philips.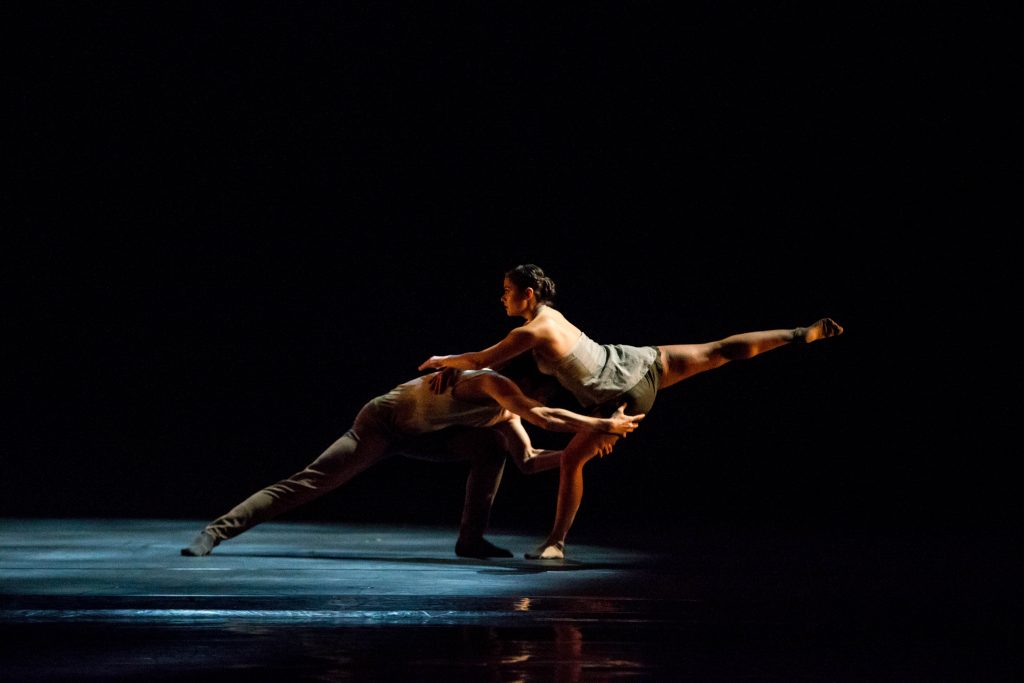 Chicago Premiere of Silent Ghost
This piece originally premiered in July of 2015 at the Aspen Santa Fe Ballet (ASFB) with original music by Dustin Hamman, King Creosote & John Hopkins, Ólafur Arnalds and Nils Frahm. "Poetic" is the word Tom Mossbrucker, artistic director ASFB used most in describing the piece. When I interviewed Alejandro Cerrudo, however, on the eve of this performance, he said, "I hope it is a lot more than poetic"; it is much more.
In fact, the central duets are descriptive of the thrilling emotional heights of an intense love relationship- including its end. All the dancers are emotionally engaged in touch, in gesture, in eye contact, in their melding with one another. It's a symphony of individuality and also of connectivity, and finally of separation, as the male dancers exult in floor moves and spin off into the air.
Branimira Ivanova's costumes and Michael Korsch's dim and smoke-filled lighting coupled with the tinny indistinct indie music added a retro mood.
Out of Your Mind : World Premiere
The evening culminated with this full-company piece set to text by visionary writer/philosopher Alan Watts. In part a performance narrative on the possibility of dreams impacting reality, in part a physical disquisition on the inability to divorce ego from efforts at self-transcendence, it's a hauntingly memorable work filled with mime, mummery and even sarcasm.
In this dance, especially choreographed to fit the Auditorium's imposing stage and sweeping proscenium arch as well as created for this retrospective, the HSDC dancers seemed to fill and brighten up every corner of the deep stage, almost swinging through the atmosphere, creating images in empty space. As in the interpretations of notions of "responsibility" being uttered by Watts, every step taken was colored by the persons/personalities of the dancers and directed by the unerring, knowing touch of Alejandro Cerrudo. Sometimes seeming like pantomime artists, sometimes seeming like principals in a meditation-ballet, the dancers gave the audience a depiction in the flesh of the malleability of memory and form. To the words of Alan Watts discoursing on the consciousness of self, the dancers explored the nature of their corporeal selves in THE NOW.
Featuring Branimira Ivanova's spare sleek costumes, Burke Brown's transfiguring lighting and vivid music by various artists.
The evening as a whole was all of a piece; there was no sense of any of the works emanating from a younger or less sophisticated choreographer; they flowed into and out of one another. It was clear from the outset that the dancers were absolutely comfortable with each other and adept at transforming the inspiration of their brilliant choreographer with wit, virtuosity, and the ability to inhabit not just the dance steps but the spaces between the steps- just like a work of visual art is as much about the shapes that are not colored.
The uniting signatures were: an athletic aesthetic; comfortable graceful costumes; low spotlighting; not-quite distinct lyrics in modern tunes alternating with lyrical piano music coupled with spoken words that commanded thought. This was a saga of tender sensuality and extreme geometric fluidity; the dancers seemed to finish each other's bodily thoughts- each becoming a part of or extension of the other.
For information and tickets to the second night program, March 24th, 2018, go to