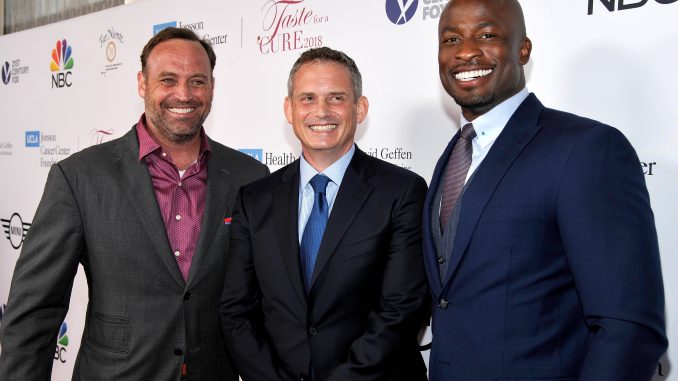 The UCLA Jonsson Cancer Center Foundation (JCCF) hosted its 23rd annual 'Taste for a Cure' Event on Friday, April 27, 2018, at the Beverly Wilshire Hotel in Beverly Hills, where Honoree Paul Telegdy, President, Alternative and Reality Group at NBC Entertainment received the Gil Nickel Humanitarian Award.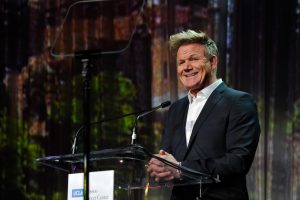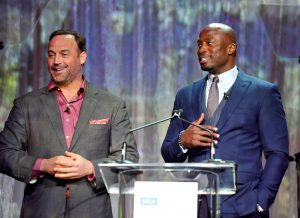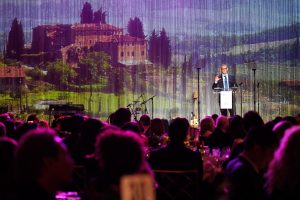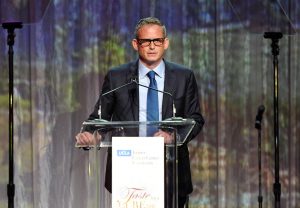 The Italian-themed evening was hosted by Gordon Ramsay, Multi-Michelin Star Chef and Star of the FOX series "MasterChef," "Hell's Kitchen" and "24 Hours To Hell & Back," and Telegdy's award was presented by Matt Iseman and Akbar Gbajabiamila, hosts of the NBC's Emmy-nominated "American Ninja Warriors." The evening also featured a thrilling performance by global superstar, three-time Grammy Award-winner and Coach on "The Voice," Kelly Clarkson!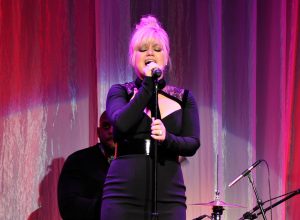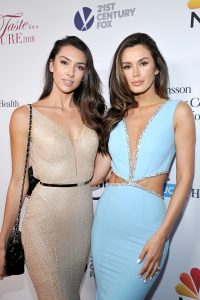 The star-studded evening commenced with interviews and photo shoots on an active red carpet. Grandly attired guests poured into the elegant hotel reception area and enjoyed offerings of wine and culinary delights before the event commenced in the dining area, where tables were set to perfection! Taste for a Cure unites the entertainment and epicurean communities and consistently ranks among the top ten culinary events in Southern California.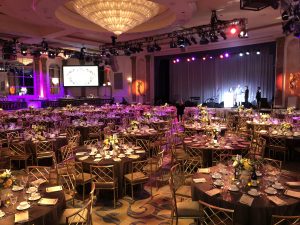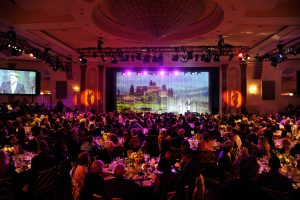 Some personal cancer-themed stories were related and videos screened—of heartwarming survivals and remissions, but also of some who sadly lost the battle. The importance of the JCCF was not lost on the guests who rose to the challenge of donating and bidding generously during the fund-raising auction!
At NBC Entertainment, Telegdy oversees NBC's unscripted series, including such major franchises as "The Voice," "America's Got Talent," "American Ninja Warrior," "Ellen's Game of Games," the "Golden Globe Awards," "Little Big Shots," "Hollywood Game Night," "Running Wild with Bear Grylls" and "The Macy's Thanksgiving Day Parade." His purview also includes oversight of first-run syndication, as well as business affairs and production for unscripted and specials programming. In 2016, Telegdy launched Universal Television Alternative Studios and appointed Meredith Ahr as President, which produces hits such as "World of Dance," "The Wall" and "Hollywood Game Night," as well as the upcoming Amy Poehler and Nick Offerman hosted "Making It," Chris Hardwick helmed "The Awesome Show" and Dwayne Johnson led "The Titan Games." An active philanthropist, Telegdy is dedicated to supporting the JCCF and its mission. He also oversees the annual global philanthropic event Red Nose Day, organized by Comic Relief and broadcasted across NBC Universal to raise awareness and funding to end child poverty in the U.S. and around the world. Prior NBC and Universal Television Studios, Telegdy served as an executive at the BBC.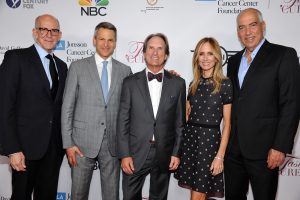 Event co-chairs were Dana Walden, Co-Chairman & CEO of FOX Television Group; Gary Newman, Co-Chairman & CEO of FOX Television Group; Joe Cohen, Co-Head of Television, Creative Artists Agency; Jay Sures, Co-President, United Talent Agency; Jon Holman, President of The Holman Group and Larry Maguire, President of Far Niente Winery. Delta Air Lines and Modern Luxury Angeleno magazine served as partners. This year's event also included delicious wine tastings, sensational cuisine, and a live auction. The epicurean culinary team, with some of SoCal's most accomplished chefs, delivered a unique twist on the Italian inspired fare by preparing tantalizing dishes from Prince of Venice, Locanda del Lago, Tasting Thyme, and The Beverly Wilshire, and more. Wineries were Dreyfus, Ashby & Co, Empson (USA) Inc, Fèlsina, LUX Wines, Gulfi Wines and Venica & Venica.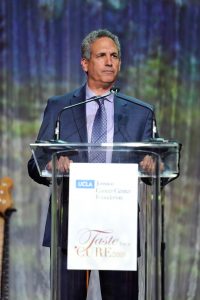 "This is a monumental year for the Foundation as we have welcomed Dr. Michael Teitell as JCCF President and Director and celebrate our 23rd anniversary of Taste for a Cure, established to raise money for highest priority cancer research that has culminated in the remarkable achievement of 9 FDA approvals over the past 4 years," said JCCF Chairman, Randy Katz. "We are excited to present Paul Telegdy with the Gil Nickel Humanitarian Award in recognition of his dedication to inspiring those who battle with this disease. Through his platform at NBC, he has worked to shift the narrative around the cancer struggle from one of anger and defeat, to that of encouragement and bravery."
Telegdy joined previous honorees, including: Yael Braun and Scooter Braun, Dana Walden, Gary Newman, Kevin Reilly, Joe Cohen, Jay Sures, Jennifer Salke and Eric Shanks. The Gil Nickel Humanitarian Award was created in memory of Gil Nickel, proprietor of Far Niente, Nickel & Nickel and Dolce wineries, who lost a courageous battle against melanoma in October 2003. The Award honors key individuals for their humanitarian efforts, community involvement and commitment to philanthropy. Over the past 22 years, the event has raised funds over $12 million for highest priority cancer research at UCLA.
About the UCLA Jonsson Cancer Center Foundation
Founded in 1945, the UCLA Jonsson Cancer Center Foundation (JCCF) is the single most important vehicle for raising private funds for cancer research at UCLA. It supports a number of high priority cancer research efforts, focused on converting laboratory discoveries into more effective therapies for cancer patients. UCLA Health is ranked as the leading adult cancer center in Southern California, by U.S. News & World Report. The UCLA Jonsson Comprehensive Cancer Center's dedicated researchers are recognized as international leaders in the discovery of new and better ways to prevent, detect and treat cancer.
(PHOTO CRED: Photo by John Sciulli/Getty Images for UCLA Jonsson Cancer Center Foundation)