The elite world of high performance endurance cycling wears a human face. Unsuspectingly, the competitive sports enthusiasts exhibit strong family values and divine beliefs, work toward humanitarian efforts, embody athleticism at any age and foster taking on challenges that create internal life changing physical and emotional awakenings. Yes!, I am talking about Jerry Schemmel and Brad Cooper of Team Enduring Hope in their 2015 Race Across America depicted in the movie Godspeed hitting the big screen this week.
Jerry Schemmel husband, father, sportscaster, lawyer, airline crash survivor, athlete, coach and dreamer. He cooked up the idea to enlist his friend Brad Cooper to participate as a two person team in the Race Across America, an atypical three thousand mile ride spanning from the west coast of the United States ending on the east coast which is continuous. Unlike the Tour de France there are no stages.  Athletes stop for water, sleep and food upon their own volition. Brad Cooper is the other player in this dynamic duo. Brad also a husband and father can be credited with being a businessman, author, physical therapist, inventor and motivator.  Is there anything these two can't do if they put their minds to it? An expression of their training which they weave into their lives and very simply put by Brad is, "Let's get a little bit better then yesterday".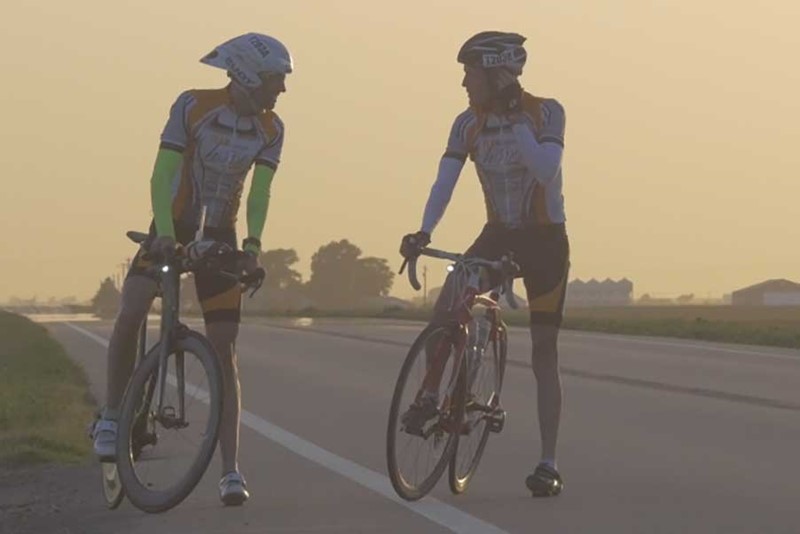 Seven days, thirteen hours and fifteen seconds is what it took to finish RAAM, the Race Across America.  Coming in twenty four hours ahead of the second place two man team and even out riding several four member teams.  Overcoming obstacles such as blistering heat, hair pin turns, wrong turns, passes as high as ten thousand eight hundred and fifty six feet, thunderstorms where the rain was compared to by Jerry as, "someone standing over you and pouring a bucket over you head".   Headwinds and hallucinations from sleep deprivation also wreaked havoc. The two team mates drank around three hundred ounces of fluid and consumed about six thousand calories per day, now that's no joke. There was a time in the Rocky Mountains that Jerry just relented to the beauty and forgot that he was racing but ultimately that is what RAAM is, a race like no other.  
The fundamental behind RAAM is a core value to give back.  The race raises about two million dollars annually.  Team Enduring Hope garnered fifty thousand dollars for relief to Haitian orphans.  The other why, both Jerry and Brad are competitors and life learners that don't let opportunities pass them by.  
How could two men accomplish finishing a harrowing race of this nature?  The answer is that they found strength in one another and in the family members and crew that accompanied them on the journey, who all became party of the story and whom made history together. Devotion showed itself in the form of a dry kit and socks after three days of torrential rain. The crew some how found a laundromat along the way and washed and dried Jerry's clothes to have waiting for him when his pull was done.  The film crew even circled back after Brad punctured a tire and left his wheel on the side of the road, finding it in the dark of night undamaged. It was also Jerry and Brad's feeling that God was watching over them. 
It was a privilege to have a race of this caliber chronicled and to witness the grace of these fine athletes. They are true role models of perseverance, relatable to most that the lesson of just putting yourself out there, goes all the way.  A big shout out to Fathom Events and Cinemark Theaters.