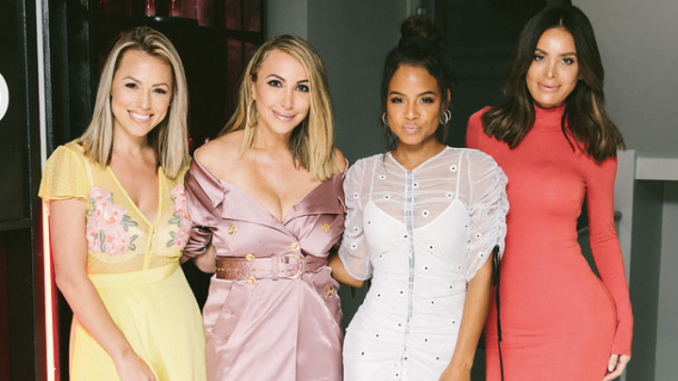 This weekend, Friday June 1st to Sunday June 3rd, Shiseido Kicked off Summer with a star studded line up in Malibu! Christina Milian & Lauren Bushnell attended the New Shiseido Ultimune US Launch at the Shiseido Beach House. Steph Shep, Audrina Patridge and Charlotte Mckinney kicked off summer with the new Shiseido Sun products from J Beauty Leader Shiseido at the Shiseido Sun Beach House. Guests tried the new products in fun sun activations doing yoga, cardio, paddle boarding and mediation to test the products durability in the sun.
Bachelor star Lauren Bushnell turned heads as she strutted into the venue. Wearing a simple, but cute mini dress the starlett proved she had legs for days. As reported by The Daily Mail the starlett was wearing the Lioness 'Tell Me Lies' mini-dress and periwinkle RAYE stilettos to the event. I'm sure the dress has sold out by now as it is PERFECT for those bright sunny SoCal days!
The reality star had a day of fun sans her beau, Devin Antin – of nearly a year! She previously stated to US Weekly that she is ready for love and taking that next step in her life.
"I'm definitely happy that [Devin's] in my life," Bushnell gushed, noting that she's ready to put down roots with the real estate investor. "Honestly, I'm just so ready to settle down. Whether that's in L.A., I don't know. There are so many things that are up in the air. But I want to have a family, I want to settle down and I want to hang out with my friends and family. I'm happy where I'm at and happy not being on reality television!"Bushnell was all smiles from her arrival to her departure. If this is any indication of her love life then something tells us this is going to be an incredible relationship for her!
Also in attendance at the Shiseido Beach House – Christina Milian! The 'Dip it Low' singer donned a chic Alice McCall dress featuring a simple top knot hair do with simple hoop earrings. surrounded by friends this weekend-long event served as the perfect girls getaway!
Keep up with the launch of its US beauty community on Instagram, @myshiseido and get a feel of how the brand engages with fans and customers! Create your best looks and selfies for a chance to be featured by using the hashtag #myshiseido!  The account is now live, and officially launched to the public at Malibu Beach House celebrating Ultimune 2.0 and Shiseido Suncare System.