The final play in a trilogy telling the true story of the Los Angeles Bimini Baths, famous in the 1940's and before, MEXICAN DAY recounts how discrimination and segregation were rampant after WW II, the war which was supposed to end all wars and destroy all barriers to individual success. The Bimini Baths, located in downtown Los Angeles, exemplified conflicts which made cleanliness in this spa-like setting a matter of race, gender, and sexuality. Authored by Tom Jacobson, one of Los Angeles' most acclaimed historical playwrights, MEXICAN DAY traces how social change comes about.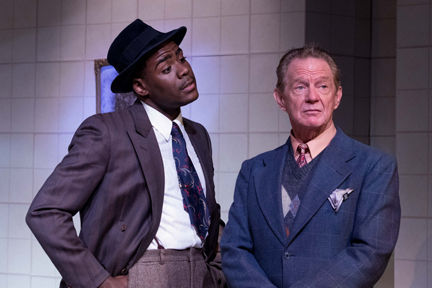 In 1939, nearly half of all Los Angeles County residential neighborhoods had restrictive covenants that forbade some racial groups from those communities. Institutions like Bimini Baths were considered "exclusive," because they enforced when and where different groups could use the facilities. At Bimini Baths, Mexicans, blacks, and other not-quite-white groups were prohibited from bathing in the hot springs except for a specified day at the end of the each month.
It's 1948, and African American Bayard Rustin (Donathan Walters) and Hisaye Yamamoto (Jully Lee) decide that nothing will change without some real effort to effect change. Interestingly, Rustin and Yamamoto were real people who decided that it was time to protest. When they show up at the Bimini Baths on the "wrong" day, they run afoul of Zenobio Remedios (Jonathan Medina), a military veteran and guardian of the gates at the baths. Even if he didn't make the rules, he has been charged with enforcing them. And he takes his role very seriously, even if he is intrigued by and attracted to the very comely Ms. Yamamoto.
Comic relief is supplied by Caucasian art expert Everett Maxwell (Darrell Larson), who somehow gets roped into helping out in the protest. Besides the four principals, MEXICAN DAY has a number of other personages, each played by one of the four and adding lots of laughs to a very intense topic. Directed by Jeff Liu, MEXICAN DAY plumbs the depths of ingrained beliefs – and how they might starts to show a crack or two when questioned with enough force and relentless drive. The talented cast seems to be having lots of fun telling the story; and humor alternates with seriousness, creating a precarious balance between what should be and what is.
John Iacovelli's flexible scenic design allows for quick changes of scene, while Dianne's K. Graebner's costume design keeps reminding us that this is, after all, the late 1940's. Brian Gale's lighting and Peter Bayne's sound add to the overall ambience, with original music keeping the joint hopping. MEXICAN DAY pokes fun at a very grave topic – and proves highly effective in setting just the right note of sincerity crippled by singlemindedness. This a thought-provoking and powerful play which asks some important questions about belief systems – how they develop and how to change them.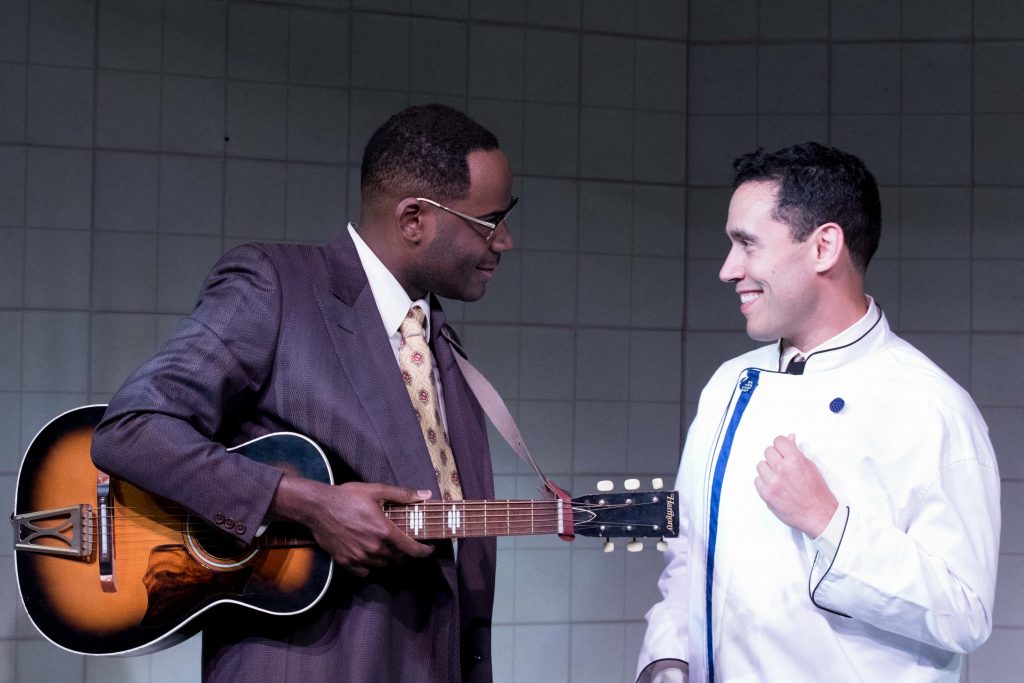 MEXICAN DAY runs through July 1, 2018, with performances at 8 p.m. on Fridays and Sundays and at 4 p.m. on Saturdays. Tickets are $40. For information and reservations, call 855-585-5185 or go online.