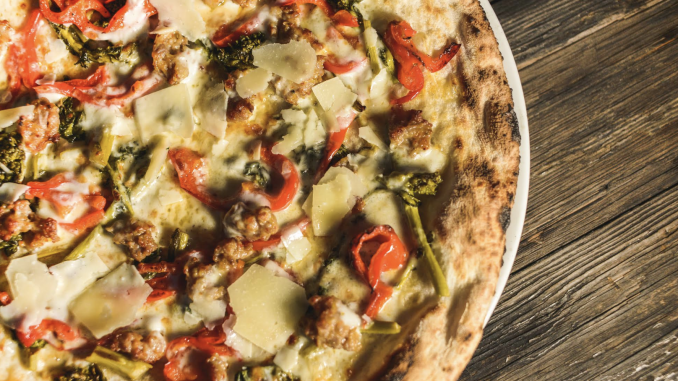 Silver Lake is certainly a gem in the middle of the busy city of Los Angeles. The city is full of cute shops, live music joints, and not to mention local eats PLUS prime people watching. It comes as no surprise that on our radar, WOOD, combines all of that with a touch of Silver Lake flair!

Located off of the corner of Sunset & Silver Lake Blvd., WOOD, created by Edgar  & Erik Martirosyan, is serving up some of the best Neapolitan pizzas in the city! 
The menu is definitely not your average pizza spot! Their chopped salad, melon salad and brussel sprouts are a few of the options you HAVE to try! The crispy sprouts are placed perfectly on top of a bed of pomengrante gastrique and tahini topped with sesame seeds – perfection!
One of the most notable items has to be the Khachapuri – a pizza in the shape of a gondola! Filled with mozzarella, feta, butter and two eggs, this pizza hits all of your tasting points and also pays homage to their home country of Georgia!
Their pizzas and bread are made in house with organic, GMO free, stone ground flour. There are many vegetarian options  as well!

WOOD provides a warm and friendly environment that is perfect for a quick hang with friends on the patio yet the hologram clean modern-ish inside atmosphere makes it a cute date spot as well! The complete menu boasts pastas, sandwiches, and of course some killer dessert picks!
A little slice of heaven is served with every bite at WOOD! One last perk – THERE'S FREE PARKING!