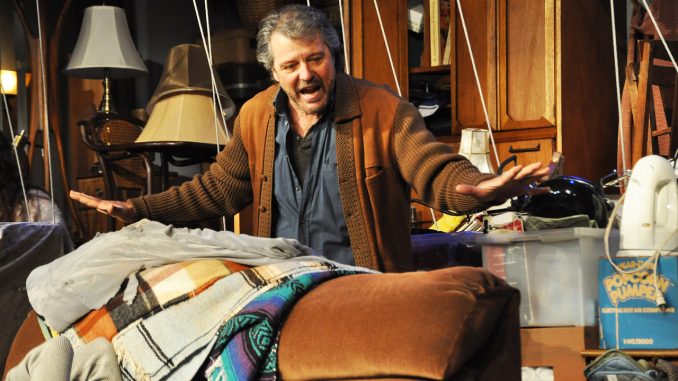 Playwright Benjamin Scuglia tackles a recently spotlighted mental health and public health issue with insight and compassion – the problem of hoarding, its causes and the repercussions that follow. Hoarding has come under the microscope on television, as well as on the psychotherapy couch. Directed by Michael Van Duzer, THE MAN WHO SAVED EVERYTHING has a story to tell that highlights the ins and outs of hoarding in an average household.
When Barry's aging parents needed care, Barry (David Mingrino) moved back home before he had a chance to unfurl his adult wings and develop a future for himself. And there Barry stayed – in his childhood home – even after his parents died and he could have explored the world. Years have gone by, and Barry is obsessed with holding onto every single thing that had any relevance at all to his early life and his relationship with his parents. Even if it means trudging through decades-worth of papers and bric-a-brack that most people would have thrown away years ago.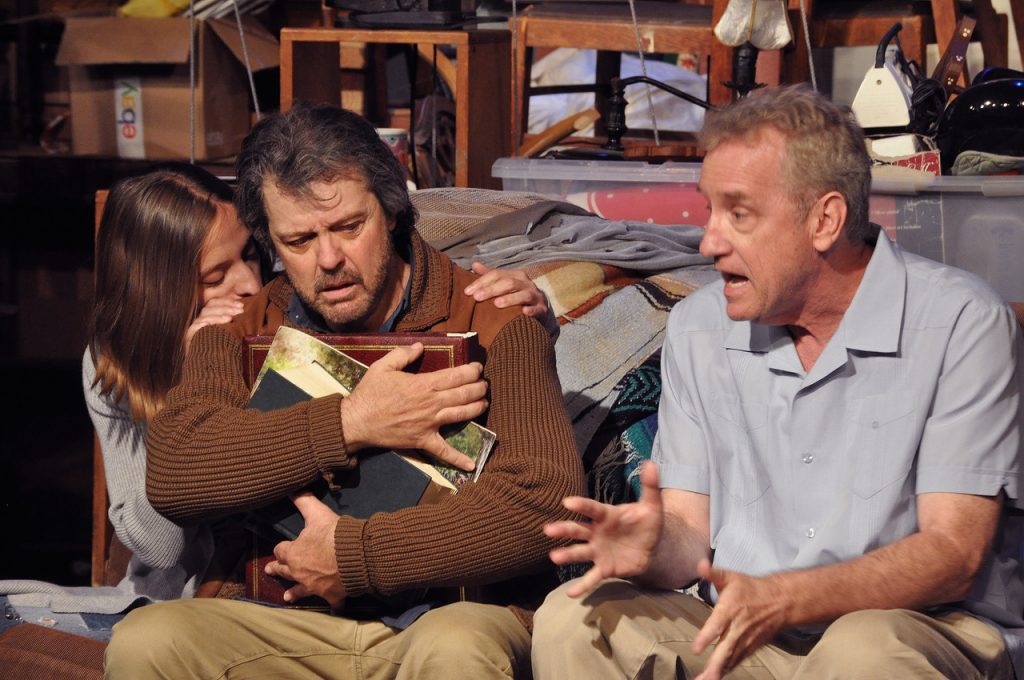 Now a problem looms on the horizon. All of the homes in his neighborhood are gone – leveled to make way for a mall – all the homes, that is, except for Barry's hideaway. His oldest friend Chuck (James J. Cox) and his niece Darla (Ashley Victoria Robinson) are desperately trying to get him to move before the police drag him away from the earth-movers threatening his residence. But how can Barry possibly leave the family home, a place where he has stored so many memories in very tangible ways. A place flowing with memorabilia from every moment of his existence. A place where his mother (Julia Silverman) and father (Alan Schack) still roam the halls. Barry is having an existential crisis, one which the audience will have the opportunity to share.
With a keen eye for detail and burgeoning inner turmoil, author Scuglia and director Van Duzer weave the relentless tale or a man torn between outer reality and an inner reality of his own making. Barry has even created two beings, the Collectibles (Ivy Miguel and Loida Navas), to share his crowded quarters. Clearly, the lines between the real and the fantastic remain a blur.
In fact, Barry's crowded home might even be considered another cast member – so potent are Barry's surroundings to the narrative. Even A. Bartoletti's scenic design was ably supplemented by the cast and the entire production crew. During the "Talkback" after the show, each of the actors recounted at least one special item which he/she brought to the stage to trigger poignant past recollections. Yancey Dunham's lighting, Austin Quan's sound, and Maxine Etchison's costumes helped immeasurably to retain an aura of the collision between present and past, facts and illusory memories, pragmatists and dreamers.
THE MAN WHO SAVED EVERYTHING is an intense existential journey and may not appeal to everyone. It is heavy going and could use just a touch of humor to leaven the proceedings. At the same time, this is a character-driven play dealing with something relevant to everyone – the place of memories in life – and how remembrances keep people alive long after death.
THE MAN WHO SAVED EVERYTHING runs through September 23, 1028, with performances at 8 p.m. on Fridays and Saturdays and at 2 p.m. on Sundays. There will be "Talkbacks" after each Sunday matinee. Theatre West is located at 3333 Cahuenga Blvd. West, Los Angeles, CA 90068. Tickets are $25. For information and reservations, call 323-851-7977 or go online.