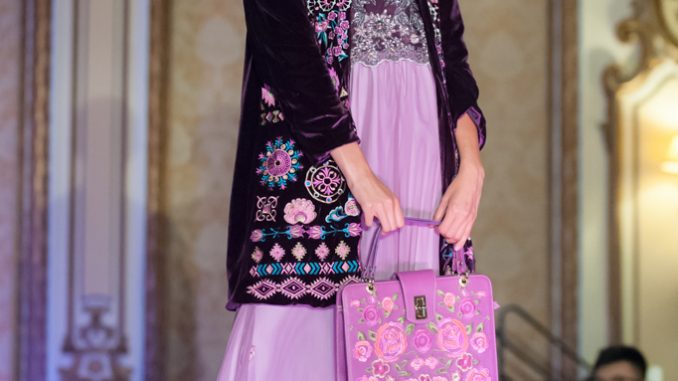 San Francisco's Fashion Community Week held sway for 4 days in September, inviting local, and International Designers, and over 50 models to take part in the city's cultural fashion extravaganza. This year FCWSF launched a #Wunite campaign representing world unity and women's unity, a sincere reflection of this organization's legacy.
FCWSF Fashion Shows and events (*VidLink)  have become the biggest fashion industry affair in San Francisco, now in its fifth year. The fashion week draws incredible sponsors and media attention, bringing the Bay Area and Global Fashion industry together  representing nearly 100 Businesses each year.
The Fashion shows featured International Fashion Designers showcasing: Couture, Ready to Wear, Emerging, Sustainable, and Wearable Technology Fashions.
Traci Halvorson, HMM/Halvorson Model Mgmt., told me that, "FCWSF is always a fabulous week of true high fashion! Our runway models get a unique opportunity to work with world class designers and stunning couture fashions."
The week began with a get-together at members only club The Modernist with 'Privé Shop the Runway & Influencers Evening,' in downtown San Francisco, where designers, models, and friends of FCWSF gathered in an intimate setting for some personal one-on-one time.
Each evening of fashion shows began with cocktails and champagne, and a gathering energy in anticipation of the night's showcase designers and shows. The venues for the various fashion shows and events included the Hotel Zelos, the Clift Royal Sonesta Hotel, and for me the most spectacular show and the Grandest of them all, the Fairmont Hotel San Francisco.
Every year Fashion Community Week chooses 5 non-profit organizations to raise awareness by gifting proceeds from the events to benefit these organizations. The proceeds of the events also helps in sustaining the future Fashion Community Week events.
FCWSF  began as a platform for local and emerging designers, and talents, who come from underrepresented backgrounds. The four days events are organized to bring the fashion community together, to encourage collaborations through networking, and to create opportunity for all. I was delightfully surprised with the opportunity to see fashion from such diversified designers from around the globe, right here in San Francisco.
Day two  at the spectacular and always amazing Fairmont Hotel, was the `International Couture Fashion themed show, included designers;  IB Bayo* (Nigeria), Binta Sagale (Guinea), FD Fashion House -Faith Duruaku (Nigeria). George Styler (LA), Rosa Pistacho (Colombia). The Evenings Awards for Best Designer, and Best Model, respectively went to designer George Styler, and model Marie Reuben (from New Zealand.)
Day three at the trendy Clift Hotel was the exclusive Fashion & Pret-a-Porter (Ready to Wear) show;  featuring designers; Ayla Clothing* – Andrea Alvarado (Peru), William Lei (San Francisco), Vestra – Veronica Estrada (Mexico), Fantabela – Esther Fame (Cameroon), Too Danm Expensive – Elisabeth Vestli (Norway).  The evening's awards for best designer went to William Lei, and the Best Model award went to Chris Gleckman.
Day four and the finale show of FCWSF 2018, was held on the rooftop at the Hotel Zelos. The venue was fun but the show was hard to follow due to the awkward criss-cross path the models followed and blocked sight lines.  3rdeye Brand – Jean Fredeling (NY), Blood of a Billionaire – Claudia Reyes (Sacramento), Viktoria Tisza (Budapest), Marissa Britt Holt (Ohio), Alexandria Von Bromssen (Sweden), Brooks Ware (San Francisco), all rounded out the group of designers at this years FCWSF. The Awards for the final evening went to designer, Marissa Britt Holt, and model  Meley Abraha.
All of the designers have truly remarkable stories. Three who caught my eye were; IB Bayo, Ayla, and William Lei.
IB  Bayo of Nigeria,  began sewing at age five and remembers sitting on his dad's lap at the sewing machine before his leg could reach the pedal. Growing up, he also learned to sell cotton, dye yarn, iron and fold, do beading and hand-embroidery. Bayo attended the Niké Center for Art and Culture in Osogbo, Nigeria where he studied batik cloth dying, quilt making, reverse appliqué, and clothing design. `I loved the Bold design, shapes, and textures,' said IB.
Ayla's , Andrea Alvarado  story, from Peru, begins in front of an old sewing machine also, `my grandma patiently showing me how to pass the thread through the needle and wind the bobbin. I am 8. I find comfort in the bustle of her fashion school and the hum of all the machines singing in unison. Outside there is a cold chill in the Peruvian air, but amongst the rich fabrics, and the colorful textiles, I feel warm.'
William Lei , Feeling that fashion nowadays is over-commercialized; William Lei started his eponymous clothing line in 2018, designing timeless pieces without following the traditional boundaries. Pieces like the ERA jackets, with beautifully crafted full peak lapels, aim to provide a powerful and statement look for modern day gentlemen of different identities without the need to put on a shirt and tie.
Fashion Community Week is an award winning non-profit seeking to provide a global business and marketing platform for the Fashion and Beauty industry to showcase their products and services, and to bring San Francisco into the fore within the fashion industry worldwide.
'Dress for Success' is a global non-profit organization that empowers women to achieve economic independence by providing a network of support, professional attire and the development tools to help women thrive in work and in life. The proceeds from FCWSF will benefit Dress for Success. Dress for Success San Francisco launched its program in June 2006 and has provided career development services and retention programs to over 7,000 women throughout San Francisco.
Models represented as much diversity as did the designers. The Agencies providing talent for the fashion shows included: Halvorson Model Mgmt/ HMM (Silicon Valley), RAE (San Francisco), ANG, NUMA, MDT (San Francisco), and Ataahua Models (New Zealand).
Niketa Brown of Ataahua Models came all the way from New Zealand, bringing with her 4 models whom I found to be delightful, gracious, and truly thrilled to be a part of the week's events and shows. Meeting young people of different cultures from around the world allows us the opportunity to fully appreciate the diversity and beauty of our shared humanity.
`To come from a small country on the opposite side of the world and share our Maori culture and values with a diverse group of international creative's has been more than fulfilling and something our models and agency will treasure forever.'  ~  Niketa Brown
This sharing of humanity is what Fashion Community Week in San Francisco does so well.  The Ataahua models were Erica Ransfield, 23, Monita Skipworth, 22, Georgia Emily Le'Mon, 20, and Marie Reuben, 15. Towards the end of FCWSF, the girls were invited, and will go to Paris to model in the CMG Paris Fashion Week and photoshoots at Mercedes Benz. I'm thrilled with their shared success. They are beautiful representatives of their shared culture.
Video Clips* provided by San Francisco based photo and video team Stuart Locklear and Tony Strittmatter.
For more Photos join me on the  FCWSF FaceBook Album.
Connect with me, Greg Autry,  on Facebook  Facebook.com/GregAutryPhoto,  Twitter  @CGAGreg,  and Instagram   gregautry.cga . There are always more pictures!
*Photography by Greg Autry @gregautry.cga  ©2018GregAutry ALL RIGHTS RESERVED