2018 was the year that Los Angeles Angel fans were introduced to the newest venue from Golden Road, their pub in Anaheim right across the street from Angels stadium. For 81 games you could always count on Angel fans taking over the venue before and after games, but the Golden Road Anaheim experience, offers another amazing experience the other 264 days a year.
Golden Road is so much more than beer and baseball. As fall approaches beer aficionados can turn their attention to the Anaheim Ducks, just down the road in Anaheim, or football, seemingly any night of the week or on the weekend. Golden Road Anaheim opens at 9:45 a.m. on Sunday mornings so you don't miss a snap of NFL action.
Golden Road Chef Henry Chan has brought creativity since the day he walked through the doors of the pub in Anaheim and he continues to produce uniquely wonderful dishes. It is kind of hard not to love a BLT, it is simplistic and it is built around bacon, but that was just too easy for Chef Henry. He created the GRB B.L.T. which begins with some thick apple-wood bacon, of course lettuce but the focal point of the dish is the fried green tomato. Just like it sounds, but even better as the panko crusted deep-fried tomato combines what you love about deep-fried food while still keep that juicy just off the vine freshness of a tomato. It is then finished off with some balsamic vinegar, a tomatillo aioli and the toasted squaw bread which might look a little puzzling on the menu, but the earthy flavor goes wonderfully with those ingredients.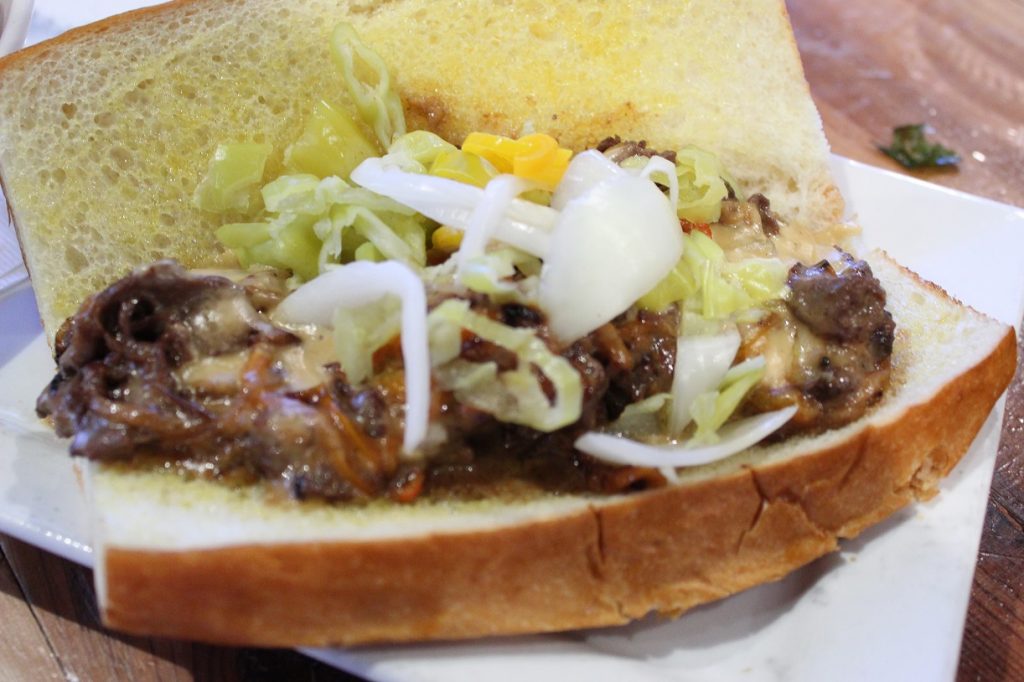 Anything that Chef Henry creates that mentions short rib is something you must try as he always does it to perfection. His latest dish is the overnight short ribs, which begins with his wonderfully tender short ribs that have a flavorful and rich brown-ale demi-glaze and it is plated on top of a shishito pepper succotash and comes with a side of fresh cornbread. This dish or his short rib tacos will satisfy any meat lover.
If you are looking to get a bit messy, the wagyu cheesesteak is well worth the mess. Beginning a cheesesteak with wagyu beef is just masterful and then topping it with a three-cheese blend and beer cheese for a very flavorful and gooey topping really elevates this to the point Philadelphia would be jealous. How about an appetizer that has enough to it that you could eat it as an entree is the Brussels sprouts. Crispy and charred, the Brussels sprouts are really brought to life with a powerfully flavorful chimichurri sauce that smothers the Brussels sprouts and then throughout the dish you will find plenty of crispy pork belly and crunchy chicharron. Brussels sprouts have become very popular in the past few years, but this version is about as good as you find anywhere.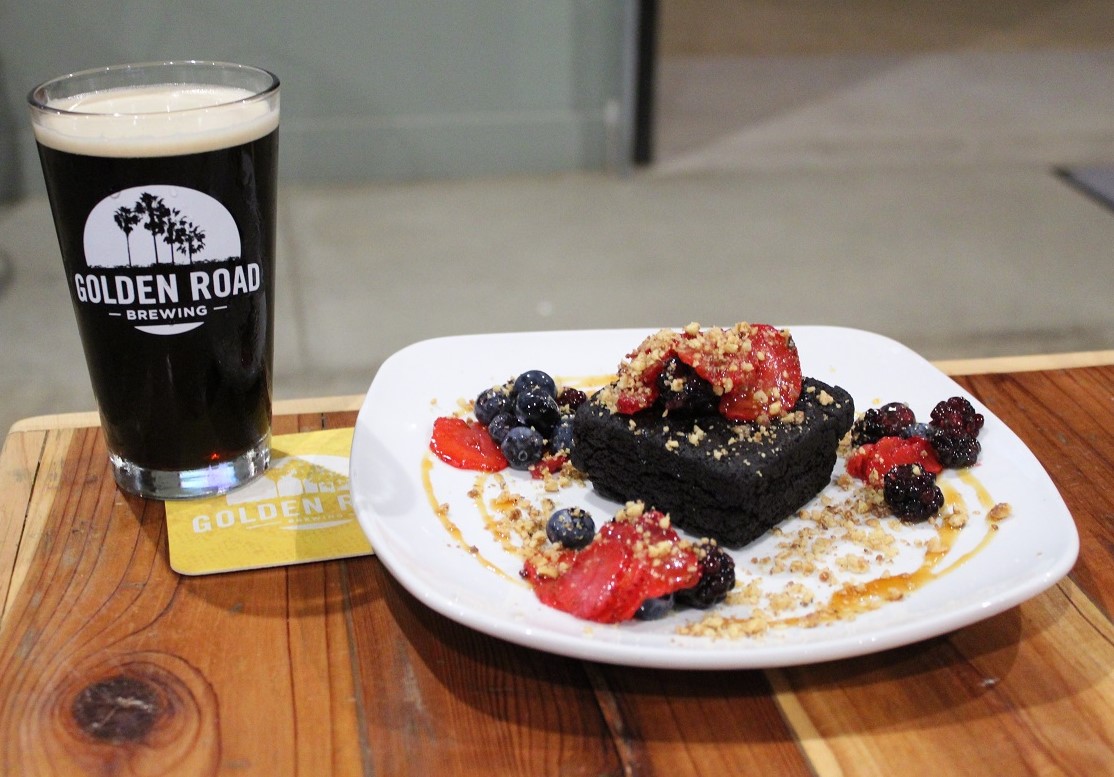 To finish off your dining experience, Golden Road has desserts that are truly decadent. It is very hard not to fall in love with the croissant bread pudding that is smothered in salted caramel sauce and topped with vanilla ice cream. But if you are looking to finish with a stout to complete your day, pair Irish Dry Stout on Nitro with the chocolate olive oil cake. Whether it is the olive oil or something else, this is a very moist yet light cake and it is surrounded by fresh berries and candied walnuts.
Golden Road Anaheim has become the brew pub to be in Orange County regardless of the occasion. This is simply a fun place with not only all of the Golden Road beers that you have come to love over the years, but this is where they get a little creative and you never know what might be on tap when you walk through the doors. If you are looking for a new spot to catch football or just hang out with friends, you will never leave disappointed at Golden Road.
For more information, visit: Golden Road