Thai cuisine is one of the most loved and popular cuisines in the world for many reasons. It offers a generous mix of salty, sour, hot and sweet dishes. All Thai dishes are garnished with a wide range of herbs, spices and sauces.
What Makes Thai food so special?
The spices that came not only from India but surprisingly Europe in the 1600's. Influences from the 17th century onwards included Portuguese, Dutch, French and Japanese. Chilies initially came to Thailand during the late 1600s by Portuguese missionaries who had taken a liking to the fiery ingredient in South America.
Living in Bangkok you have the best of the best in Thai dishes from the famous street food vendors found just about everywhere to the top restaurants. Out on the streets there's the delicious aroma of BBQ chicken, stir-frying and deep fried foods. Thai's love their noodle soups and pad Thai (fried noodles and khao pad (fried rice) are the classic dishes.
The world's foods are all here in this melting pot of East and West. Kebab from Syria, Indian, Vietnamese, Korean, Singaporean, even fresh Turkish ice cream can be found in Bangkok!
My Favorite restaurants– One can always Google or Bing for the TOP TEN of anything but I thought I'd list my favorites. What is my criteria…
I like ambience first, nice surrounds, friendly service which is almost a given with Thai's!
Fresh, delicious and well priced.
THAI RESTAURANTS
Rosabieng – Soi 11 at Sukhumvit Road. This is the top of my list because, not only is it a block away from where I live but also it's ambience. A former residence converted to a comfortable restaurant with a tropical garden setting outside. The food is fresh and delicious. I have a friend from Basque and whenever he flies in to Bangkok for business he wants Rosabieng and only Rosabieng for dinner. Here are the usual selection of dishes we go for along with a nice bottle of wine!
His wife loves the live jazz that starts in the garden at 8pm every evening.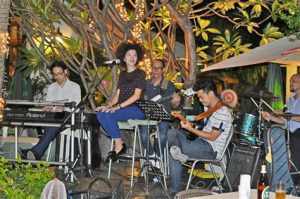 Supatra's River House – This is classic Thai dining with a relaxing and romantic view across the river to the Grand Palace.
Supatra's, family owned, opened over two decades ago and then reopened again early in 2018 after and extensive renovation. A great started to your meal is either chicken or salmon satay with peanut sauce and cucumber in vinegar.
Supatra's by the Sea – located in Hua Hin, on the Gulf of Thailand, this is one of my favorite beach get-a-way spots.
My favorite starters, before one the great fish dishes, is oysters Thai style. Served on ice with condiments – deep fried shallots, thai chili jam, seafood dipping sauce, sliced garlic and sliced chilies. I like a squeeze of lemon and then top it with herb kratin. Delicious!
Kub * Kao Kub * Pla – (Meaning "dishes to eat with rice") This restaurant can be found in most shopping centers.
Savory dishes both Western and Thai comfort food. At IconSiam, the latest destination in Bangkok, the restaurant is located on the front of the complex with a commanding look down to the Chao Phraya River.
ITALIAN
The number 2 cuisine on my list of favorites and pretty much neck and neck to Thai is Italian.
Pala – If you want something casual and simple but outstanding for taste there's Pala at Asoke and the Sukhumvit Road intersection. It's fun, noisy with shoppers and working people at the busiest intersection in Bangkok.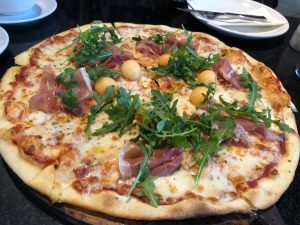 Excellent food and take home slices of their creative ingredient pizza's.
Bacco's & Rosaano's are also good choices for a more relaxed dinner.
AMERICAN RIBS …yes, in Bangkok!
The Smoking Pug
I just recently found out about this rib house through a American buddy now living in town, a huge rib fan.
I visited my cousins in San Antonio a couple of months ago and had the best ribs ever at 'Texas Pride.' Seved on wax paper with Dr. Pepper or Mexican coke…wow! So I had a pretty good idea what real top ribs should taste like… now comes the test!
The Smoking Pug (not a typo) came through, I was not let down, not in the least!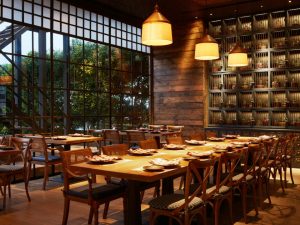 The restaurant is on Langsuan Road, near Silom District and run by Danny from Milwaukee and his girlfriend Dana from Chicago. Her business card says 'Owner and Real Boss.' The ribs are "hands down" right up there with Texas! We're talkin' meat that falls off the bone served with baked beans, cornbread, onion rings and cold slaw…finger licking good! Fries are excellent, not greasy and good tasting. Live blues in the evening… it's all good here! Book or come early, the Pug is popular every night of the week.
They have a nice selection of domestic and imported beers to accompany your meal.
My favorite is BeerLao from Laos. I discovered this on an overnight visa run to Lao. Made with the highest quality ingredients, malt shipped in closed containers from France and Belgium, polished rice from Lao, hops and yeast imported from Germany, and purified water. It comes as light or darker lager. Truly refreshing!
STEAK
You Hunt We Cook
Have some fun when you visit Bangkok and go to "YOU HUNT WE COOK" in the MeQuartier Shopping center on Sukhumvit Road.
Located downstairs in a gourmet grocery store, you head to the meat or seafood shop, buy your choice and bring it to them and they cook it with sides like sautéed or baked potatoes and vegetables all for $6.00, (meat not included).
El Gaucho's Argentinian Steak House
Located in the heart of the city near Terminal 21 Shopping center it has a warm ambience and the friendliest staff from around the world. The meat is Australian, pretty close to USDA choice the way they cook it.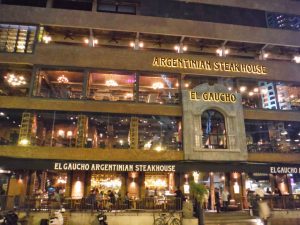 Good steak is pricy in Thailand as are the wines but absolutely worth it. El Gaucho opened their first restaurant in 2011 and then opened in Saigon and Hanoi. Now in Bangkok and the island of Koi Samui, they have 8 locations.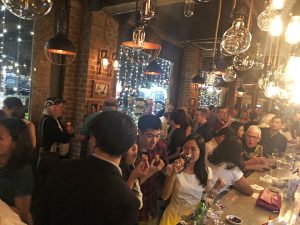 BURGERS
Well I couldn't be all American, or yank as the Brits call us here, without having a couple of winning burger places on the list.
25 Degree – This has always been ranked as the top burger in Bangkok. Located at the Pullman Hotel in the Silom district. High quality with an innovative approach. They have 4 signature burgers, named 'Number One' to 'Number Four.' Number Two features roasted tomato burrito, prosciutto and pesto. You can also craft your own burger with ground sirloin, yellow fin tuna, veggies, or turkey.
Bad Burger – My Norwegian friend Steiner, called me one day and said…you gotta try a Bad Burger! I laughed and said "meet you in 10 minutes." We walked up to this tiny restaurant on Sukhumvit Road, in the heart of Bangkok and sat down for a Bad Burger.
Man, it was anything but bad. The most delicious burger I have ever had. Been back with the Norwegian crew three times and it seems the burgers are better every time!
Ok, now I'm hungry and it's only 8:00 am. I hope on your visit to Bangkok these might help give you a variety of choices from some of the thousands of excellent restaurants from around the world in this great city.
Rooftop Bars & Restaurants
To end the day, rooftop bars and restaurants are popular in Bangkok. Above Eleven, Moon Bar and Vertigo are my favorites. The Nest, Redsky and Sofitel are also great! Book early if you want a good table for the sunset, amazing views!
Article and selected photography by Daniel Herron – Copyright 2018