On January 19, 2019, Music Director Riccardo Muti and the Chicago Symphony Orchestra embarked on the first of two major tours during the 2018-19 season. Muti and the CSO are currently concluding an 11-concert tour of Asia, with stops in Taiwan, China and Japan. Their repertoire for the tour features works by Brahms, Rimsky-Korsakov, Tchaikovsky and Verdi.
Before their initial rehearsal in Taipei, Music Director Riccardo Muti greeted Chicago Symphony Orchestra musicians for the first time on the Asia Tour 2019. (The maestro flew in from Europe while his musicians traveled west from Chicago to Taipei.) The first of two concerts at Taipei's National Concert Hall showcased music by Brahms: the composer's First and Second Symphonies.
Meanwhile, three CSO musicians from Taiwan — Cynthia Yeh, Youming Chen and Wei-Ting Kuo— sat for an interview with the local press — conducted against the lush green backdrop of the National Concert Hall's lobby. Yeh, the CSO's principal percussion, also took time to lead a master class at the Taipei National University of the Arts. After a rapturous ovation, Muti and the CSO granted the audience an encore. Then Maestro Muti greeted fans at a post-concert CD signing in the lobby.
For the second stop of the Asia Tour 2019, the Chicago Symphony Orchestra and Music Director Riccardo Muti headed from Taipei to Shanghai to perform two concerts. At the airport, they encountered a flight delay, but the musicians and Muti passed the time with recreational activities (including a game of Boggle) and good conversation. After landing in Shanghai, the CSO team was greeted with an entrancing sight: a golden harvest-like moon rising over the city's night skyline.
Ahead of the first concert at the Shanghai Oriental Art Center, CSOA President Jeff Alexander, Robert Chen, concertmaster, and Li-Kuo Chang, acting principal viola, fielded questions from local media at a news conference. Before meeting the press, Chang received a surprise birthday celebration from his section colleagues. Others spent the afternoon exploring city landmarks, such as the historic Yu Garden, first established in 1559, and more modern attractions such as the financial district in the central Pudong area.
Then it was on to the main event, a program of Brahms' First and Second Symphonies, also heard in Taipei, after which the China Times declared: "[This repertoire shows] the power and strength of this American orchestra that also has the exquisite qualities of a European ensemble."
For the third stop on their Asia Tour 2019, the Chicago Symphony Orchestra and Music Director Riccardo Muti traveled to Beijing for two concerts at the National Centre for the Performing Arts. Designed by French architect Paul Andreu and opened in 2007, the titanium-and-glass performing center quickly became known as the Giant Egg, thanks to its spherical shape.
Before the first concert, featuring Brahms' Symphonies Nos. 1 and 2, some musicians squeezed in a visit to Beijing's famous Forbidden City. Once the home of China's emperors from 1420 to 1912, with nearly a thousand buildings over 180 acres, the complex is now an international landmark and a UNESCO World Heritage Site. After an additional concert in Beijing, the orchestra flew to Japan for a series of programs from Jan. 30 to Feb. 4.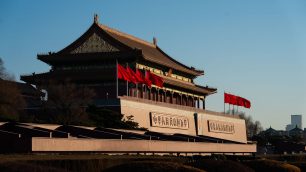 For the second half of their Asia Tour 2019, Chicago Symphony Orchestra musicians and Riccardo Muti flew to Japan for concerts in Tokyo and Osaka from Jan. 30 to Feb. 4. Along with the previous repertoire of Brahms' First and Second Symphonies, Tchaikovsky's Symphony No. 5 and Rimsky-Korsakov's Sheherazade, the CSO will offer two performances of Verdi's Requiem, with soloists Vittoria Yeo, Francisco Meli, Daniella Barcellona and Dmitry Belosselskiy.
First, however, musicians enjoyed a day off, and took in the sights of Tokyo, including TeamLab Borderless, an interactive experience in which "artworks move out of rooms, communicate with other works, influence and sometimes intermingle with each other with no boundaries." At the suggestion of cello David Sanders, others checked out the Owl Café, the latest "animal experience" craze in which patrons as they dine, get up close and personal with Hogwarts' favorite breed of bird. Another group sampled the fire-grilled cuisine of Inakaya, a traditional robatayaki-style restaurant.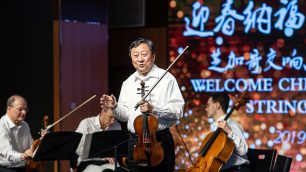 The remaining concerts include:
– Thursday, 
Jan. 31, 7 p.m.
Tokyo Bunka Kaikan, 
Tokyo, Japan
Verdi Requiem Mass
– Saturday, 
Feb. 2, 2 p.m.
Tokyo Bunka Kaikan, 
Tokyo, Japan
Verdi Requiem Mass
– Sunday, Feb. 3, 2 p.m.
Tokyo Bunka Kaikan, 
Tokyo, Japan
Tchaikovsky Symphony No. 5
Rimsky-Korsakov Sheherazade
– Monday, Feb. 4, 7 p.m.
Festival Hall, 
Osaka, Japan
Brahms Symphony No. 1
Brahms Symphony No. 2
In February, the CSO and Muti return to south Florida for their second annual residency, with concerts in West Palm Beach, Miami and Naples.
For information and tickets to all the great programs of The Chicago Symphony Orchestra, go to www.cso.org
All photos by Todd Rosenberg