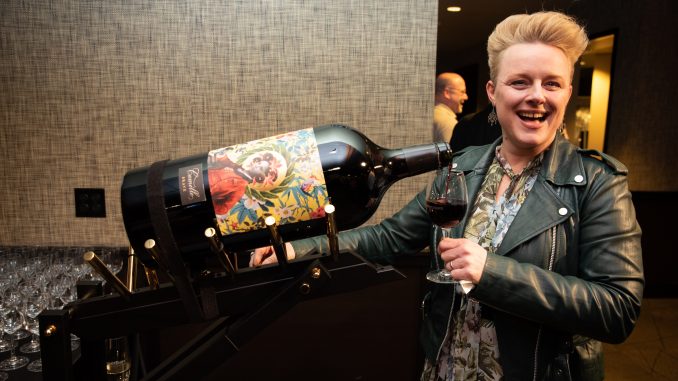 Everyone should know, by now, that Cooper's Hawk has some damn good food and wine. In fact, if you haven't recently visited one of the 30+ Cooper's Hawk locations scattered across the East Coast, Midwest and Florida you owe your palate an apology. Their diverse menu and award-winning wines virtually guarantee a positive experience and have made them a popular choice for upscale dining everywhere they open their doors.
But, deep in the heart of Cooper's Hawk lies a secret. A hidden fellowship of everyday people, all of whom are having significantly more fun than you are, lurks in the private wine cellars and dining rooms below each Cooper's Hawk. Here, surrounded by friends and like-minded foodies, they gather to sample the very best of the Hawk's already rich menu and to be among the first to sample their newest wines and cocktails. Best of all, they are happy to welcome you to join.
Yes… It's a good as it sounds. Friends of Cooper's Hawk events are the real reason to join their popular Wine Club… and we were invited along as Master Sommelier Emily Wines (it's her real name) launched her newest line of custom wines… Camille Brave.
Camille – Inspired Wines
Emily knows wine. As one of only 164 Master Sommeliers in the Americas, she has forgotten more about soil types, temperature variation, grape selection and blending than the rest of us ever hope to learn. Yet, her obvious love for great wine and the culture surrounding it shows in her every word and gesture. With her latest blends and creations, she's quite obviously having fun… and it's infectious.
Each of the wines in the Camille catalog will be unique, limited blends, inspired by strong women. The first in the series, labeled Brave by its creator, is a blend of Zinfandel, Syrah, Mourvedre and Carignan. If that sounds complex in character and unlike anything you've had before, you're grasping the basic concept.
"I wanted a wine that goes "Pow!," Emily enthused before we sat down to sample her latest creation. "Something that can be paired with great food and can stand up to barbeque and strong flavors." You read that correctly… this is wine designed to be paired with the strongest flavors of summertime parties and gatherings. Brave indeed.
The launch party took place in the wine cellar of the Arlington Heights, IL Cooper Hawk (798 W. Algonquin Rd.) and, from the start, it was apparent we were going to enjoy ourselves immensely. The exceptional staff was obviously having fun as they greeted guests like the old friends they were. We were quickly drawn into several conversations by a welcoming crowd of wine lovers that were more than happy to tell us about trips to wine regions around the world with the Cooper's Hawk team. Sparkling Wines and a custom cocktail called Red Belle featuring Green Chili Vodka was served alongside Chips and Caviar, Grown-Up Grilled Cheese and Lobster & Truffle Arancini. All were excellent, but the Grown-Up Grilled Cheese stood out as a fresh take on old-fashioned comfort food.
But the featured event of the evening was the wine itself. Naming a vintage "Brave" is, in and of itself an act of courage. It would be far too easy to find any fault with a wine that was less daring. In fact, we were amazed that this blend of such distinct flavors managed to fully live up to its label. Spicy and bold, it contained complex hints of its different parent grapes while managing a unique profile all its own. With a sweet, fruit driven attack, its pepper and spice notes give way to a rich, dark and sensual red as you enjoy each glass.
This is not a wine you sip sweetly. Brave is designed to be drunk enthusiastically and we did so with relish. Perfect for hot summer nights and pairing with the strongest flavors imaginable, Brave truly lives up to it name and does its creator credit.
A lesser vintage would certainly have been overpowered by the menu set forth by Cooper's Hawk's team. Our meal started with a Lyonnaise Salad with a champagne vinaigrette followed by a Dry-Spiced Berkshire Pork Chop. Accompanied by Roasted Broccolini and Maple Whipped Sweet Potatoes, it made for a challenging array of flavors ranging from delicate and sweet to spicy and rich. We found that Brave accompanied them admirably… maintaining its complex flavor while enriching that of the food as a great wine should. Our meal, and our table company were both delightful.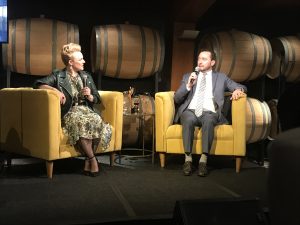 After dinner, Emily and Cooper's Hawk CEO Tim McEnery took to the small stage to answer questions and visit with the crowd. It was again immediately apparent that this was much more a gathering of friends than a corporate event. Nearly the entire crowd had a story to share, a question about an upcoming event or a suggestion for their next adventure. Tim claims he founded Cooper's Hawk on a belief that food and wine hold the power to forge lasting connections. The proof is quite obviously on display at these Friends of Cooper's Hawk events.
The evening ended with an excellent mix of Cooper's Hawk's most popular desserts and a full Doughnut Wall… which we enjoyed while a live duo played in the background. A perfect coda to a great evening of food and fine wine.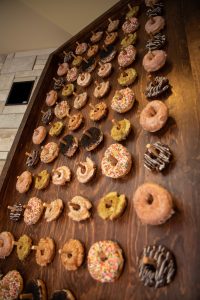 We've often dined at Cooper's Hawk in the past and enjoyed their varied menu of favorites and excellent wines. However, when asked at the end of each meal if we wished to join their hugely under-valued Wine Club, we foolishly passed. Now, having experienced what the club is actually about – friends, food and nights like the one we enjoyed – we will be reconsidering that poor decision.  The real Cooper's Hawk is waiting… and food and wine lovers everywhere are invited to come along as more exceptional experiences, international and domestic excursions and new events are planned.
WHAT:                 Friend's of Coopers Hawk – Camille Brave Release Party
WHEN:                 Tuesday, April 2nd 2019
WHO:                   Emily Wines – Master Sommelier @ Cooper's Hawk, Arlington Heights, IL
DETAILS:              Visit Cooper's Hawk Winery & Restaurants website and join their Wine Club.
Photography by Cooper's Hawk Winery & Restaurants and Andrew Magnuson