Lookingglass Theatre Company presents the world premiere of Mary Shelley's Frankenstein, written and directed by Ensemble Member David Catlin, from the book by Mary Shelley. Frankenstein runs May 8–August 4, 2019 at Lookingglass Theatre Company, which is located inside Chicago's historic Water Tower Water Works, 821 N. Michigan Ave. at Pearson.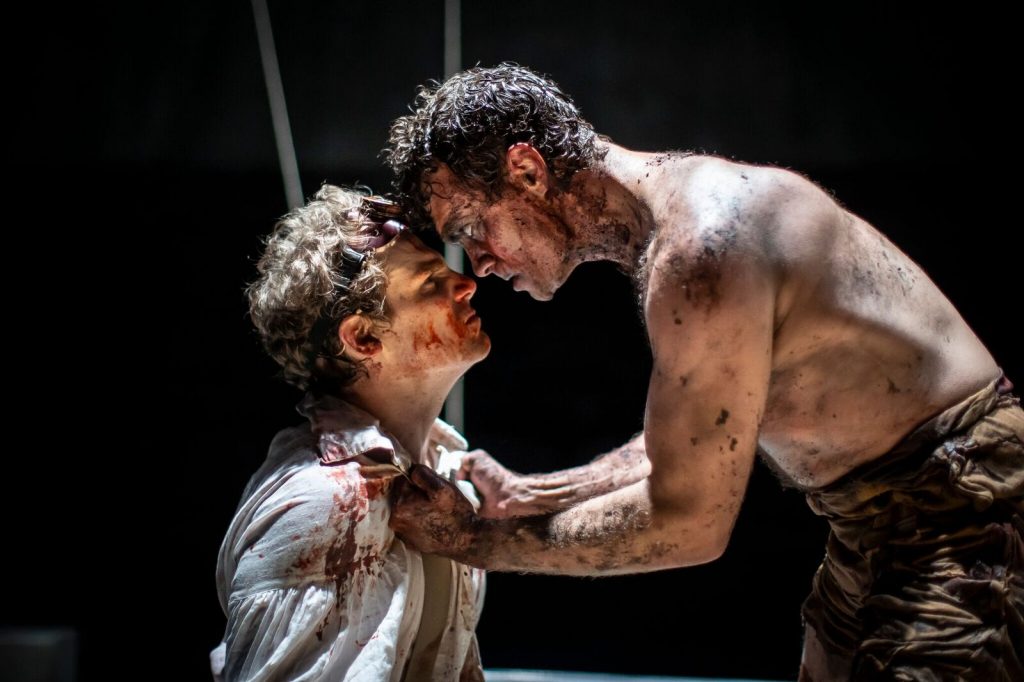 Within every man there is a monster; within every monster, a man. But which is which? An eerie evening of ghost stories crackles to life as Mary Shelley unspools her tale of Victor Frankenstein and his unholy experiment. This gothic tale of love, horror, and the power to create life—and destroy it—awakens in this visceral, original retelling of Frankenstein. Ensemble member, David Catlin, creator of Moby Dick and Lookingglass Alice, created a galvanic adaptation of this undying story.
"I'm fascinated by the blur between Mary Shelley's story of creation, rejection, and destruction and her own life of love, loss, and abandonment. How does the human heart survive desolation and misery?" notes director David Catlin. "We're collaborating with the Actors Gymnasium to bring Frankenstein's haunting ghosts high into the air above and have five extraordinary actors digging deep to animate this story that continues to unsettle us two hundred years after it was written."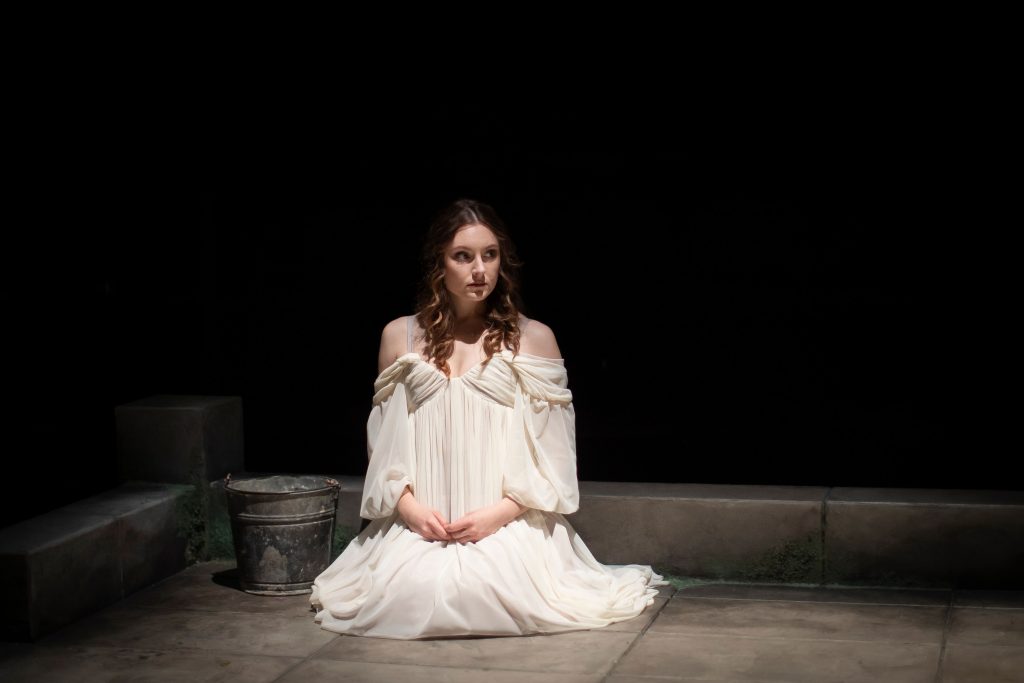 The cast includes Artistic Associate Walter Briggs (Percy Bysshe Shelley), with Debo Balogun (Dr. John Polidori), Cordelia Dewdney (Mary Shelley), Keith D. Gallagher (Lord Byron), and Cruz Gonzalez-Cadel (Claire Clairmont).
Lookingglass Theatre Company's stage productions never fail to amaze and impress, and the new adaptation of Frankenstein blew me away. Everything that went into the production got me hooked from beginning to end – the acting, costumes, stage/set production, make up and special effects (lighting, acrobatics).
The play projected an eerie, yet impressive intimacy, as the audience completely surrounds the small stage. The actor's also walked among the audience and aisles, which made the story more personal and in your face. The lighting and effects were also very convincing, which created a convincing and believable atmosphere for Mary Shelley as she told the story of Dr. Frankenstein and his monster, but also delves into her own autobiographical life and psyche as she wrote the story. This production was more believable as it was from the perspective and storytelling of the book's author, Mary Shelley. It was a modern and fresh perspective that has us questioning whether we should be playing God, and the consequences for our actions. The play also focuses on the themes of not only creation, but also love, heartbreak, emotion, internal struggles and conflict, loneliness, grief, death, and much more.
The main performers (all based on actual people – not including Dr. Frankenstein and his monster!) were the main element of the production that brought the story and characters to life. Cordelia Dewdney, wonderfully portrayed the book's author and narrator of the play, Mary Shelley, who seemed to deeply connect with her character's autobiographical tragic history, which includes losing her mom during her birth, and losing her own infant daughter, as well as her amazing imagination and inspiration which led to her writing and publishing one of the most famous novels of all time, at the young age of eighteen. Walter Briggs (Percy Bysshe Shelley) plays the married man/romantic poet, with whom she runs to Switzerland in 1816 (and whom eventually becomes her real life husband).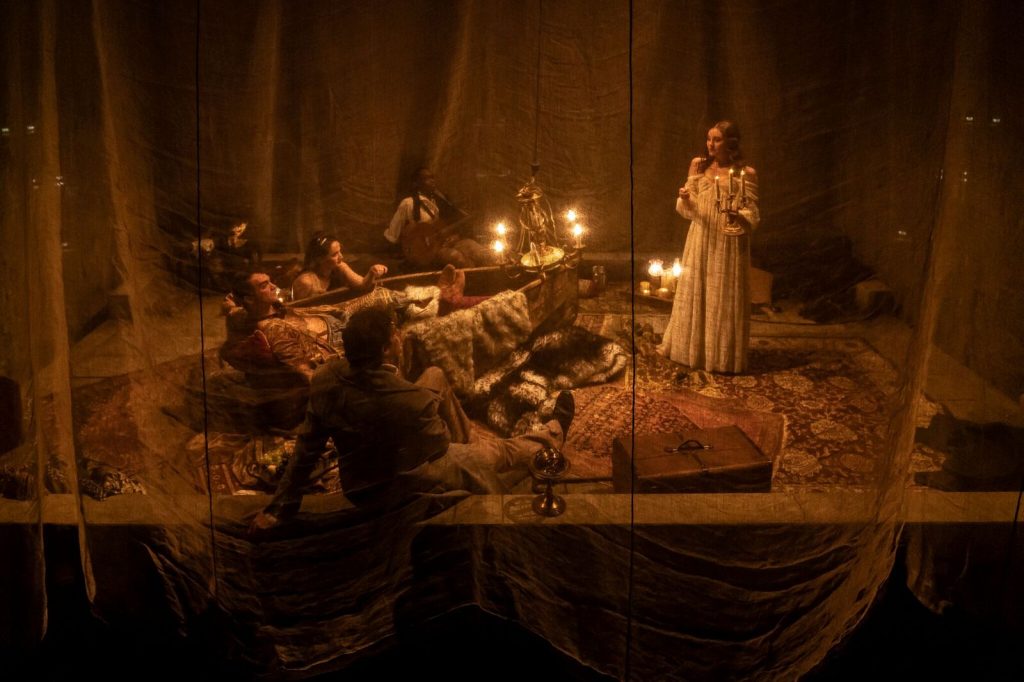 The couple spends a summer with their friends, Lord Byron (Keith D. Gallagher), Dr. John Polidori (Debo Balogun), and Mary's half-sister, Claire Clairmont (Cruz Gonzalez). The group decides to have a contest to determine who can write the best ghost story, which leads to Mary's creation of Frankenstein. The cast also divides between them several other roles including demons, townsfolk, friends, family members, and the monster himself, Dr. Frankenstein's doomed creation (amazingly portrayed by Keith D. Gallagher).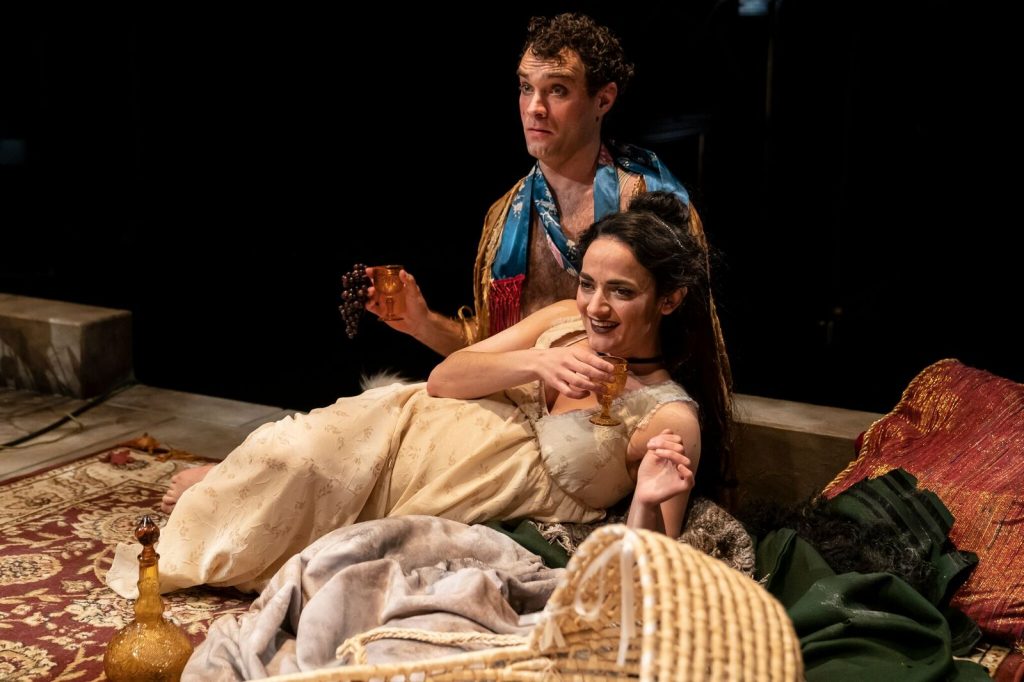 I was very impressed with how Frankenstein's monster was portrayed in the Lookingglass stage version. I did not know what to expect regarding how the creature would look. Gallagher was given only tattered clothing and makeup to represent blood/dirt to represent the monster. It was simple, but effective. Instead of trying to overdo it with lots of stage makeup, I felt that more fear and mystery were created, while allowing the audience to use their imaginations. Then, add to the mix how the monster is rejected by his creator and instantly hated. The creature only longs for being loved and having companionship. When the doctor does not give him that, the creature's only alternative is to seek revenge and kill everyone Frankenstein loves or care about, to show him what loneliness is.
Overall, Frankenstein at Lookingglass Theatre Company was a visual feast for the eyes and intellectually and emotionally stimulating. The last production to commemorate and celebrate the 200th anniversary of Mary Shelley's originally published masterpiece is not to be missed.
Photos: Liz Lauren
Dates: May 22 – August 4, 2019
*Mary Shelley's Frankenstein is recommended for ages 12+.
Times:
Tuesdays: 7:30 p.m. (June 11 & 25, July 2, 16 & 30 only)
Wednesdays: 7:30 p.m.
Thursdays: 2:00 p.m. (May 30, June 6 & 20, July 11 & 25 only)
7:30 p.m. (Except July 4)
Fridays: 7:30 p.m.
Saturdays: 2:00 p.m. (Except May 11 & 18)
7:30 p.m.
Sundays: 2:00 p.m. (Except May 19)
7:30 p.m. (Except May 12 & 19)
Additional performance on Wednesday, July 3 at 2:00 p.m.
Accessible Performances: Audio Described/Touch Tour performance, Thursday, June 13, 2019 at 7:30p.m. Touch tour begins at 6 p.m.
Open Captioned performance, Thursday, June 27, 2019 at 7:30 p.m.
Theatre Night Out for Young Professionals – Friday, June 28 at 5:30 p.m.
Under 35? Join members of the Lookingglass Associates Board and other young professionals for a pre-show reception at Theory and a performance of Mary Shelley'sFrankenstein. Tickets are $40 for Young Professionals 35 and under. lookingglasstheatre.org/under35
Location: Lookingglass Theatre Company, located inside Chicago's historic
Water Tower Water Works, 821 N. Michigan Ave. at Pearson.
Prices: Previews are $35 – $61
Regular Run is $45 – $86
Student tickets are available the day of the show for $20 with a valid student ID. Based on availability.
Groups of 8 or more patrons save up to 20%. Call 773-477-9257 X 125 or email gr********@lo*****************.org for details.
Box Office: Buy online at the website or by phone at (312) 337-0665 The Lookingglass box office is located at Water Tower Water Works,
821 N. Michigan Ave.