Writer, actress, vocalist, and arts education advocate, Dionna Michelle Daniel wears many hats, with GUNSHOT MEDLEY PART I only one of the jewels in her crown. A timely searing drama about the African-American experience, past and present, GUNSHOT MEDLEY PART I explores experiences close to Daniel's heart as she navigates life as a talented Black American in today's world. After a brief run by Rogue Machine in 2018, GUNSHOT MEDLEY PART I has returned to the Rogue Machine stage in 2019 at the Electric Lodge, its new home.
Set in a haunted graveyard in North Carolina – one in which the graves of Confederate heroes are carefully separated by dense undergrowth from the graves of unsung slaves – are the gravestones of three slaves, Betty (Mildred Marie Langford), Alvis (Derek Jackson), and George (Donathan Walters). Daniel poignantly recalled seeing these three worn grave markers and decided – then and there – that the trio deserved a life, a life which she would create in a play about them.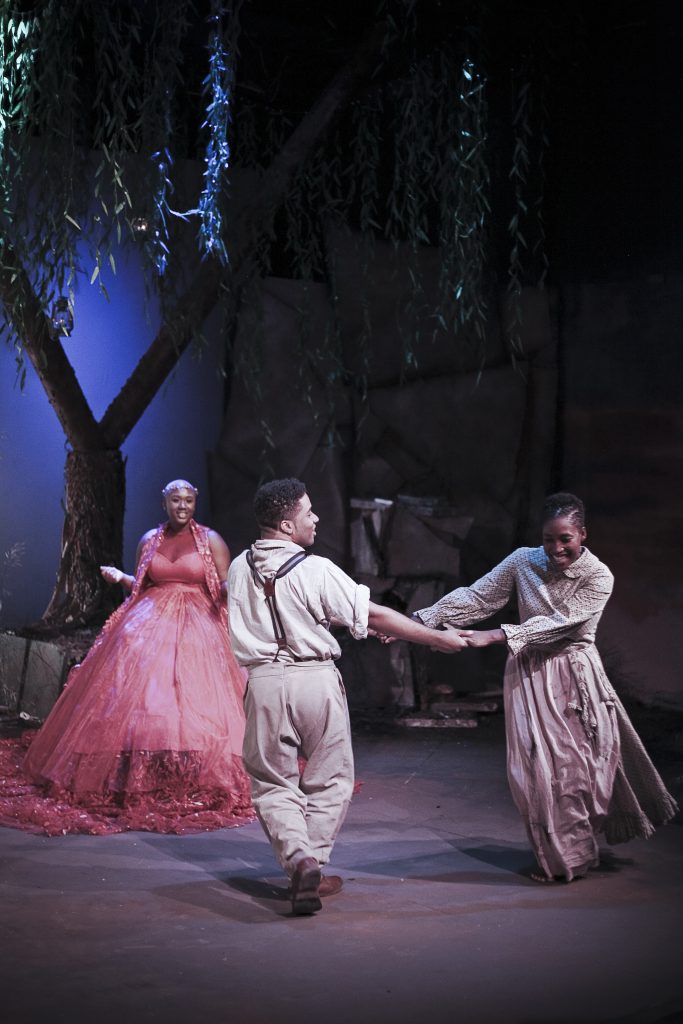 GUNSHOT MEDLEY PART I takes place in the hereafter, a mystical space where memories are vague and the line between the real and the unreal merge. By painfully slow degrees, their stories begin to emerge – all the while under the watchful eye of a powerful and compassionate being embodied in the High Priestess (She'Leah Nikole Stubblefield). Patterned after the Yoruba deity of winds, storms, and the eternal cycle of death and rebirth, the High Priestess personifies the cultural mores and values never acknowledged in captivity but always just beneath the surface.
But GUNSHOT MEDLEY PART I is not only about the antebellum South. Soon the lines between past and present also begin to blur as the slavery of the past gives way to the Black experience of the present. Only 20 years old when she wrote the piece, playwright Daniel demonstrates a lyrical style and profound maturity as she delves into events which supposedly change – but may also remain the same. – all the while questioning whether past traumatic experiences may have an unexpected intergenerational influence.
GUNSHOT MEDLEY PART I is the result of a collaboration between Rogue Machine and Collaborative Artists Bloc and explores the roots of racism as they may affect today's world. Director Desean K. Terry helms the production with a sure hand. The talented ensemble cast clearly grasp each nuance of the tale and project their emotions with warmth, clarity, and intensity. To add another dimension to the tale, there's live music by Garrett Lofgren, Anna Mat, and Ann Polednak.  She'Leah Nikole Stubblefield's haunting voice confounds the wind and makes the goings-on even more other-worldly. GUNSHOT MEDLEY PART I is a fascinating study of times past – and how they may impact the here-and-now.
GUNSHOT MEDLEY: PART I runs through 8/11/19, with performances on Fridays at 8 p.m., on Saturdays at 5 p.m. (7/6, 7/13, 7/20) and at 8 p.m. (7/27, 8/3, 8/10), and on Sundays at 3 p.m. (8/4, 8/11) and at 7 p.m. (7/7, 7/14, 7/21, 7/28). The Electric Lodge is located at 1416 Electric Avenue, Venice, CA 90291. Tickets are $39.99 (students, $25.99). For information and reservations, call 855-585-5185 or go online.