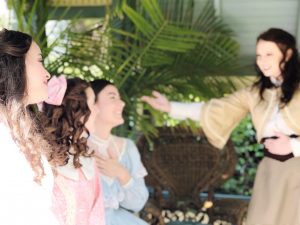 Patio Plays In The Park Presents– Little Women. A Musical with music by Jason Howland, lyrics by Mindi Dickstein. Book by Allan Knee. Based on the classic novel by Louisa May Alcott. A timeless story enjoyed by many generations. Directed by David Guthrie. With a theme of growth. How we can accept change in our lives without altering the person we are meant to become.
The musical follows the story of the four March sisters as they journey through being inseparable to an independent woman with lives of their own. An inspiring road as we find common ground within us.  A well-acted, dramatization of a show not often done.
Having been in plays in the past, I know how hard these actors and the entire team involved in a show work all volunteer. Their payoff is when they walk on stage and see a full audience or at least enough to inspire them with cheers, laughter, and applause that can be heard. This beautiful amphitheater in Kit Carson park holds several hundred., maybe 75 showed up. How disheartening for the cast. Would you do your best? They did an amazing job. However, coming out to enjoy a play under the stars on a summer night, you could do worse.
The story takes place 1860's Concord, Massachusettes.  The costumes and fabulous set reflect the era. The set is set on two levels with furniture, with a family room on the bottom including a wonderous chaise lounge, with an attic where Jo retreats and writes on the second level.
Kylee Ogzewalla, plays Jo, the main character in the musical. Outspoken, and willing to strike out on her own to get what she wants. Tori Bleher, plays, Meg March, the quiet sister, who finds love and marriage. Olivia Torres plays, Beth, the sweet sister. And, Lillian Broschar, plays Amy. the somewhat spoiled March sister. Four talented actresses. Kim Moller plays the mother, Marmee, she was incredible, my favorite in this show. So maternal, and lovable. Riley Hunsaker plays lovestruck Laurie, who is a friend to all sisters. Jeffrey Shev shows his talent as the codgy old neighbor. Aunt March is played by Cassiopeia Guthrie. Fabulous job, a likable snob. Playing Professor Bhaer, who falls for Jo, an impressive performance by Brian P. Evans. And, Jacob Painter, taking on Mr. John Brooks, who falls for Meg.  With five other rounding out this classic. A piece of American literature you should see live. A great way to end the summer and get ready for school.
With twenty songs in the repertoire, I need to mention Erika R. Gamez, Conductor of the fourteen piece live orchestra, also donating their time.
For this production Patio is once again teaming up with Words Alive. Whose mission is to create opportunities for life success by inspiring young people to make a commitment to reading. Donate after the show or online books or money.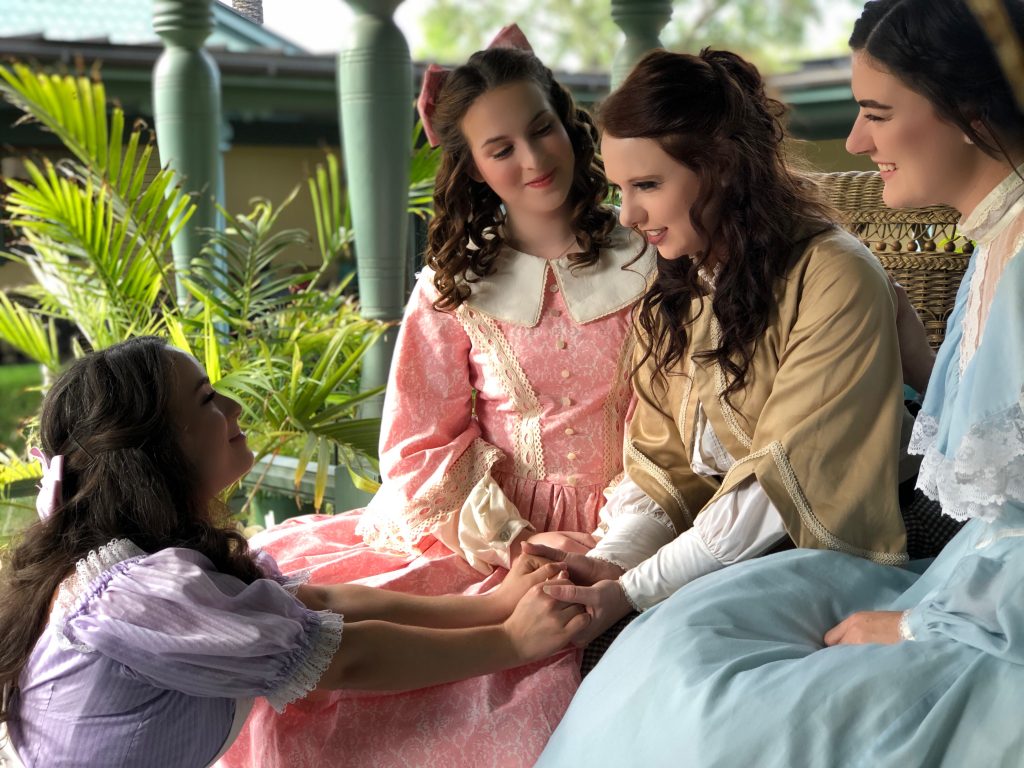 In September, Patio returns to their indoor theatre for "A Dead Man's Cell phone."
Catch Little Women
August 16 – 31 @ 8pm
Kit Carson Park – Escondido
760.746.6669