Having cooked for some of the most notable names in the industry–Ashton Kutcher, Diddy, Ben Affleck, Will Smith, Common, Robert Smith, , Mercedes-Benz, Lamborghini, Will McGinest, LA Philharmonic, and more–it's no wonder why Chef Ryan Rondeno is is one of the most sought out chefs in the country. Executives from shows like Chopped, Beat Bobby Flay and other Food Networks show s are in contact with him. So how did a Chef from Louisiana turn heads of A list Celebrities and the go to to prepare the food for some of the largest Award Shows such as: The Emmy Events, Oscars, Grammy's etc? Splash Magazine got to sit down with Chef Ryan for an up close and personal interview, take a look below…
How did the celebrities and or Events like Grammys, Emmys and Oscars and all the different TV shows hear about you?
We know that you came from Louisiana but how did the word get out about you? The word about Chef Ryan Rondeno was spread through presenting excellent cuisine and the power of networking. I was fortunate to meet Melissa Mcavoy, owner of Luxury Experience & Co. I've enjoyed partnering with her on various occasions. I've had the pleasure of catering events for Mercedes, Lamborghini, The Espys gifting lounge, and Emmys gifting lounge with her company. I know there are many more to come. I've always believed that you're only as good as your last meal. It's worked towards my advantage.
Are you self-taught? Growing up did you just have good food combinations or cookbooks or did a parent or grandparent teach you how to cook? Take us through how you became an actual chef and a pretty damn good one we might add?
I attended the Chef John Folse Culinary Institute in Thibodaux, LA. I've also had the chance to have excellent teachers as well. Emeril Lagasse, Anne Kearney, Jamie Shannon(late), Michael Blydenstein, and Sue Zemenick have all pushed the bar to create a great chef. I read tons of cookbooks and receive a mass amount of inspiration from those as well. Even though I haven't worked with him, Marc Forgione is one of my favorite cookbooks to read. Now, I've always been around food. My family cooked lots of soul food. I chose a different route because I wanted to create a outlet for my culinary career. To be great in the industry, I knew that I had to create a different niche that spoke to me and my regional clientele. Creole-Cali was created to help consumers understand that there is life more than jambalaya, beignets, and étouffée. Even though those items are fantastic, I wanted to take them through a culinary journey. I'm able to do that through popup dinners that are hosted throughout LA. My culinary career has started with working in restaurants in New Orleans, Atlanta, and New York. I transitioned to the private chef world by working with various celebrities through Los Angeles. Today, I am the executive chef and owner at Rondeno Culinary Designs. We cater parties, host experiences, and a meal prep service throughout the Los Angeles area. We've also launched the Rondeno Spice Collection with six tantalizing spices for your use in your home.
Splash magazine is all about blending cultures together and traveling and seeing the world would you say that your cooking is inspired by a specific culture and if so which culture is that and why?
Of course, my cuisine has been inspired by the Louisiana culture. Seven countries has made this particular cuisine a culinary destination. Through my travels, I've been able to blend American regional cuisine into my culinary repertoire. My cuisine is bold, flavorful and one that you don't want to miss. I encourage any to come to one of my popup dinners to experience what the cuisine is all about.
We know you've done quite a bit of traveling. Is there a country that stands out for unique or bold flavors and or maybe just the whole culture of sitting down and eating?
I've had the chance to travel to the UK, France, Italian, Portugal, and Spain. Spain has been my favorite so far. The use of ingredients that compliments the spices and rustic cooking techniques has made Spain one of my favorites. La Boqueria was definitely a favorite of mine and can't wait to go back. Also, receiving a technical class in paella helped me understand the cuisine and has contributed in the understanding the Spanish role of Cajun-Creole cooking.
Being that you work with the Rich and Famous and all different types of celebrities around the world, have you had any unusual request for a meal and if so who was it by what was it and how did it turn out?I have worked with various celebrities throughout the city. I can honestly say that I've not had any unusual requests.
We know that being a chef it's almost like an art have you ever cooked for a celebrity and they order something plain like a hamburger or chicken fingers to where you can't really show or demonstrate your talents and if so how did you step it up to the next level or make your dish stand out even if it's something simple?
I think most chefs receive simple requests all the time. Even the simpler dishes can bring out the best in your talents. The reward of cooking a simple or complex dish is using quality ingredients. If it was a hamburger, I think using wagyu beef is the best option. Also, cooking the beef correctly will give me the best results. The addition of caramelized onions, smoked cheddar, and a spicy aioli adds a nice touch. Don't forget to toast your buns!
Do you have a favorite season if so what is your go-to dish or what is your claim to fame dish?
My favorite season is fall. I love the produce such as apples, pears, butternut squash, root vegetables and even pomegranate. Its also great because I can began to incorporate hearty dishes for my clients. My go to dish is always a good bowl of gumbo. I tend to lean toward duck and andouille gumbo.
We are coming into fall what would you suggest is a must-have fall recipe?
I do love cumin roasted carrots with spiced creme fraiche. One of my favorite vegetarian recipes.
For all of our followers and viewers of Splash Magazine Chef Ryan is generous to leave us with three different recipes to try with your family these recipes are perfect for fall. Below are three recipes and you can be sure that Ilene and I will be following up with a review. For more on Chef Ryan follow him on his social media pages and website: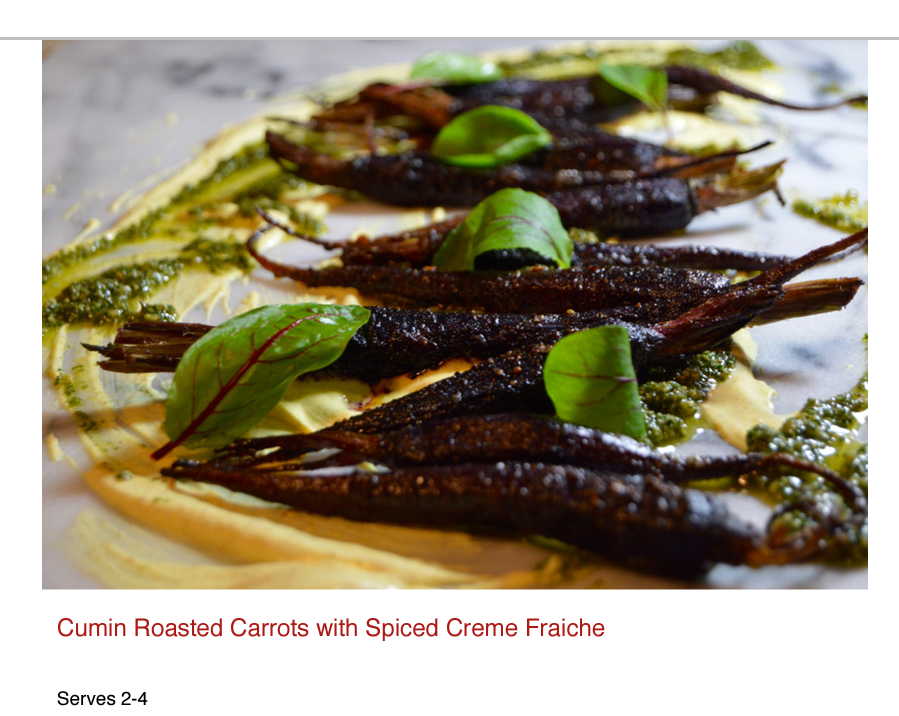 Cumin Roasted Carrots with Spiced Creme Fraiche
Serves 2-4
Ingredients
2 bunches of heirloom carrots 8oz. creme fraiche
 1 cup olive oil, plus 2 tbs

2 tsp. curry powder
2 tbs. butter

1 tsp. ground ginger

6 cloves garlic

1/4 c sunflower seeds

2-3 tps cumin

1 cup carrot leaves, packed 1 lemon, juiced
salt to taste

1-2 tps. crushed red pepper pepper to taste
 4-5 sprigs of thyme
Instructions
Preheat oven to 350 degrees.
Remove carrot tops and reserve. Peel carrots. Thoroughly clean the carrots removing any dirt. This step could take 2 or 3 times. In a 12 inch saute pan, add butter and olive oil at medium heat. Add cumin, 4 cloves of garlic smashed, crushed red pepper, and thyme. Toast for 30 seconds. Add carrots and mix in the pan. Season with salt and pepper. Roast for 25 minutes.
For the Carrot Pistou:
In a food processor, add carrot leaves, sunflower seeds, garlic, juice of half a lemon. Pulse until finely chopped. Slowly drizzle olive oil until fully incorporated. Season with salt and pepper.
For the Creme Fraiche:
In a small bowl, add, creme fruit, curry powder, ground ginger, and juice of 1/2 a lemon. Whisk until smooth. Season with salt and white pepper. Taste for seasoning adjustments.
To Assemble:
Smear creme fraiche on the base of the plate. Add roasted carrots. Spoon pistou on top of carrots.
Tuscan Kale, Medjool Dates, butternut squash, golden beets, almond
Serve 4-6
Ingredients
1 bunch of Tuscan kale, wash and spin dry 2 cups of butternut squash, roasted
1/4 olive oil
2 large beets, diced and
8 medjool dates, seeded and sliced 1 cup sliced almonds, toasted
1 cup dried cranberries
1/4 cup lemon juice
1 tbs dijon mustard
1 shallot, small diced
2 garlic, finely chopped
1 cups olive oil
Salt and pepper to taste
Instructions
Preheat oven 375 degrees.
For the butternut squash:
Toss butternut squash with olive oil, thyme, salt, and pepper. Roast for 30 minutes. Set aside and allow to cool.
For the beets:
Cut tops and bottoms of beets. In a 2qt. saucepan., add beets and fill halfway with water. Cover with aluminum foil. Roast for 30-40 minutes. Remove. Allow to cool. Peel skin and dice.
For the dressing:
In a stainless steel bowl, add lemon, dijon mustard, shallots, and garlic. Drizzle in olive oil. Season with salt and pepper.
For the salad:
In a large bowl, add sliced kale. Add beets, butternut squash, cranberries, dates, and almonds. Toss with dressing. Serve.
BACON WRAPPED SHRIMP WITH ROSEMARY HONEY
Serves 8
Ingredients
24 pieces 21-25 shrimp 8 strips of bacon
2 tbs olive oil
2 tbs Citrus Herb Rub 24 toothpicks
1 cup of honey
2 sprigs Rosemary zest of 1 lemon
8 black peppercorns 1/4 tps kosher salt
Instructions
Marinade shrimp with olive oil and Citrus Herb Rub. Divide bacon into 24 pieces. Wrap each shrimp with one piece of bacon. Skewer each shrimp with a toothpick. Set aside. In a small pan, add honey, Rosemary, lemon zest, black peppercorns, and a pinch of kosher salt. Bring honey to a simmer. Once simmered, remove from heat. Allow to steep for 10 minutes. Strain. In a 12-inch pan, sauté shrimp until opaque. Make sure the bacon is crispy. Thin pieces are preferred for this dish. Drizzle honey over the bacon wrapped shrimp. Serve immediately!
Website: https://www.rondenoculinarydesigns.com
Social Media Pages. IG: @nolachef212 @rondenoculinary
Twitter: @ChefRyanRondeno
Facebook: Rondeno Spice Collection
Rondeno Culinary Designs