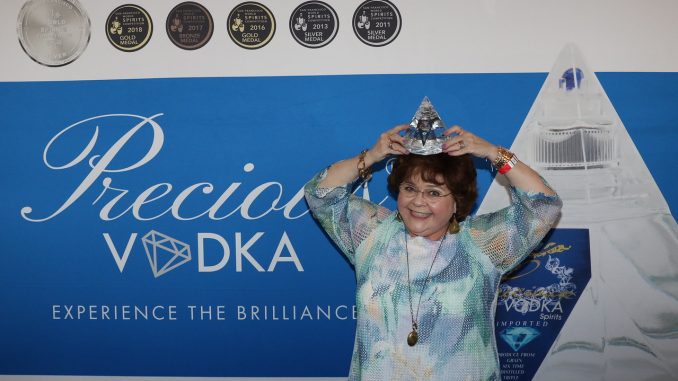 And the Emmy Gifting-Suite Award goes to…. Doris Bergman's 10th Annual Luxury Lounge and Party held on Thursday, September 19th at the Fig & Olive in celebration of the 71st Annual Emmy® Awards. Doris always throws the best events, and this year was no exception. Over 100 Emmy winners, nominees, celebrities and VIP guests gathered for the exciting invitation-only event that was hosted by Buywine.com.
Buywine.com is an amazing website that anyone who enjoys wine should visit soon and often. Their motto is "Quench Your Thirst for Knowledge" and the site provides all kinds of fascinating and useful information on wines, restaurants and travel destinations. During the event, Buywine.com presented guests with divine samples from the hope & grace Wine Collection in Napa Valley. The winery focuses on limited production, single vineyard, 100% varietal Pinot Noirs, Cabernet Sauvignons, Malbec, Sauvignon Blanc, Chardonnay & Dry Riesling and has their tasting room in the charming town of Yountville, California. The owner Charles has been making wine for 30 years and, along with his business partner Tiffani, selects the finest grapes, combined with premium French Oak barrels to craft balanced, elegant, cellar worthy wines. Their name, hope & grace, perfectly suits this wonderful winery.
Several other libations kept smiles on everyone's faces at the event. Presenting sponsor Precious Vodka is a multi-award winning, distilled, triple charcoal filtered vodka, recognized as one of the best premium spirits in the world since 2011. Produced by a distillery in Bulgaria, Precious Vodka has an exquisite taste and a uniquely exquisite diamond-shaped bottle with a beautiful gemstone in the cap. Yours might be a sapphire, emerald, ruby, topaz, peridot or amber. These distinctive bottles make Precious Vodka a marvelous gift that will be super appreciated by friends, family or associates.
Want a drink that's light, refreshing and delicious? Spa Girl Cocktails are the perfect choice. Founder Karen Haimes has created custom-made, low-calorie, all natural, gluten-free, ultra-premium vodka martinis that are terrific for gal parties. The two signature flavors are Spa Girl Cocktails Spa Martini (cucumber) and Spa Girl Cocktails Pear Martini. Whether you're hosting a party, sitting by a pool or just lounging at home, sipping with some friends, you'll be a happy Spa Girl!
Speaking of happy girls, entrepreneur & co-owner Margaret Williamson was a presenting sponsor with her brand PRSVR that features elevated life-style collections focusing on outerwear, footwear, and accessories. PRSVR, also known for Persevere, stands for Passion, Resilience, Sacrifice, Values, and Respect. Margaret showed some awesome jackets in fabrics she designed. Customers can choose the style and fabric they like, and PRSVR will custom tailor one specifically made for them. The company has many celebrity clients and wearing their fashions will make you feel like a celebrity, too!
LuLaRoe Clothing is a California-based, family owned business that brings together tens of thousands of Independent Fashion Retailers who seek the freedom of an entrepreneurial lifestyle through sales of comfortable, affordable and stylish clothing. The gracious ladies gifted guests with a variety of leggings, scarves and tops made from unique, limited-edition prints and patterns in diverse styles and sizes.
Designer Sue Wong showed off her incredible couture gowns and fragrance collections. Her amazing fashions have graced many Emmy and Oscar Red Carpets. I can't wait for one of my movies to win an award so I can wear a Sue Wong gown to accept my gold statuette!
Remember that old song – Diamonds are a Girl's Best Friend? Well, soon you'll be singing a new song: Diamond Veneer is a girl's best friend! This brand uses a revolutionary process of treating Cubic Zirconia with a veneer of Carbon Diamond particles, crystallizing around the entire stone, which results in a flawless "G" color on the diamond color scale. Diamond Veneer is the bridge between CZ and real diamonds. This makes them terrific whether you simply can't afford diamonds – or even if you can, but want to keep the real ones in the safe and wear these when you travel – when no one will know the difference.
One of my absolute favorite jewelry designers is Debra Mitchell with her brand, Twisted Silver. Her eco-friendly necklaces, bracelets and earrings use collected, salvaged and up-cycled earth base metals that make each piece an individual wearable work of art.
Another heavenly brand of jewelry is My Saint My Hero with their wearable blessings. In conjunction with their new Kindness Campaign, they gifted delightful bracelets with the word "kind" in beaded Morse code.
Cherise Noel presented her easy-on easy-off no-clasp tie-on necklaces with magnetic swap-able ends and matching earrings. The jewelry features pearls, birthstones, turquoise, and other lovely and colorful add-ons to go with all your different outfits.
Any man looking to look his best will surely check in with Art Lewin Bespoke. His custom- tailored bespoke suits and shirts are selected from over 4000 distinctive cloths, imported from the world's finest mills in Italy, England, Scotland and France. For four decades he has catered to the world's most prominent corporate stars to Hollywood movie stars and he will have you looking and feeling like a star, too!
Pachamama offered natural and effective CBD products from Mother Earth, including Athletic Rub, Valerian, and The Natural, all with hemp supplements cultivated in Colorado.
The Green Goddess Collective is a cannabis dispensary located in Venice, California. They gifted a variety of edibles, topicals, and prerolls to happy recipients. I imagine many enjoyed them later when they went home and could relax by the light one of the lovely candles gifted at the event by Milena's Boutique.
Of course, cannabis can give you the munchies – and fortunately there were treats to take home and enjoy. Popcornopolis had wrapped cones of kettle corn, caramel corn and zebra corn, and Beviva Foods gifted Purpo – a purple-colored all-in-one cereal with pre & probiotics.
True Gold Honey gave out fabulous gift boxes with five different kinds of honey that can be used in all kinds of recipes.
For quenching your thirst, healthy Hint water is infused with delicious fruit essences without sugar, diet sweeteners, calories or preservatives.
There was also some extra special live music this year, provided by Walter and Wagner Caldas, identical twins from Brazil better known as the B2wins. Their mission is to make the world smile. Thanks go to realtor, author and speaker Debbi DiMaggio, who brought them to the event, knowing it would make everyone there smile!
Other gifts and services were provided by Pia Gladys Perey Designs; O Skin & Med Spa; Browlesque; Author Kathlyn Heim's "The Rules of Nine; Beauty Kitchen; Kam Shield; Lucy Pet Foundation Dog Treats; Harvest Snaps; Sea Snacks; Green Goo Skin Care; Dog TV; Rock Your Hair; The Hollywood Trinity; Emmy's Hope Dog Accessories; Chapstick Lip Balm; and Cameo Social Media App.
Of course, what makes any event amazing is the people who attend. Who did we see enjoying the festivities? 2019 Emmy Nominee Glynn Turman ("How To Get Away With Murder"), former Oscar Nominees Edward James Olmos & Eric Roberts, Grammy Winning Bonnie & Anita Pointer ("The Pointer Sisters"), Rebecca Metz ("Better Things"), former Emmy Winners Patrika Darbo and Kim Estes, Makenzie Moss ("The Unicorn"), and Hollywood Icons Marilu Henner, Dee Wallace, Tristan Rogers and Deidre Hall.
More celebs and VIPs were arriving all day, including former Emmy Nominees Shanti Lowry and Miles Tagtmeyer, John Brotherton ("Fuller House"), Danielle Nicolette ("The Flash"), Deborah Joy Winans ("Greenleaf"), former Golden Globe Nominee Steven Bauer, Chris Browning ("Bosch"), Jeryl Prescott ("Swampthing"), Keo Motsepe ("Dancing With The Stars"), Award-winning Actress Kimberly Elise, former Los Angeles Laker Norman Nixon, Sofia Milos, William McNamara, and Ryan Ochoa ("Pair of Kings")
In the spirit of giving back, guests & sponsors made monetary donations and/or donated unwrapped gifts for young adults (ages 13-18) for a Pre-Holiday Gift Drive benefiting 'Wednesday's Child' –– a weekly segment airing on KTTV FOX 11 News, Los Angeles, with Anchor Christine Devine. 'Wednesday's Child' highlights 'harder to place' young adults in the LA County foster care system who are in need of adoptive families.
All photos courtesy of Doris Bergman.
#BergmanTVGold2019 #Emmys #GiftingSuite #Hollywood #TV