The excitement was palpable when The Eric Carle Museum of Picture Book Art lauded four literary leaders with a record-breaking crowd at the 14th annual Carle Honors. Hosted at Guastavino's in New York City, the annual gala and art auction applauded publishing's most impactful individuals and organizations for their role in enriching the world of children's books. At the same time, it raises much needed support to further the Museum's mission to inspire a love of art and reading through picture books. 
The value of picture books for children is vast as pictures convey the meaning which help children understand – even if they can't or if they are learning to read. Reading picture books is a multi-sensory experience, the words help increase vocabulary, with the repetition of language it allows the child to participate, which embeds new words into their mind.
The charming duo of Caldecott-honor artist and Newbery-honor author Grace Lin,and venerable book editor, Alvina Ling were the emcees of the award ceremony. The presentation featured a video message from Eric Carle's friend and activist Jane Goodall, stories about the Museum, and speeches about and from each of the honorees. Surprises included a read-aloud story time of Kwame Alexander's How to Read a Book, illustrated by Sweet, and a visit from The Very Hungry Caterpillar, Eric Carle's iconic picture book hero, resplendent in costume, who lingered for photos ops with guests. As well, the two unveiled a costume and became of a pair of beautiful butterflies after the 2019 Carle Honors were awarded to:
Melissa Sweet, Artist,collage artist, writer, and illustrator of acclaimed books such as Balloons Over Broadway: The True Story of the Puppeteer of Macy's Parade and Some Writer! The Story of E.B. White
REFORMA, Angel, represented by Kenny Garcia, the National Association to Promote Library and Information Services to Latinos and the Spanish Speaking, an affiliate of the American Library Association
Chihiro Art Museum, Bridge, represented by Takeshi Matsumoto, pioneering museum founded in Japan in memory of Chihiro Iwasaki (1918-1974) and devoted exclusively to illustrations for children's books
David Saylor, Mentor, vice president and creative director for the Scholastic Trade Publishing Group, and founder and publisher of Scholastic's groundbreaking graphic novel imprint, Graphix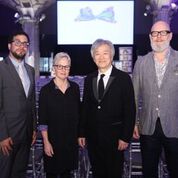 The evening's theme was an ode to Artist Honoree Melissa Sweet and her collage work on Some Writer! The Story of E.B. White who asked, "Why did you do all this for me?" Delightfully overwhelmed, Sweet spoke of the privilege of going to the studio each day. She spoke of her spontaneous and curiosity, and for encouraging her quirky obsessions so they can only be your own.
"The Carle Honors honorees represent the positive and expansive impact that picture books have across the globe," said Rebecca Miller Goggins, Director of Development at The Carle. The 2019 Carle Honors raised a record-breaking total of just over $350,000 in funds for the Museum and its programming. "We are thrilled to celebrate each of our remarkable honorees for their work in making the world of children's books more accessible, diverse, and endlessly rich and imaginative."
On display throughout the evening was artwork from the 11th annual Carle Honors Art Auction, which guests were invited to bid on throughout the night. After dinner and dessert, the auction closed at 9:00 pm sharp, raising over $127,750 for The Carle. The top-selling pieces were by Eric Carle for $21,600, Dav Pilkey for $20,400, and Chris Van Allsburg for $11,000. This year's selections were generously provided by some of the field's most distinguished artists: Aaron Becker, Eric Carle, Catia Chien, Elisha Cooper, Floyd Cooper, Pat Cummings, Lulu Delacre, Carson Ellis, Ryan T. Higgins, Maira Kalman, Kazu Kibuishi, Jarrett J. Krosoczka, Grace Lin, Rafael López, Juana Martinez-Neal, Yuyi Morales, John Parra, Dav Pilkey, James E. Ransome, Peter Sís, David Small, Melissa Sweet, Duncan Tonatiuh, Chris Van Allsburg, Sara Varon, Rosemary Wells, Ed Young, and Pamela Zagarenski. A limited-edition poster autographed by the late Maurice Sendak was also generously donated by the Maurice Sendak Foundation.
ABOUT THE MUSEUM
The mission of The Eric Carle Museum of Picture Book Art, a non-profit organization in Amherst, MA, is to inspire a love of art and reading through picture books. A leading advocate in its field, The Carle collects, preserves, presents, and celebrates picture books and picture-book illustrations from around the world. In addition to underscoring the cultural, historical, and artistic significance of picture books and their art form, The Carle offers educational programs that provide a foundation for arts integration and literacy.
Eric Carle and his wife, the late Barbara Carle, co-founded the Museum in November 2002. Carle is the renowned author and illustrator of more than 70 books, including the 1969 classic The Very Hungry Caterpillar. Since opening, the 43,000-square foot facility has served more than 750,000 visitors, including 50,000 schoolchildren. The Carle houses more than 11,000 objects, including 7,300 permanent collection illustrations. The Carle has three art galleries, an art studio, a theater, picture book and scholarly libraries, and educational programs for families, scholars, educators, and schoolchildren. Bobbie's Meadow is an outdoor space that combines art and nature. Educational offerings include professional training for educators around the country and Master's degree programs in children's literature with Simmons University. Museum hours are Tuesday through Friday 10 am to 4 pm, Saturday 10 am to 5 pm, and Sunday 12 pm to 5 pm. Open Mondays in July and August and during Massachusetts school vacation weeks. Admission is $9 for adults, $6 for children under 18, and $22.50 for a family of four. For further information and directions, call (413) 559-6300 or visit the Museum's website at www.carlemuseum.org.
All photos by Johnny Wolf, courtesy of The Eric Carle Museum of Picture Book Art.