On Saturday, September 21, 2019, Chicago Sinfonietta, the nation's most diverse orchestra, performed a live concert screening of writer-director Jordan Peele's smash hit film Get Out, conducted by score composer Michael Abels at the Auditorium Theatre, 50 E. Ida B. Wells Drive, Chicago. The Sinfonietta was joined by a five-person choir that harmonized perfectly on vocals for such unforgettable songs as Sikiliza Kwa Wahenga and Run, Rabbit, Run.
It was an absolute treat to watch this engrossing movie and hear the stunning live score and vocal accompaniment, presented by this fine orchestra, the choir, and led by the vibrant Abels, sans "click-track". Get Out, nominated for four Academy Awards including Best Picture, and winner of an Oscar for Best Original Screenplay, is a unique modern horror story straddling multiple genres; it's also a black comedy and a treatise on race relations in America, specifically prejudice against young black men. 
Daniel Kaluuya stars as Chris, a black photographer who goes to spend the weekend at the suburban home of the rich physician parents (Catherine Keener and Bradley Whitford) of Rose, his white girlfriend (Alison Williams). Mom is a shrink/hypnotist, dad a neurosurgeon. Younger brother (Caleb Landry)is an absolute creep, and the black caretakers (Betty Gabriel and Marcus Henderson) grin ominously and are in Chris' face from the beginning. Luckily, Daniel's best friend, Rod, (Lil Rel Howery) is reachable by cell phone to add his own brand of support and reality-testing.
Apparently unbeknownst even to Rose, her parents are hosting a party in the almost completely Caucasian enclave. As the guests arrive, they are noticeably weird and Chris realizes that something is very, very wrong. At the same time the audience's gooseflesh begins to rise, there is an equally strong vein of oddball humor invested in the goings-on. Equally apparent is the gender stereotyping that is being spotlit and upended. Finally, the musical score by mixed-race classical composer Abels, known for straddling various genres, is deliciously spooky scary as well as Afro-centric in its infusion of bluesy and jazzy elements- and the choir chants in Southern fried Swahii!
As the plot develops, the musical accompaniment is both similar to that in traditional horror films, disturbing and alarming with electronic textures overlaid on a classical base, and a dreamy, ethereal quality in the strings perfectly highlights the important theme of hypnotism in the film. What is real? Are these people kidding? Can white doctors really be creating zombies out of black folks? Toby Oliver's ultra clear cinematography for the big screen elevates the campy, gritty realism into urban mythology.
The score is non-traditional, and so is the action. We are led visually and aurally back and forth between many mini-scenes, accompanied by numerous musical cues, caught laughing, checking our assumptions about reality at the door. The Sinfonietta, tautly led by Abels, segued effortlessly between giving us a soundscape that is disconcerting yet perfectly synched with the action on the screen. The audience found itself moved, torn, scared mirthless, and ultimately cheering for deliverance.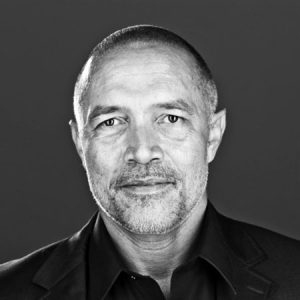 For information and tickets to the upcoming 2019-2020 concert season of Chicago Sinfonietta, go to www.chicagosinfonietta.org
For information and tickets to the Auditorium Theatre's wonderful year-long events, go to www.auditoriumtheatre.org