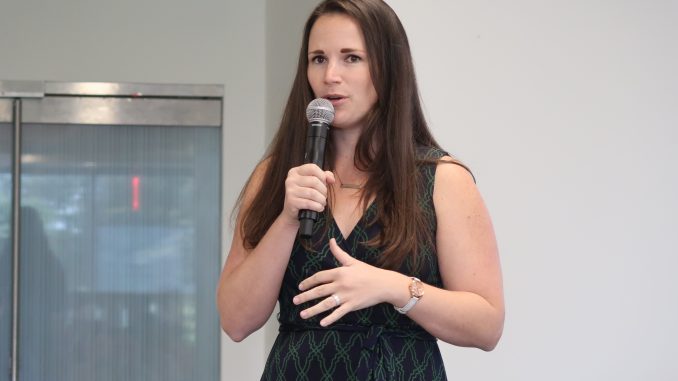 The Explore Austin 6th Ascent Speaker Luncheon took place on September 25th at the LINE Austin Hotel on the edge of the Lady Bird Lake where Stewart Geise, event chairman, welcomed the attendants who were inspired and influenced by the keynote speaker and Emmy Award-winning filmmaker Sarah Moshman. Sarah made a huge impact with an inspirational speech about her documentary available on Netflix.
The annual corporate sponsors of the luncheon were American Campus Communities, CREA, Nyle Maxwell, Kammok, Texas Mutual, CBRE .

Seven minutes of the documentary 'Losing Sight of Shore' was viewed by the attendants of the luncheon who enjoyed thrilling scenes that documented the incredible journey of four women who rowed across the Pacific Ocean. 'Losing Sight of Shore' follows the extraordinary journey of these brave women known as the Coxless Crew who set out to row the Pacific Ocean from America to Australia unsupported. As they row over 8,000 miles during their nine months at sea, they face extreme mental and physical challenges they must overcome in order to go down in history. This is a story of perseverance, friendship, and the power of the human spirit. Everyone has a Pacific to cross. The film, a documentary about empowerment was released globally in 190 countries on Netflix in May 2017.
The documentary made a statement during the luncheon since Explore Austin promotes leadership and outdoor adventure to empower youth to reach their full potential using long term mentoring to improve the well-being of each participant, the family, and the community.

Explore Austin empowers kids through mentoring and leadership with outdoor adventures. Explore Austin is a free program and groups stay together for 6 years from 6th to 12th grade sharing outdoor activities during the school year and summer break. These activities are called "Saturday Challenges' and the "Summer Wilderness Trip"

Explore Austin matches high potential, 6th grade "Explorers" with caring and committed adult mentors and start them on a six-year journey including nine Saturday Challenges a year with a week-long Summer Wilderness Trip that increases in difficulty and distance from home each year. Over the course of the six-year program, each Explorer spends more than 1,300 hours with their Mentors and fellow Explore teammates, creating lifelong growth in character, integrity, courage, and grit.