When Neil Simon wrote "Fools," he allegedly tried to create a play which would be a sure flop on Broadway because, in a divorce agreement with his ex-wife, he promised her all the profits from his next play. Whether apocryphal or not, his next play, "Fools," was first produced in Broadway in 1981 and lasted only 40 performances. After its dim theatrical history, "Fools" was later adapted into a stage musical in 1984 titled "The Curse of Kulyenchikov" (book and music by Peter Melnick; lyrics by Pat Pattison) and ran at Harvard University for a month. With Simon's permission, the play was again adapted into a stage musical in 1990 titled "Kulyenchikov" (music and lyrics by Ted Kopulos) and ran briefly in northern California." Finally, most recently and with Simon's widow's blessing, a third musical adaption of "Fools" was done (book and lyrics by Neil Simon; music and lyrics by Phil Swann and Ron West). Perhaps the third time is a charm, an idea currently being tested by the Open Fist Theatre Company at the Atwater Village Theatre Complex.
MUSICAL FOOLS pits ignorance against genius and wit as new schoolmaster Leon Tolchinsky (James Byous) journeys to the Ukrainian village of Kulyenchikov to become the tutor for Sophia (Clare Snodgrass), the beautiful daughter of the town's physician, Dr. Zubritsky (Derek Manson) and his wife Lenya (Robyn Roth). Within moments of his arrival, he begins to suspect that something is not right in Kulyenchikov. Everyone in the town is dimwitted at best, including the lovely Sophia and her parents.
Then Leon discovers that a curse has been placed on each resident of Kulyenchikov, a 200-year-old curse leveled on them by a mysterious count seeking vengeance for his son's suicide after the young man's offer of marriage was rejected by his true love's father because the poor boy was not well read. Leon should leave the hopeless situation immediately – except for his new-found love for the pretty but stupid Sophia. Can the curse be broken? And how? These are questions which he must explore – and quickly, since he is doomed to become an idiot himself after 24 hours in the doomed town.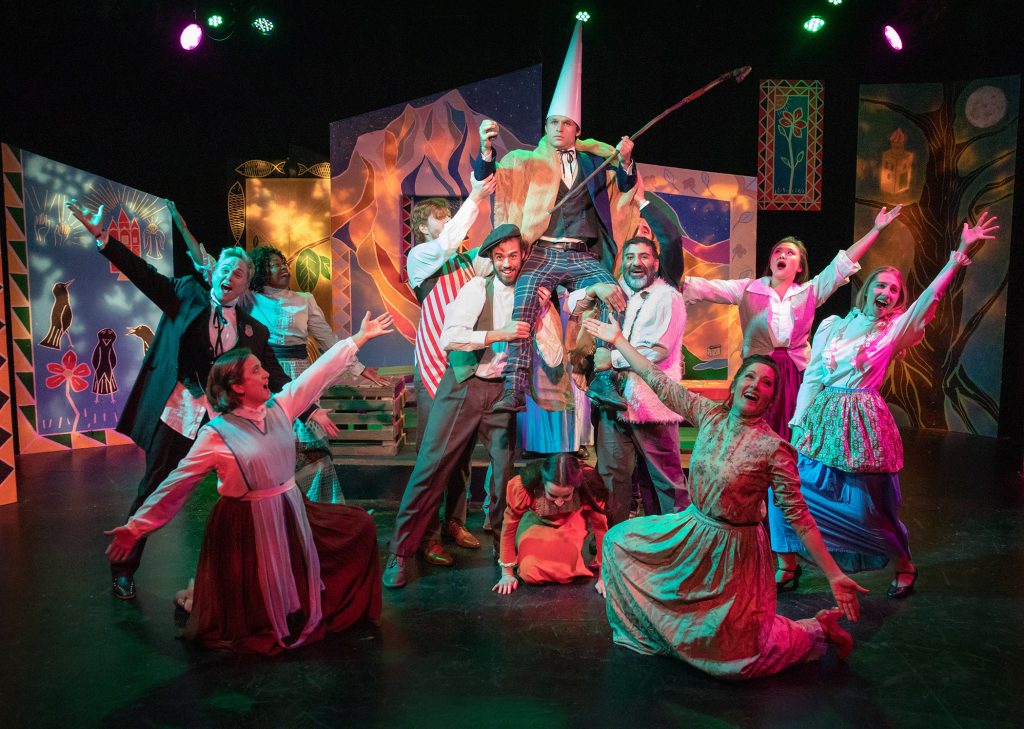 Director Ron West (doubling as co-contributor of music and lyrics with Phil Swann) does a brilliant job of taking a rather dull and pedantic play and turning it into an enchanting musical. Kudos to music director Jan Roper, choreographer Louisa Kendrick Burton, and musical arranger Luke Harrington. The end result is a charming, bouncy, and delightful story of ill-fated lovers who must rise above adversity. Lyrics are clever and humorous – with lots of opportunities for laughter throughout. The large ensemble cast does a terrific piece of work keeping the fantastic funny and fun as they sing their hearts out and dance about scenic designer Jan Munroe's bright and vivid stage.
Each member of the production team has taken the tale to a new and delicious level by offering beautiful costumes (Mylette Nora), excellent lighting (Matt Richter and Mary Keegan), and absolutely clear sound (Tim Labor) – so important when Sondheim-type lyrics tell the story. Let's not forget the live on-stage band led by Jan Roper with Ross Wright (bass), Adam Snow (drums), and Matt Germaine (reeds/flute). Their musical punctuation adds without overwhelming. MUSICAL FOOLS is both a musical extravaganza and a family-friendly show which will entertain audiences from six to 60 (and even above).
SPLASH SELECTION
Neil Simon's MUSICAL FOOLS runs through November 17, 2019, with performances at 8 p.m. on Saturdays and Mondays and at 4 p.m. on Sundays (no 4 p.m. performance on 10/13 with 7 p.m. performance on 10/13 ONLY). Open Fist Theatre Company performs at the Atwater Village Theatre, located at 3269 Casitas Avenue, Los Angeles, CA 90039. Tickets range from $25 (advance purchase) to $35 (students $15; children under 12 $10). For information and reservations, call 323-882-6912 or go online.