Considered the Number #1 destination in the state of Texas, Dallas is a city on the move offering visitors an opportunity for cultural exploration, tasty culinary and fun shopping experiences. After all, this is Texas where everything is bigger and better. Believe it!
Fascinating Museums
Top of your list should be the Perot Museum of Nature and Science which offers interactive learning experiences for adults and children.  Recognized as the gateway to the Dallas Arts District, you can't miss the museum with its diagonal stairway that turns into, wait, you'll have to see for yourself. Future scientists, mathematicians and engineers love to explore the 11 permanent exhibit halls on five floors as well as a children's museum.
Photo courtesy of Perot Museum
NEW! Origins: Fossils from the Cradle of Humankind
A new species now on display at the Perot Museum of Nature and Science. Photo by Mira Temkin
Making its American debut at the Perot Museum is this unique new exhibit, Origins: Fossils from the Cradle of Humankind, only on display in Dallas. Dig deeper into the ancient human story with this groundbreaking exhibition that now questions the origins of humanity. This once-in-a-lifetime engagement invites guests to get up close and personal with the authentic fossils of Australopithecus sediba and Homo naledi – two recently discovered species of ancient human relatives that are now changing our understanding of evolution.  Created in partnership with the University of the Witwatersrand (Wits University) in South Africa and the National Geographic Society, the 5,000-square-foot exhibition explores the dramatic discovery of these fossils that have never been displayed outside of South Africa – and likely never will again. In this exhibit, you can be a paleontologist, search for fossils on your own and discover other interactive experiences.
Head to the Top
The GeO-Deck at Reunion Tower is the iconic centerpiece of Dallas, providing beautiful, 360-degree views of the ever-changing skyline. View the high-definition zoom cameras, telescope, Wolfgang Puck Café, play with the interactive touch screens, 360 Degree Video Experience and take home a free digital photo. Go at night for exquisite neon views.
Dallas Museum of Art – One of the 10 largest art museums in the U.S.
Founded in 1903, this world-class museum features more than 24,000 works of art from all cultures and time periods spanning 5,000 years of human creativity. Enjoy its diverse spectrum of exhibitions, lectures, concerts, literary events and presentations. From contemporary works to American art to Texas exhibitions, the DMA offers an always-changing collection. Admission is free.
Learn more about history at the George W. Bush Library 
George Bush Oval Office during his presidency. Photo courtesy of GWB Presidential Library.
The George W. Bush Presidential Library and Museum is a new state-of-the-art facility in on the campus of Southern Methodist University that recaps the legacy of the 43rd president who served the U.S. from 2001 to 2009.  It was an especially trying time for our country with both 9-1-1 and Hurricane Katrina impacting our citizens. I especially liked the videos about his daughters and their thoughts about living in the White House. Come see an authentic reproduction of the Oval Office when he was president.
New Holocaust and Human Rights Museum Opens in Dallas
Just opened in September, the new Dallas Holocaust and Human Rights Museum uses the latest technology to talk about the Holocaust and other genocides in a way that is both immersive and interactive. The museum is designed to tell the story of the Holocaust, the emergence of international human rights following the war, and the development of human/civil rights in America. This Dallas museum offers compelling and creative programming, internationally recognized exhibits, and world-class speakers.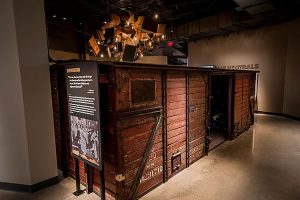 Authentix boxcar used to transport Jews to the camps. Photo courtesy of Dallas Holocaust and Human Rights Museum.
Nasher Sculpture Center
Be sure to visit the Nasher Sculpture Center, boasting one of the finest collections of modern and contemporary sculptures in the world. Enclosed by a glass façade, the museum features sculptures by Calder, Matisse, Joan Miro and more. Don't miss the sculpture garden with its glorious fountains and other works of art. 
Fountain at the Nasher Sculpture Garden. Photo courtesy of Nasher Sculpture Center.
Dallas Arboretum and Botanic Garden
Harvest comes to the Dallas Arboretum. Photo by Mira Temkin
Just minutes from downtown is the Dallas Arboretum, located on the shores of the beautiful White Rock Lake. Built on the grounds of two former mansions still standing, this urban oasis boasts 66 lush acres of lush gardens, beautiful gazebos and picnic groves. Check out their cooking demonstrations, historical tours and seasonal tastings. Experience one of Garden's many festivals, walk through the perfectly manicured grounds in any season and discover a garden of earthly delights.  
Where to Eat
Dallas is known for its great Tex-Mex, mouth-watering steaks and southwestern cuisine. Here are just a few restaurants to try. 
Savor
Located in Klyde Warren Park, Savor serves new American dishes, classic cocktails and decadent desserts with floor-to-ceiling windows that let you watch the fun in the park. Recommended is the Tomato and Burrata appetizer, Chopped Kale and Rotisserie Chicken and Warren Park Picnic.  
Beto & Son
Ten taco board at Beto & Son. Photo courtesy of Beto & Son.
Located in the funky Trinity Groves complex filled with unique restaurants, Beto & Son is a chef-inspired new generation of Mexican restaurant. Beto and son Julian  bring a fresh vibe to traditional family cooking with locally-sourced Mexican dishes. Enjoy the vibrant flavors in this chef-to-table dining. Start with an appetizer like Chef Beto's Tableside Guacamology, a fire-roasted take on the classic favorite and chow down on Chef Julian's 10 Taco – Taco Board.  
Fearing's
Fearing's, home of the Bold Flavors, No Borders cuisine of celebrity chef, and best-selling cookbook author Dean Fearing is located inside the posh Ritz Carlton.  Discover the best of the Southwest with Fearing's innovative menu, including Texas farm-to-market specialties and the restaurant's gracious, refined service. Try the 2121 Cobb Salad with Chicken Fried Lobster or Pan Seared Louisiana Red Snapper on Texas Mushroom Congee.     
Make your plans to visit this vibrant city soon. For more information, visit Dallas.com.