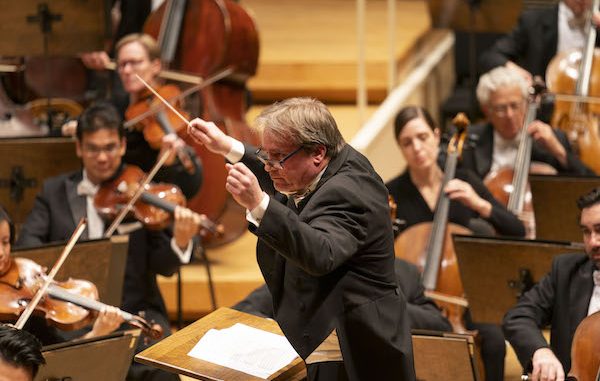 On Thursday, December 5, 2019, in a concert to be repeated December 6th, 7th, and 10th,  Finnish Conductor John Storgårds, Chief Guest Conductor of the BBC Philharmonic, returned to Symphony Center, 220 S. Michigan Ave, Chicago, to lead the Chicago Symphony Orchestra and Taiwanese-Australian Ray Chen, guest solo violinist, in a concert featuring two Symphony Center premieres in the first half of the program. 
Jennifer Higdon blue cathedral, 2000
This single movement piece represents an anthem of commemoration and devotion to a lost beloved brother, composed as a tribute and anodyne to grief and anger.
Requested by the Curtis Institute for the celebration of that organization's 75th anniversary, work on what became the impressive 12-minute piece represented, for the composer, a crucial choice. "It was about deciding if life was going to be about living or about death," said Higdon. The composer also experienced images of cloud formations and "blueness permeating from the outside of a church" while creating the music.
The beautiful, crystal clear work is comprised of reverent music introduced in the peaceful, tuneful opening that returns repeatedly and ultimately brings the composition to a close. It has an ethereal texture, expressed by a plethora of percussive instruments, and is entirely without a sense of melancholy. Next, the clarinet and flute conjoin to form the mid-section, in a virtual celebration of sound.
Soon a sober English horn solo followed by a powerful outburst of the entire orchestra culminates in a brassy fanfare. At this point, diverse members of the CSO, begun by the harpist, followed by the strings, appear to snap their fingers. In actuality, they were shaking "Chinese health reflex balls", producing a gentle "pinging" noise. Combined with unusual percussion sounds, the music seemed to float into the atmosphere. The whole was a potent and striking piece of "new art music", very lovely, and understandably this important composer's most popular work.
Henryk Wieniawski Violin Concerto No. 1 in F-sharp Minor, Op. 14, 1853
This stunning piece of music contains both melodrama and a magical, lyrical sense, particularly ravishing in the slow movement. The "dancing" finale is replete with great rhythmic color. It was a joy to observe Ray Chen, an exceptionally fine violinist with a compelling personal style. He entered the piece directly facing fellow Taiwanese-born Concertmaster Robert Chen, and never strayed far from this position, although dipping and bowing deeply, his face and entire person obviously infused with energy.
CSO violinist Blair Milton, who played that evening commented, "This is a fiendishly difficult piece of music and Ray Chen, so personable and effervescent, gave an outstanding performance, virtuoso and singing, with deeply tender moments in this dazzling, technical piece." He described Wieniawski's cadenza, played by Chen with sensitivity and flourish as one of "hair raising brilliance, written by a genius of the violin".
In encore, Chen played his own arrangement of Waltzing Matilda, a sad and touching ode, transformed by this artist into a subtle and sweeping, poignant lament. Storgårds, himself a superb violinist, beamed at the extended audience ovation. 
Pyotr Ilyich Tchaikovsky Symphony No. 4 in F Minor, Op. 36, 1877-78
After Tchaikovsky's tragic (months-long) marriage to a former student, this most complex artist began work on his 4th symphony. Historians tell us that the emotionally embattled composer struggled with "writer's block", his sexuality, and was deeply depressed. 
No wonder that the music that emerged, played with a sense of epic grandeur by the CSO, Storgårds exhibiting undeniable strength and dynamism at the helm, was urgent, fraught, even violently emotional.  Yet the work that begins with a sense of doom is also imbued with subtle melancholy, perhaps especially evident in the plaintive oboe melody at the start of the second movement, which swelled into a nascent optimism with lush strings and eloquently booming brass.
Ultimately, the Finale, scales rushing forward headlong with frenzied plucking of strings, was produced as a triumphant highlight before settling back into gloom; a most intense and ultimately sad work by Tchaikovsky, whose joyful works are a fountain of melody.
For information and tickets to all the great programming of The Chicago Symphony Orchestra, go to www.cso.org
All photos by Todd Rosenberg