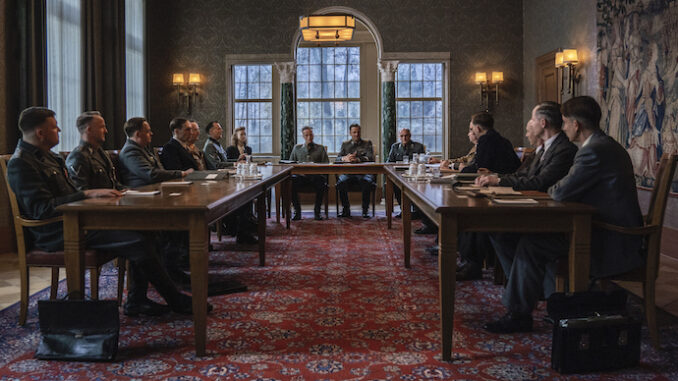 The JCC Chicago Jewish Film Festival celebrates its 10th anniversary on January 26-29, 2023. This weekend of film is a special commemoration of International Holocaust Remembrance Day on January 27– designated by the U.N. General Assembly to mark the anniversary of the liberation of Auschwitz-Birkenau. The films shown this weekend will continue with the hybrid festival format, with all three films streaming online and in theater on Sunday, January 29.
"Given the current climate, with antisemitic threats looming, we believed it was critical to choose films that speak to this grave subject matter to commemorate International Holocaust Remembrance Day," said Festival Director Ilene Uhlmann. "The three films each focus on a particular group of people and speak to the choices they make, both good and evil. These hugely compelling films act as powerful reminders that we must do everything in our power to prevent future acts of genocide."
To date, the Festival has screened more than 250 films, debuted over 100 premieres, and engaged 60,000+ viewers. And as always, the special films that have been selected this year seek to showcase culturally diverse, Jewishly inspired films that will captivate, educate, and inspire audiences of all generations.
"One of the most moving things about viewing and selecting films for the festival is discovering incredible stories about people who find themselves in unimaginable situations. In the Illinois premiere of Lost in Transport, a Russian sniper, a Jewish-Dutch woman, and village girl wind up sharing the girl's home, forming a bond, and making the best of a heartbreaking situation," said Hillary Wenk, Co-Director of the Festival. "In observance of International Holocaust Remembrance Day, it is stories like these that aim to unite us and renew our faith in humanity."
The Festival is scheduled for Thursday–Sunday, January 26-29, with three films streaming and also showing on Sunday, Jan. 29 at Landmark's Theater in The Glen in Glenview.
· Reckonings streaming and in theater on Sunday, January 29 at 11am: Documentary; They met in secret to negotiate compensation for the survivors of the largest mass genocide in history. Award-winning filmmaker Roberta Grossman recounts the tense negotiations between Jewish and German leaders who saw it as a step towards healing. Trailer: https://vimeo.com/672967408
· The Conference streaming and in theater on Sunday, January 29 at 12:45pm: Drama; On January 20, 1942, leading representatives of the German Nazi regime met for a meeting at which the systematic murder of 11 million Jews was decided. Trailer: https://youtu.be/FQIQETaG6JA
· Lost In Transport streaming and in theater on Sunday, January 29 at 3pm: ILLINOIS PREMIERE;Drama:A train deporting hundreds of Jewish prisoners gets stranded near a small German village occupied by the Red Army. In a context of deep mistrust, desperation and revenge, an unexpected friendship emerges between a Russian sniper, village girl and Jewish-Dutch woman. Trailer: https://youtu.be/6ciLnoz_1i8
Special Festival pass pricing is available to see these films running the weekend of January 26-29. The pass will also be valid for the following films showing February 23-26 and also in theater at Landmark's Glen Theater in Glenview:
· Valiant Hearts streaming and in theater on Sun., Feb. 26 at 11am: ILLINOIS PREMIERE, Drama; The odyssey of 6 Jewish children hidden during World War II, who went to find refuge where no one would think to look—in the Chambord castle, its park, and among the hidden works of art of the Louvre.
Trailer: https://youtu.be/7aVS8Co7Z5k
· Farewell Mr. Haffmann streaming and in theater on Sun., Feb. 26 at 1pm: Drama; In Paris 1941, François works for Mr. Haffmann, a Jewish jeweler. Under the German occupation, employer and employee are forced to strike a deal, upending the fate of all concerned.
Trailer: https://youtu.be/5ZjGjA2lXD8
· Where Life Begins streaming and in theater on Sun., Feb. 26 at 3:30pm: MIDWEST PREMIERE,Drama; An ultra-orthodox Jewish family comes to a farm in Calabria for a brief stay every year to harvest citrons. When Elio, the farm owner, meets the rabbi's daughter, who is tired of the constraints imposed by her religion, he will find the peace he had lost for a long time.
Trailer: https://youtu.be/uQ69pRk-c50
At the conclusion of the 10th Anniversary Festival, film will be shown beginning in April in conjunction with Violins of Hope—an international sensation comprised of 70 violins that "survived" the Holocaust that JCC Chicago is bringing to Chicago and across Illinois for performances, demonstrations, and educational purposes. The Illinois Holocaust Museum and Education Center will be hosting these films in their Goodman Auditorium and the Opening Night Concert will take place on April 20 at North Shore Congregation Israel in Glencoe.
Find details and tickets for the 10th Anniversary JCC Chicago Jewish Film Festival at jccfilmfest.org. Tickets are $15 per person and are only available online, for either virtual or in-person screenings; a $36 Festival Pass will be offered to screen 3 movies. For information on Violins of Hope, visit: jccchicago.org/violinsofhope 
JCC (Jewish Community Centers) Chicago, founded in 1903 and rooted in Jewish values, offers a life-affirming journey fostering a connected, inclusive community from birth through senior years. With a focus on growing good kids and building connections, it is JCC Chicago's mission to strengthen the Jewish community, from generation to generation. Today, JCC Chicago serves a diverse population of more than 60,000 community members who learn, grow, and thrive through early childhood, day and overnight camps, teen, adult and family offerings, fitness and wellness, aquatics & sports and special events and happenings year-round.
With headquarters in Northbrook, JCC Chicago has over a dozen facilities that serve the greater Chicagoland area including: seven Early Childhood and Daycare Centers, nine Apachi Day Camp locations, Camp Chi Overnight Camp and Perlstein Retreat Center (located in Lake Delton, WI) and five Community Centers. For more information on JCC Chicago programming and commitment to community visit, www.jccchicago.org.