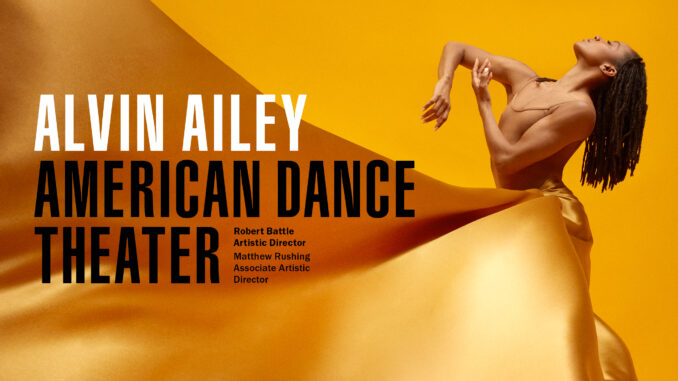 Alvin Ailey American Dance Theater returns to Chicago for six exceptional performances under the artistic direction of Robert Battle at the Auditorium Theatre at 50 E Ida B. Wells Drive in Chicago, Illinois. Opening night begins with the annual Gala celebrating board member Ann Nash and philanthropy consultant Amina Dixon.
Program A featured new work, "Are You in Your Feelings?" choreographed by Kyle Abraham. Hip-hop and neo-soul blended like cool water on a hot summer day. The dancers' moves interpreted love, hate, heartbreak, and bitterness. Their moves are as fluid as the liquid in a glass. The music and the movement were woven and intertwined like silk. I thoroughly enjoyed this piece. It was hip, fresh, and entertaining. The chemistry between the dancers made the storyline complete.
The second piece in Program A was Unfold, choreographed by Robert Battle, with music by Gustave Charpentier. Robert dedicated this number to the honorees of the evening, Ann Nash and Amina Dixon. The piece evokes so much emotion. The beauty of the moves and the powerful vocals of one of the most significant African American opera singers, Leontyne Price, were brilliant.
The show ended with the piece that will always be my favorite, Revelations. There is no better way to end the show. Revelations takes you on a spiritual journey. It's a story of hope, freedom, and the promise of better days. It will take you to church. It's uplifting, and every time I've seen it performed, it brings audiences to their feet, singing, dancing, and clapping along with the performers.
As always, Alvin Ailey delivers solid performances and provides music and dance that reflects all generations.
Run Time: 90 without intermission
Photo Credit: Paul Kolnik
For a listing of the Auditorium Theatre events, please visit AuditoriumTheatre.org.