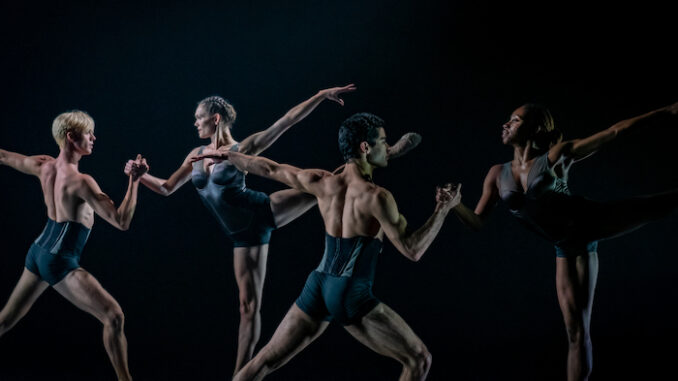 Visceral Dance Chicago, a nationally and internationally recognized force in contemporary dance, celebrates its 10th anniversary with SPRINGTEN, a presentation of dynamic works that highlight the company's range and power. The one-night-only performance, featuring a world premiere by Founder/Artistic Director Nick Pupillo and audience favorites, takes place Friday, April 28 at 8 p.m. at the Harris Theater for Music and Dance, 205 E. Randolph, Chicago.
 
The program includes three works by Pupillo:An aggressively energetic world premiere with a diverse soundtrack amplifying the dynamic range of each individual dancer and a dramatic cutting-edge light design by David Goodman-Edberg; Impetere, Pupillo's first work for the company, in a return to the Harris stage, where it premiered 10 years ago; Keep (2018), an intimate and stirring duet with music by Trent Reznur and Sigur Rós.

Name It by KT Miller

Making its mainstage debut is Name It by Israeli choreographer and Ate9 Dance Company Artistic Director Danielle Agami, with music by Puerto Muerto, Glenn Kotche, Emily Manzo and David Friend, and Elvis Presley. The program also includes a longtime fan favorite, Marguerite Donlon's Ruff Celts, created for Visceral in 2016 with music by Sam Auinger, De Dannan Luke Kelly, Kíla, Sinead O'Connor, and Claas Willeke that manifests material from the dancers' unique personalities and the choreographer's Irish heritage. Using composed sections of improvisational forms, this high-energy, quirky, and visually stunning work explores the dancers' own voices in relation to tribe and heritage.

Prior to the public performance, Visceral presents excerpts from the SPRINGTEN program to a sold-out matinee audience of Chicago Public Schools students on April 28.

Ruff Celts, Photo by Todd Rosenberg
SPRINGTEN, Visceral Dance Chicago's 10th Anniversary Performance,
takes place Friday, April 28 at 8 p.m. at
the Harris Theater for Music and Dance, 205 E. Randolph, Chicago.
Tickets are $20–75 and are available at harristheaterchicago.org
All programming is subject to change.

For more information, visit visceraldance.com.Visceral Dance Chicago, founded and led by Artistic Director Nick Pupillo, has been engaging and connecting its artists with audiences since 2013 and is now a nationally and internationally recognized driving force in contemporary dance. The company has developed a diverse and respected repertoire that continues to challenge audiences' expectations. Visceral Dance exemplifies Pupillo's daring vision to explore the infinite possibilities of contemporary movement and present the best of emerging, established, and innovative choreographers. The company has been praised for its exceptional technicality, diversity, versatility, and daring athleticism. 
 
Coinciding with the company's 10th anniversary is the 15th anniversary of the Visceral Dance Center, which offers classes for youth and adults seven days a week, taught by industry professionals. Visceral Dance Center is known for its positive environment, exceptional faculty, and a brand-new, spacious state-of-the art facility located in the Avondale neighborhood along the Chicago River. This new space serves the growing needs of the entire Chicago arts community, which uses the building for rehearsals, workshops, and auditions, and also includes an in-house theater space, The Ann Barzel Theater, available for performances and special events.###
Keep by M Reid Photography
Photos are courtesy of Visceral Dance Chicago