GIGO – These words may become prophetic as playwright Caryl Churchill tries to make sense out of chaos in a world dominated by the search for facts – whether or not they are correlated with truth. We've always believed that gathering information is supposed to lead to organization – and ultimately truth. But does it? The topic is right up the alley for Churchill, who was inducted into the American Theater Hall of Fame in 2010, crowning a career which began in 1958 and has extended right into the present. Her writing has gone beyond the stage into multiple dramas for radio and television. Hers is an innovative approach, often encompassing cultural and feminist themes. Penned in 2012, LOVE AND INFORMATION is certainly no exception.
LOVE AND INFORMATION is loosely divided into seven sections, each with a number of scenes ranging from 45 seconds to a few minutes long. Churchill designed the numerous scenes within sections for flexibility, allowing the director to juggle the scenes, depending on the effect being targeted. The play has over 100 characters, unnamed and not gendered. Of course, each actor typically takes on a number of these roles. In the current production, eight actors play dozens of people. The play is helmed by skilled director Emily Chase. John Apicella, Anne Gee Byrd, Darius De La Cruz, Kwana Martinez, Kevin Matsumoto, Erin Pineda, Lloyd Roberson II, and Zoe Yale – all uber-talented artists – take on the roles. Despite the multiple story threads briefly touched upon, an underlying question persists. Especially since the advent of the personal computer and smart phone, we live in a world inundated with information. At the same time, our brains have not grown exponentially larger and more complex. How do these primitive brains, designed for use before the information age, handle what is almost an excess of information? And what effect does this data overload have on interpersonal communication – and love?
Without a doubt, LOVE AND INFORMATION is an intellectual, thought-provoking piece. To quote New York Times critic Ben Brantley, the play is "thought-churning, deeply poignant…so ingeniously and exhaustively mirrors our age of the splintered attention span…compel(s) us to think about the paradoxical variety and similarity in the ways we try to make sense of our universe and our place in it (2014)."
The production team is faced with a fascinating dilemma: how to design a set which can handle dozens of short scenes happening all over the place. Scenic designer Frederica Nascimento has given the audience a stark stage with only one sofa perched atop a set of long steps. Occasionally, an extra chair or table may be quickly inserted and then just as quickly withdrawn, and actors may carry their own "scenery" (to wit, a blanket or a laptop or a game console). Costume designer Angela Balogh Calin has more latitude, since each actor must sport an outfit for each character portrayed. Christine Ferriter's lighting, John Zalewski's sound, and especially Ly Eisenstein's projections become a crucial part of the setting.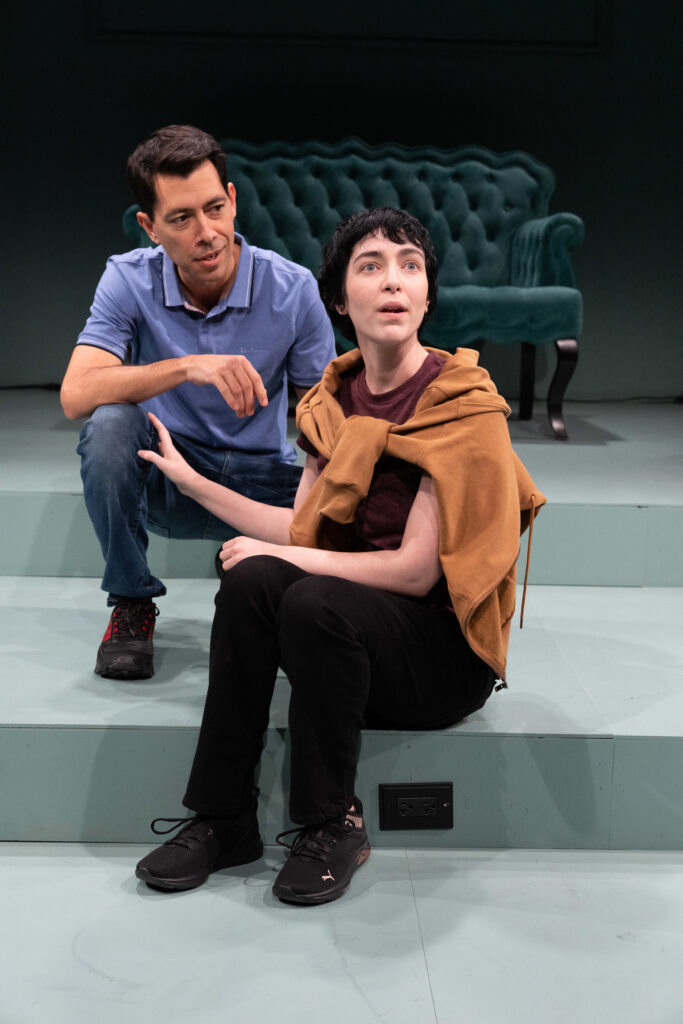 LOVE AND INFORMATION is a fascinating look at the multiple issues which people in today's data-intensive world must face. At times, this is a crazy-making situation. At other times, it is an opportunity to learn and evolve. But – regardless of outcome – it is always a conundrum which must be tackled. This is a very here-and-now show which offers lots of questions – but few answers. Perhaps it is the audience who must supply the solutions.
LOVE AND INFORMATION runs through April 3, 2023, with performances at 8 p.m. on Fridays and Mondays, at 2 p.m. and 8 p.m. on Saturdays, and at 2 p.m. on Sundays (no matinee on Saturday 3/4; no show on Monday 3/6). The Kiki & David Gindler Performing Arts Center is located at 110 East Broadway, Glendale, CA 91205. Tickets are $40. For information and reservations, call 818-506-1983 or go online.