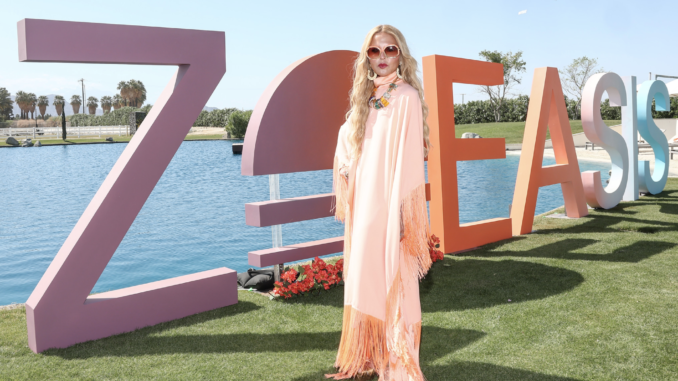 All of Los Angeles headed to the desert for a weekend full of fun! Known as the "LA Holiday," the first weekend of Coachella is jam packed with brands and activations fighting for the number one spot and the most epic party. From exclusive brunches to parties till 4am, the parties during the first weekend of Coachella are over-the-top, and most likely include live music and are pretty much a bit more fun than the festival itself. This years event proved to be no different. From well-known parties like Neon Carnival to a few newcomers, like Sonic Desert, the events this time around were incredible and the best yet.
Playboy After Dark Presented by London Alley:
On Thursday, April 13th, London Alley brought Playboy back to Indio to celebrate the original lifestyle brand's 70th anniversary and simultaneously kick off all of the celebrations during the festival weekend. London Alley is a creative production studio that will be bringing the Playboy After Dark event to life, taking inspiration from the brand's iconic 1970s variety show. Guests not only celebrated the 70th anniversary of Playboyand London Alley's iconic history in the music industry, but also experienced a live DJ set by DJ Pee .Wee (Anderson .Paak), surprise performances, multiple engaging activations, giveaways, food from Verse LA, an array of delectable libations, and so much more!  

Nylon House:
NYLON House returned to the desert on Friday, April 14th, to kick off the first day of the festival. Guests danced under the stars with us and bounced to the beats of today's most relevant established and rising DJ's, including a headlining set with Alesso, sponsored by Patrón, as well as a set with Carlita who will be joined by Diplo later in the show. NYLON House was presented by Samsung Galaxy and in partnership with Toyota, Cheetos, Mugler, Got2b and SHEGLAM.
Alessandra Ambrosio (Model), Alesso (DJ), Amber Rose (Model), Austin North (Actor), Bella Thorne (Influencer), Carlita (Musician), David Dobrik (Influencer), Diplo (DJ), Isabella Merced (Actor), Jaden Smith (Musician), Madison Bailey (Actor), Rickey Thompson (Influencer), Teyana Taylor (Musician), Victoria Justice (Actor), Yara Shahidi (Actor), Zoey Deutch (Actor), and more.
Clinique Hydration House:
For the first time ever, Clinique hosted an activation just outside of Coachella in Indio, CA, for music festival attendees, influencers and tastemakers to discover the brand's ultimate hydration dimension at the Clinique Hydration House. The activation included a pool party, large-scale skincare-inspired installations, gifting, and more – all in celebration of the brand's superstar hydrators, Moisture Surge 100H and the NEW Moisture Surge SPF 28, and "Protect Your Glow" campaign, aimed at helping consumers protect their glow inside and out.
Attendees beat the desert heat with Clinique and a special set by DJ Coco & Breezy, who kept the party glowing. Notable guests included Jasmine Tookes, Lauren Wolfe, Melinda Berry, Brittany Xavier, Patrick Starrr and Josephine Skriver, among others.
"The Racquet Club" Presented by Flying Embers: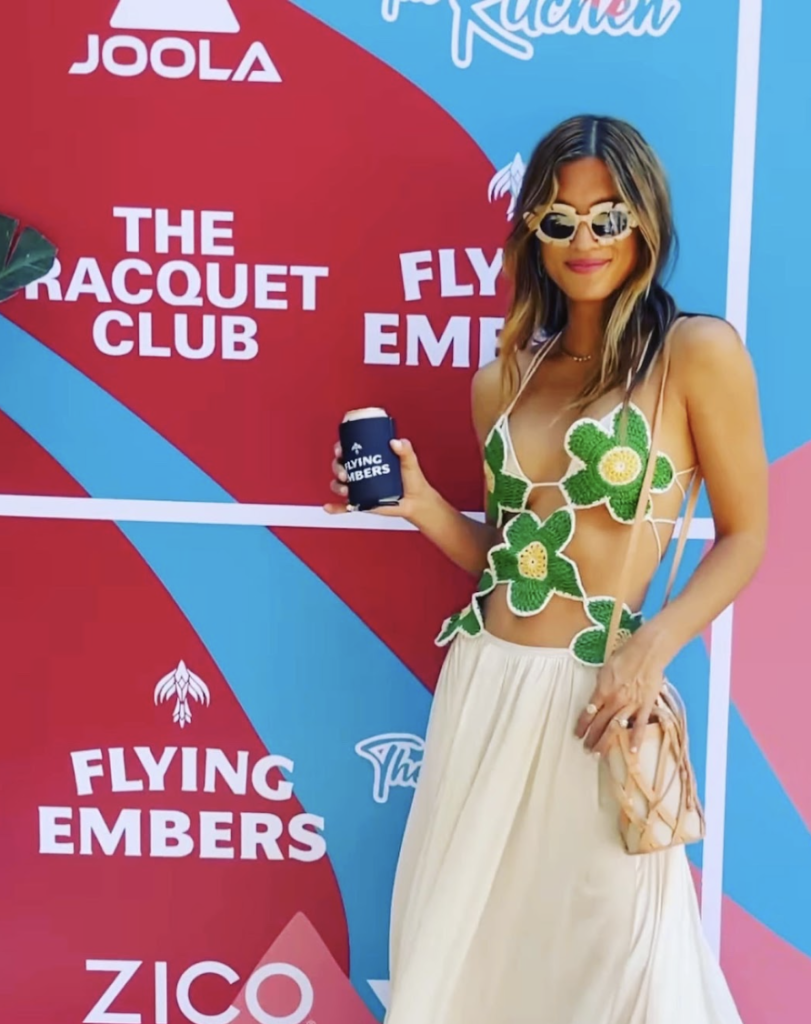 Flying Embers celebrated the launch of their new Birds of Paradise hard kombucha with "The Racquet Club": an inaugural pickleball event in partnership with The Kitchen, taking place Saturday, April 15th in Bermuda Dunes. Guests experienced a fun-filled day of pickleball play, tournament-style pickleball games, a live DJ set, surprise giveaways courtesy of JOOLA, and celebrity engagements hosted by renowned influencer, Rocky Barnes. There were unique and interactive brand activations and photo moments, inclusive of stunning desert views and the absolute best festival vibes you can imagine. Did we mention there was a pool?! The event featured refreshments from Flying Embers, Zico and LaCroix, cloud-like seating from Lovesac, fun games from Sunnylife, swag from Yeti.
Lucky Brand Desert Mirage:
Lucky Brand returned to the desert to celebrate festival culture with a desert mirage minutes away from the festival grounds. The event featured surprise performances, various DJ sets including several by GAYLE, Jordan Ward, DJ Hunny Bee, Lisbona Sisters, a customization station, custom trucker jackets by Wren + Glory, a pool party, tarot card readings, exclusive giveaways, all in a very laid back setting…! Additional sponsors included: refreshments from NUTRL, Waiakea Water, LaCroix, cloud-like seating from Lovesac, luxe lie-on floaties from SUNNYLiFE, specialty cocktails from 818 Tequila, Grey Goose Vodka, and so much more!
Ketel One Botanical Spritz Oasis: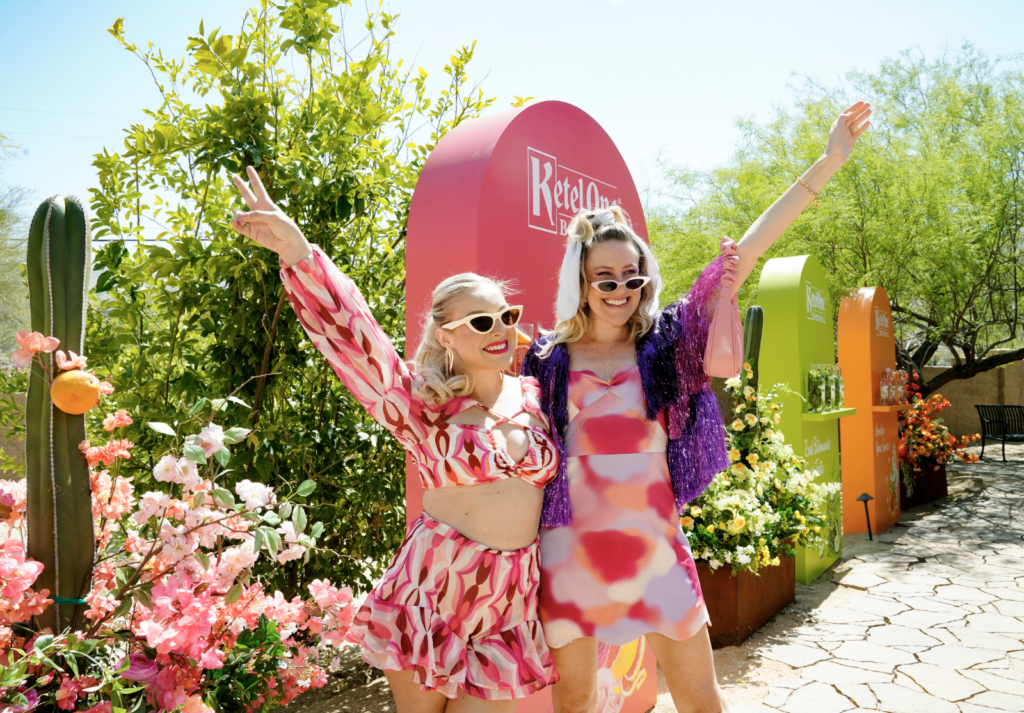 Ketel One Botanical invited festival lovers to take a moment to cheers the beginning of 'spritz season' at their private Spritz Oasis party. Throughout the event guests were welcomed to try a variety of cocktails based on the brand's three varietals – Peach & Orange Blossom, Grapefruit & Rose, and Cucumber & Mint.
Guests included influencers like Chelsea Henriquez, DJ – Jasmine Solano, Dani Dazey, Courtney Paige Nelson, Emily Faye Miller, and Rachel Martino.
Zoeasis: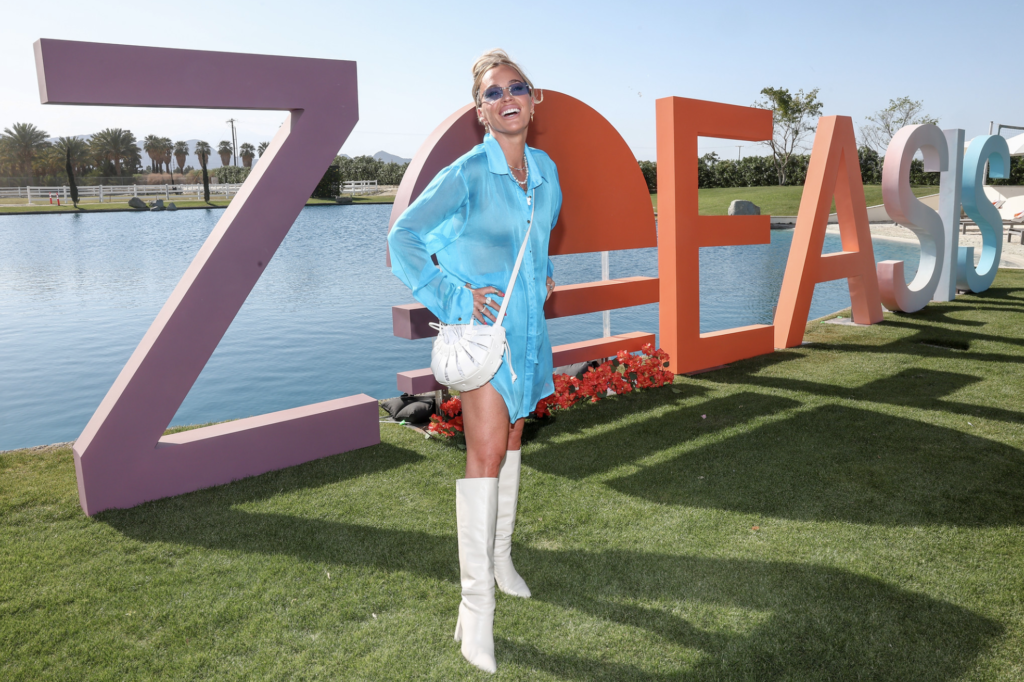 Having returned for its seventh year, ZOEasis hosted the most stylish and influential artists, musicians, and talent for a midday desert oasis celebration on Saturday, April 15th. Attending guests had the opportunity to engage with a variety of programming moments focused on individuality, style, beauty, and wellness — the ultimate escape for festival-goers to refresh their mind and body as well as their festival beauty and fashion looks. The multi-hyphenate DJ Pamela Tick brought the vibes as the exclusive act at ZOEasis. ZOEasis was presented in partnership with Sephora, European Wax Center, Cotton, and Sole Water.
Rachel Zoe (Stylist and Founder, The Zoe Report), Alessandra Ambrosio (Model/Entrepreneur, Sole Water), Camila Morrone (Actor, Daisy Jones & The Six), Michaela Jaé Rodriguez (Actor, Pose), Thuso Mbedu (Actor, Woman King), Mayan Lopez (Actor, Lopez vs Lopez), and more.
Sonic Desert:
Newcomer to the scene, Sonic Desert took over the weekend by storm. The invite-only daytime party served as the perfect poolside retreat to beat the heat. Guests enjoyed bites from Dang Brothers Pizza, as well as IV drips to cure the night before hangovers while basking in the expansive space. Guests even got to try the latest flavor, Coca-Cola Rosalia!
STURDY. Oasis Hydrated By Liquid I.V.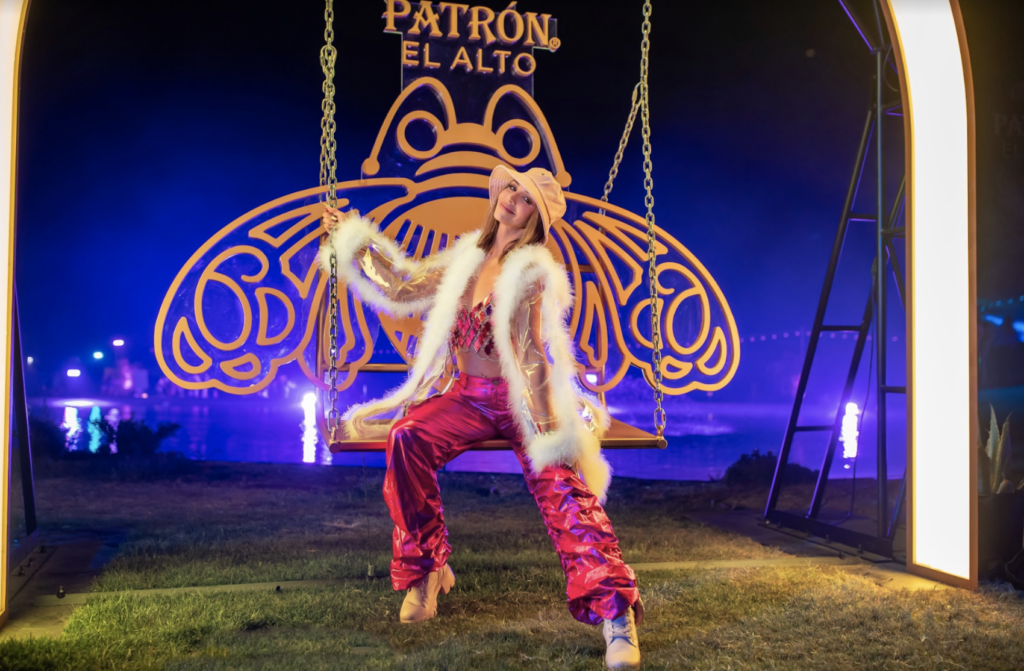 PATRÓN EL ALTO entered the STURDY Oasis for Afro House, a night dance party focusing on sounds from AfroBeats' top DJs and artists. Guests including the likes of Alessandra Ambrosio and Scheana Shay, had the chance to enjoy tastings of PATRÓN Tequila's newest innovation for extraordinary moments of celebration and the ultimate photo moment: PATRÓN EL ALTO-inspired swings.
STURDY., in partnership with Liquid I.V., hosted STURDY. Oasis Hydrated by Liquid I.V. in Thermal, CA, from Friday, April 14 – Sunday, April 16.The three-day event featured themes spotlighting Latin and Afro House vibes, custom art installations, and performances/DJ sets from renowned and up-and-coming artists, including James Blake, Young Miko, Austin Mills, Caleb Calloway and more.
The parties set against a gorgeous lakeside oasis featured:
The Oasis Beacon, a hot air balloon installation that projected Bad Bunny's headlining Coachella performance
Exclusive tastings of PATRÓN EL ALTO, in addition to live curated music on the Oasis Stage
Liquid I.V. mocktails curated by mixologist Ricky Wang featuring the Hydration Multiplier Passion Fruit and Lemon Lime flavors.
Partners included:Liquid I.V., PATRÓN EL ALTO, Stem, Al Tun Tun, Offsunset, Integral Studios, Heineken, Red Stripe, Czinger and more.

Additional guests throughout the weekend include: Rickey Thompson, YG, Scheana Shay, Alessandra Ambrosio, Saint Jhn, Stormzy, DJ Mustard, Janelle Monae, Carlacia Grant, Flo Milli, Jeremy Meeks and more.
Neon Carnival:
Neon Carnival, the highly anticipated late-night party of the year made its triumphant return to light up the desert night sky during this past famed music festival weekend on Saturday, April 15.  Celebrating its 12th year, the coveted outdoor dance party created by LA's original nightlife mastermind Brent Bolthouse and producing partner Jeffrey Best came to life exclusively for one night only.  
The iconic denim and lifestyle brand Levi's ® returned to headline this year's event alongside Mexico's original luxury premium tequila, Tequila Don Julio. Smirnoff ICE Neon Lemonades and Path Water have joined the party for their second consecutive year, and we welcomed newcomer Ghost® Energy to the festivities.
Aperol Spritz Oasis at Casa Cody:
It wouldn't be a Palm Springs weekend without an Aperol Spritz in hand! The fan-favorite took over a few installations throughout weekend one, however, they created the perfect space to end the weekend on a high note. The Oasis at Casa Cody is a carefully curated hotel filled with artists playing the festival, jetsetters from across the globe, and other influencer creatives all staying and playing together for the weekend. The Oasis is a full Coachella Weekend 1 takeover of Casa Cody, a boutique, 4-star hotel in the heart of Palm Springs. Name a better way to end an EPIC weekend — I'll wait! Till next time!