By Photos and story Bob Nesoff
The first without rain, a hot, yellow orb in the sky baking the hundreds of people seated along the pier in New York City and facing a giant grey behemoth decked out in red white and blue bunting on a ship seemingly out of lace in this peaceful setting.
The USS Cooperstown, named for the New York State hamlet, home to the Baseball Hall of Fame, sat like a society prima donna waiting to be recognized.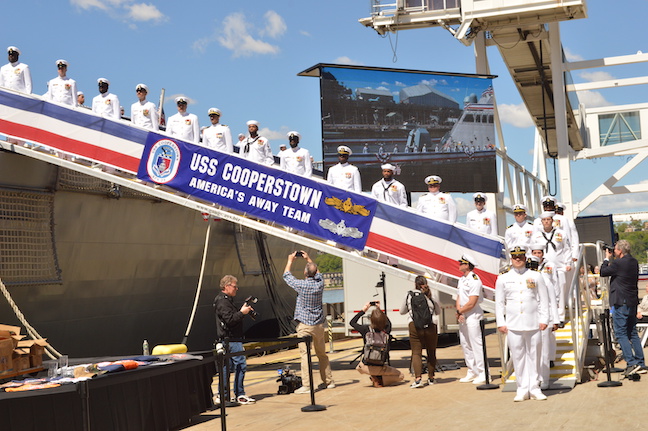 The USS Cooperstown, the American Navy's newest and, arguably, most technically advanced, warship, was ready to go to work. The only things missing were crew and officers. But that was about to come.
The "Coop" was not only named for the city, but for the 70 Baseball Hall of Famers from the Civil War until today who both served in the Navy during combat but were either players, umpires or executives who were outstanding in America's game. But the ship's motto is "America's Away Team."
While numerous modern Hall of Famers will have copies of the Cooperstown plaques mounted aboard the ship, the first to be so-honored was Morgan Bulkeley, a Republican politician and bank executive who became the first president of the National League. The most recent to be named was famed Boston Red Sox player who served as a fighter pilot in World War II and then volunteered and served in the Korean conflict.
The dignitaries who sat atop a platform, were individual presented as they walked along a short red carpet flanked by an honor guard of young sailors who saluted each passing person.
Among those heading for the platform were New York Governor Kathy Hochul, Navy Secretary Carlos Del Toro and Hall of Famers Joe Torre, former Yankee skipper and winner of multiple World Series rings, and Johnny Bench Reds "Wall of Steel behind home plate, Cincinnati Reds catcher, Johnny Bench. They were joined by representatives of the shipbuilders and others. New York Mayor Eric Adams was a no-show, dealing with the influx of illegal aliens bused in from Texas.
Commander Daxton H. Moore, the ship's captain, said: "We are honored to carry the name of Cooperstown into the fleet. The commissioning is a proud moment for all of us, made possible by the tireless efforts of our dedicated crew."
In fact, the ship was put into service prior to the commissioning. A year ago it was instrumental in saving the crew of a sailboat that had run into trouble at sea.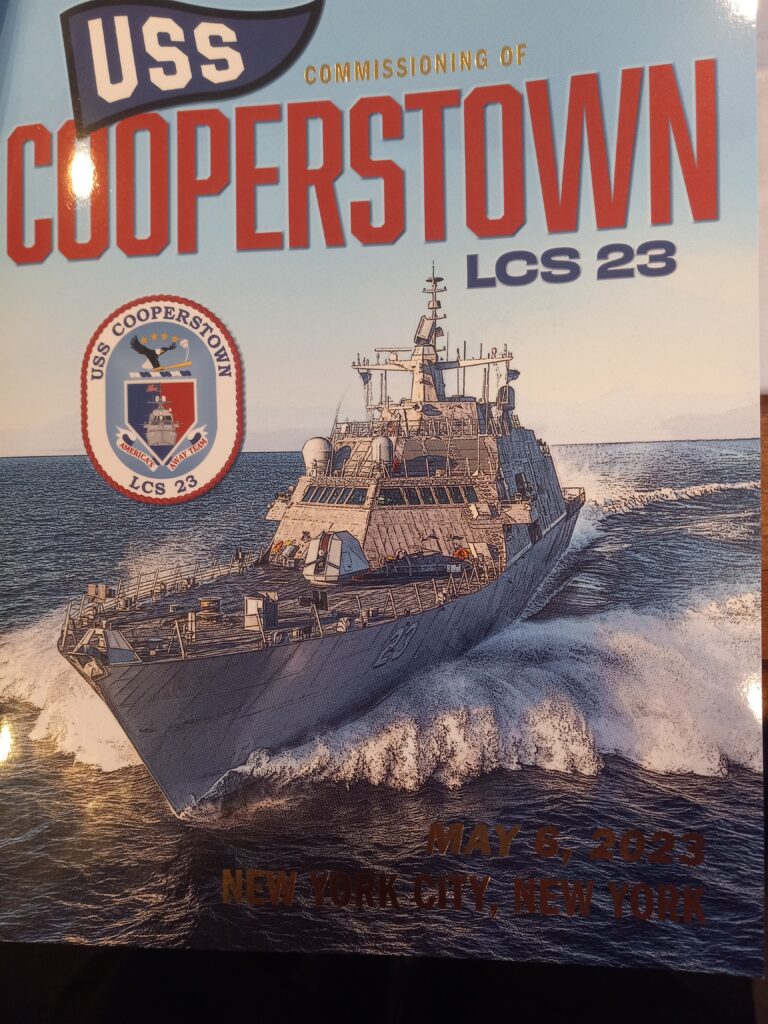 Torre told the gathering that "Baseball brings us all together at a difficult time." He noted the so-called "Green Light Letter" written by President Franklin D. Roosevelt to the Baseball Commissioner Kenesaw Mountain Landis, urging that the game be played throughout WW II as a morale booster.
The former Yankee skipper paid homage to the great "Number 8, " Yankee catcher and icon, Yogi Berra, who served as a gunner's mate at the Normandy invasion and received a Purple Heart for wounds he received.
Secretary Del Toro that the Cooperstown, designated LCS 23, "Honors the baseball greats who, in service to our nation sacrificed their baseball careers." Several, including notably Ted Williams, gave up time they could have been playing and earning above average salaries. Williams, already a WW II veteran, stepped away from baseball during the Korean conflict to once again fly fighters in combat.
The LCS designation stands for "Littoral Combat Ship." The LTS 23 is an updated version of previous LTS ships that developed problems the Navy ultimately corrected. It is designed as a fast, agile mission focused platform meant to operate in near-shore environments against coastal threats. It can out gun Russia's fleet of Corvettes.
The LTS 23 carries air, surface and under water vehicles, giving it the ability to multi-task. It can easily cost along at a speed of 40 knots that translates to 46miles an hour on shore, fast for a watercraft.