Blending global culture with the styles inherent to Mumbai, Payal Khandwala has been paving the way in terms of mastering the design process as she intertwines the myriad world of art and fashion beginning in 2012. However, her first love is painting for which she has collections featured in New York, Barcelona, and Mumbai galleries. Defining her consumer as one with a ¨refined sense of luxury,¨ Payal is breaching the fast fashion cyclical presence on a planet suffocating from overconsumption. Brought up in Mumbai, Payal studied at SNDT University, Mumbai, only to pursue her degree at the Parsons School of Design, her garments radiate with subtle confidence as traditional colors saturate handwoven silks, khadi, cotton, and linens. Reflected in her pivotal collection, Khandwala has won several awards for Illustration, Design, and Construction as well as the Society Magazine's Young Achievers Award (Fine Arts) in 2007. Payal ¨treats dressmaking as simply a shift in canvas¨ while her aesthetic is ¨global but with an inherently Indian soul.¨ Construction of her garments is a fluid process, one that uses craftswomen who weave the fabric by hand; resulting in a fluid piece that is timeless while making one look beautiful with little effort.
How would you describe your brand aesthetic?
It's a maximalist minimalist aesthetic that plays with the dichotomy of elements like masculine|feminine, structure|drape, strong|soft. The cornerstone for the brand has always modern, practical, comfortable clothing that is always elegant, stylish, and therefore timeless.
Where do you get your inspiration from?
The clothes are certainly inspired and rooted in the rich heritage of textiles and the vivid colors of India, but the silhouettes are more global and designed to meet the needs of the women of today, free from cultural trappings. The shapes are often inspired by geometry and our motifs are often organic, to continue the fine balance and the tension that opposites create.
What made you pursue fashion?
I always loved putting clothes together, even for my little dolls, my mum sewed, her mum sewed, they both painted, and they collected textiles, we even had a sewing machine at home when I was growing up, so art and textiles and creating something personal, I suppose was hardwired in a way into my genes.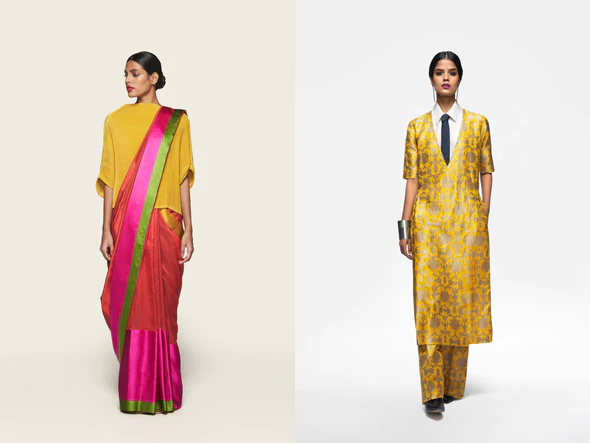 In your opinion, what are the most critical aspects of the fashion industry?
Fashion is aspirational and wields so much influence, and with that I believe comes a great responsibility. It's also very personal and subjective. But as a mother of a 14-year-old girl, I think the industry has a responsibility to be sympathetic to what women today want and need. And I try my best to create and offer solutions, that can help women break free from the cycles and tyranny of fashion as well as the often the not so subliminal, male gaze.
A studied female gaze can set us free. We have to question why we dress the way we do and ultimately for whom? And as an industry, we have to work harder to be better role models for our future generations, to teach our children, especially young girls to be kinder to ourselves and our bodies; to find a way to shift the conversation to personality and character. To perhaps suggest clothes that truly empower them, by a standard they set for themselves, and not dictated by the industry.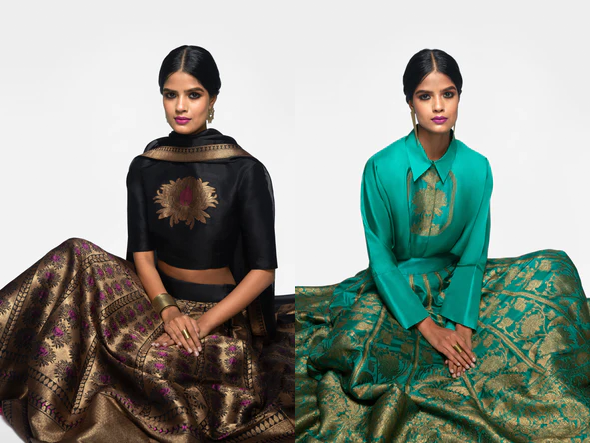 How is working in fashion different today than when you started out?
It's certainly more democratized now. That means labels have more access to their audience than before, but perhaps the barrier to entry becomes lower and so as a brand, it's imperative to have an honest and relevant point of view and a distinct voice that separates you from the rest.
Describe the manufacturing process of making a garment.
For me, it often starts with an idea of what I want to create and wear. The textile is then reverse engineered, often woven by hand on a loom, printed or pleated, then either draped or drawn, after which a pattern is made and finally, the garment is sewn.
What do you think about work ethics — and what kind of ethics do you believe in following while working in fashion?
Ethics is a code with which you live your life. So it's the bedrock of a robust organization. We ensure that our employees and weavers are supported financially, and have medical support and structured systems for loans. Our vendors are paid timely, and our fabrics are sourced and created ethically, while we buttress and encourage our dying craft clusters. And most importantly we invest in slow fashion, which cares about timeless style rather than trends, which in turn helps the consumer buy less but buy better.
Other than fashion, what are you passionate about?
Painting is my first love, so I have a degree in Fine Arts which allowed me to pursue a career in painting, for a decade before I plunged into the world of clothes making. In addition to that I'm passionate about music, I learned how to play the sitar, I thoroughly enjoy my amateur time on the piano, I love reading about human psychology and law, and oddly enough lately I'm quite interested in aerodynamics. So it's a mixed bag.
What are some of the brand's biggest dreams/goals that you wish to fulfill?
I'd like more women to have access to considered clothes that support their lives today. Women that are practical, care about personal style, that finds themselves slightly left of center always. Women that want luxury that is affordable and elegant, no matter what size, age, shape, or race; and that don't feel the need to sacrifice their comfort for it.
For more information, please visit: www.payalkhandwala.com